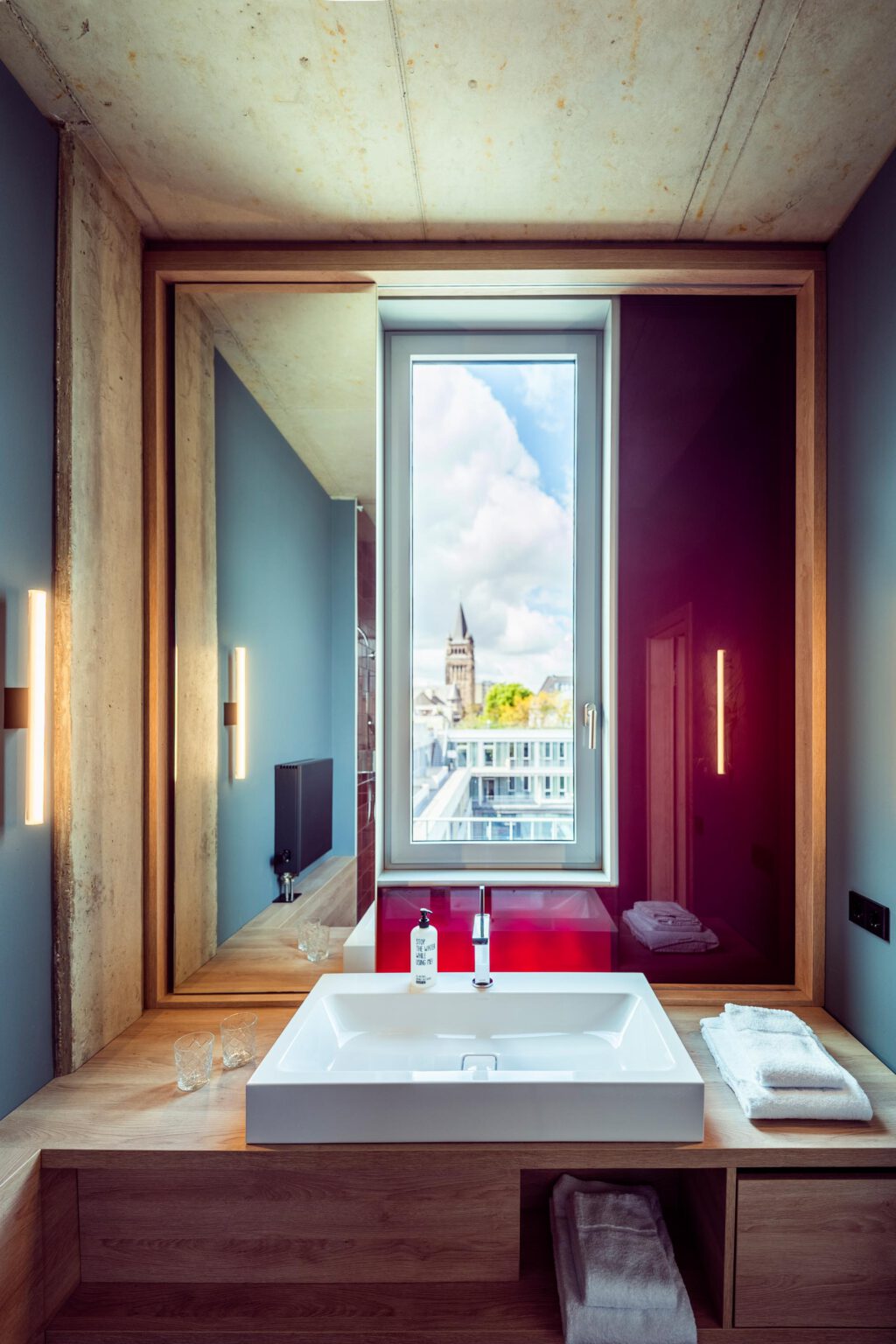 ROOM FOR INSPIRATION
If you live in our KONCEPT HOTEL Josefine, in the heart of the Kultveedel Nippes, you really don't need to see Cologne anymore. Everything is already here!
Our neighborhood is not only the greenest in Cologne, but also the most diverse. Some people say that Nippes is a city within the city. And in fact you will hardly find such a great cultural diversity in another Veedel as here.
Starting from Cologne's only daily market on Wilhelmsplatz to a remarkably high density of bars and many small and large parks and green areas such as the Nippeser Tälchen, to magnificent buildings such as the Flora or the Kulturkirche. Nippes is more.
And the place where you sleep also has an exciting past…
Everything at a glance
Free Wifi
Throughout the hotel
Breakfast
Cafes & Restaurants in the area
Community kitchen
Prepare your own meals
Lift
Quickly up & down with our lift
Check-in & check-out
Check-In: from 3.00 p.m.
Check-Out: until 11.00 a.m.
Early Check-In &
Late Check-Out
If doable: For 10 euros per hour
Washing machine
Free washing for you! You bring the detergent with you
Meetings & Events
e.g. in the salon or on the roof terrace - Talk to us!
Self Check-In only
You check in independently at our terminal
Water boiler
You can find them in the community kitchen
Microwave
Off to the community kitchen
Coffee machine
All Large and Extra Large rooms have a coffee machine with sustainable coffee
Cooking utensils
Sure! In the communal kitchen
Antiallergic bedding
It goes without saying!
Barrier-free access
For sure!
Smart TV
Stream as much as you like
Room cleaning
For the environment: Every 2 days
Paid parking
Sure! In the underground car park
Distance to public transport
Tram stop Kinderkrankenhaus: 1,2 kilometres
Distance to TOP locations
Zoo: 1,7 kilometres
Markt auf dem Wilhelmplatz: 800 meter
Niehler Hafen: 4 kilometres
YOUR ROOM IN NIPPES
Your room at the KONCEPT HOTEL Josefine is a small work of art.
It is located on the site of the Clouth Gummiwerke, a place of innovation. Parts of the first Zeppelin, the first transatlantic cable and the first rubber bicycle tires were built here. But when the company's founder, Franz Clouth, died unexpectedly in 1910, the Cologne-based company, which employed pretty much the whole neighbourhood, was on the brink of extinction. If it weren't for his wife Josefine.
At a time when it was not common for women to be at the top of a company – and certainly not one like Clouth Werke – Josefine not only acted as a skilful businesswoman, but was also charitable for the needs of her workforce and thus for the of the entire Veedel.
We have dedicated our hotel to her commitment, her being a role model for all strong women, and her love for art.
EXTRA LARGE
Here you can make it big in the Veedel. Our luxurious XL rooms leave you plenty of space for relaxation and creativity. And who knows: maybe you will reinvent the wheel here!
Mega comfort on over 35 square meters
King size double bed (180cm)
Coffee machine with sustainable coffee capsules
Balcony to the inner courtyard
Seating area
Spacious bathroom with a spacious shower
Cloakroom & spacious closet space
Flat screen HD TV with Chromecast
High-speed WiFi
Accessible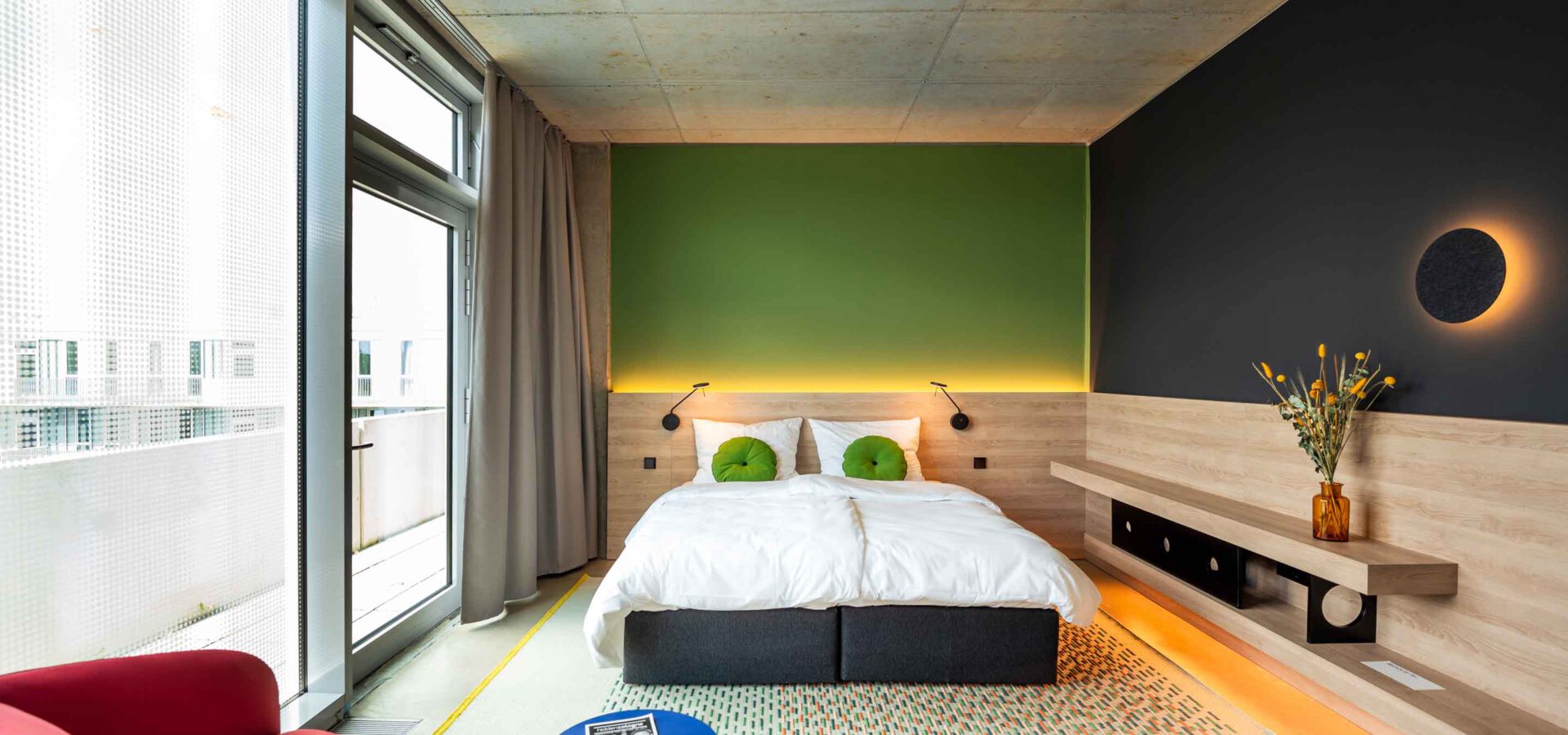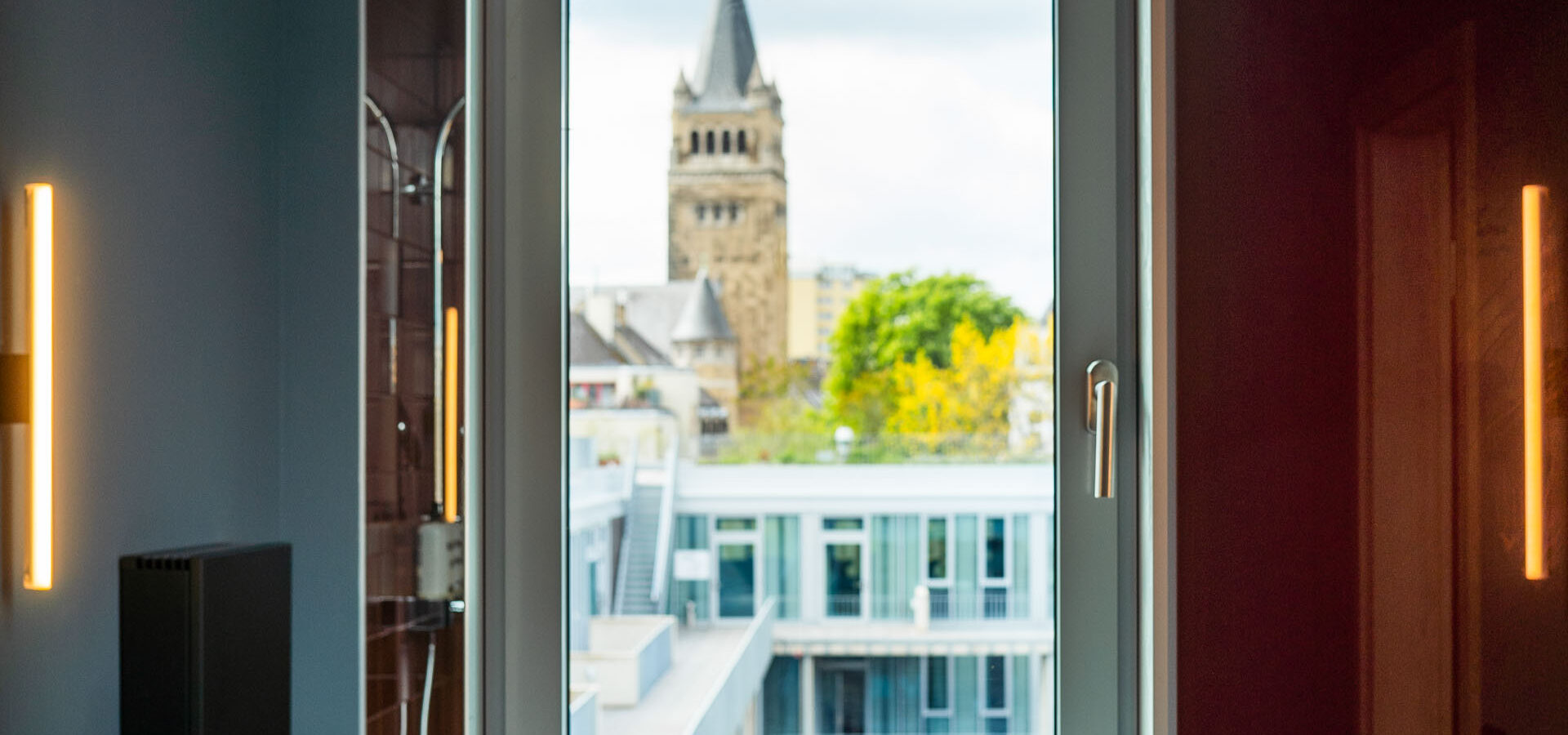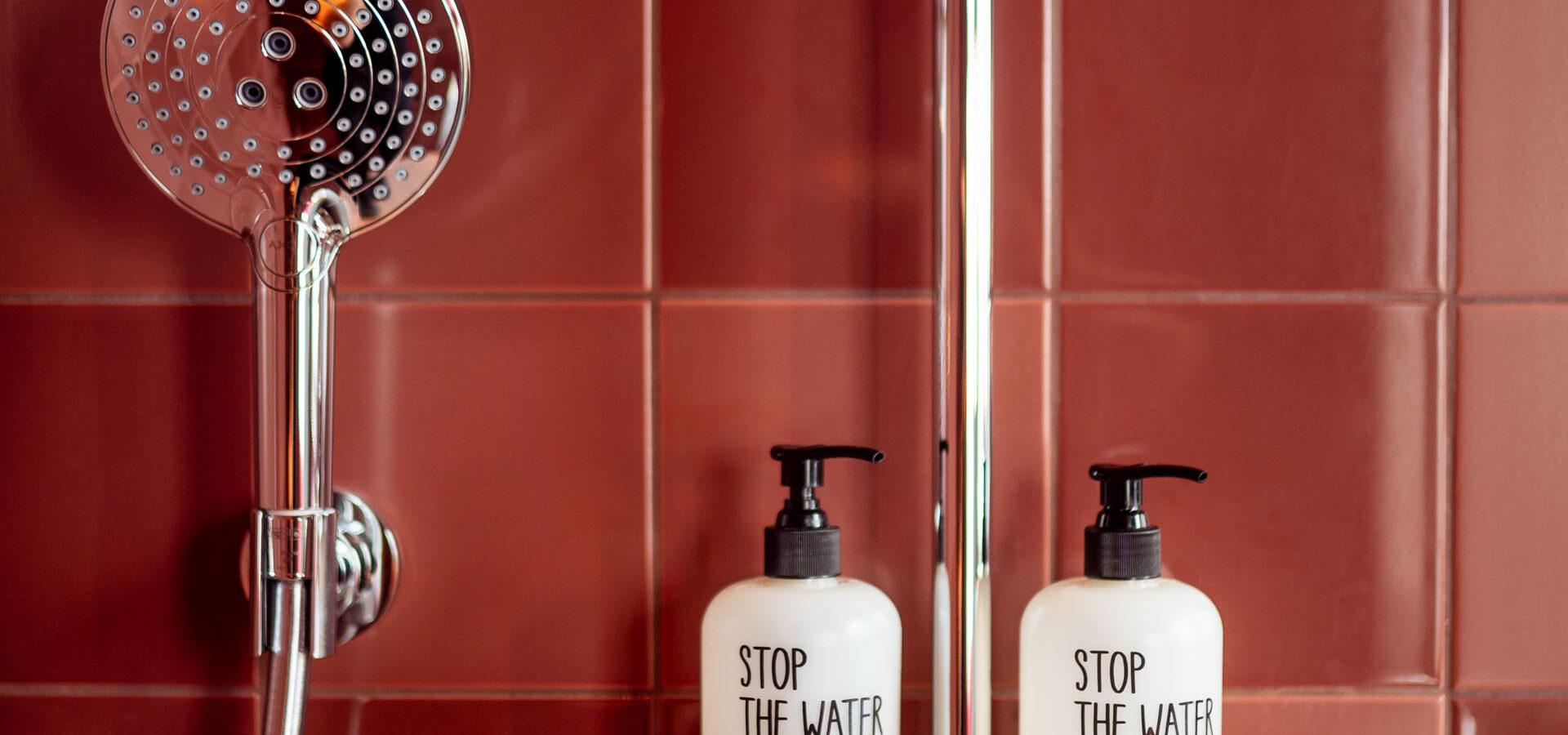 super
balcony
LARGE
Let yourself be captivated by the vibe des Veedels. In our L-rooms you always have an overview of where the next party is going – and then the choice of whether you want to go or make yourself comfortable with us.
Top comfort on over 30 square meters
King size double bed (180cm)
Coffee machine with sustainable coffee capsules
Spacious bathroom with a spacious shower
Balcony to the inner courtyard
Cloakroom & spacious closet space
Flat screen HD TV with Chromecast
High-speed WiFi
Accessible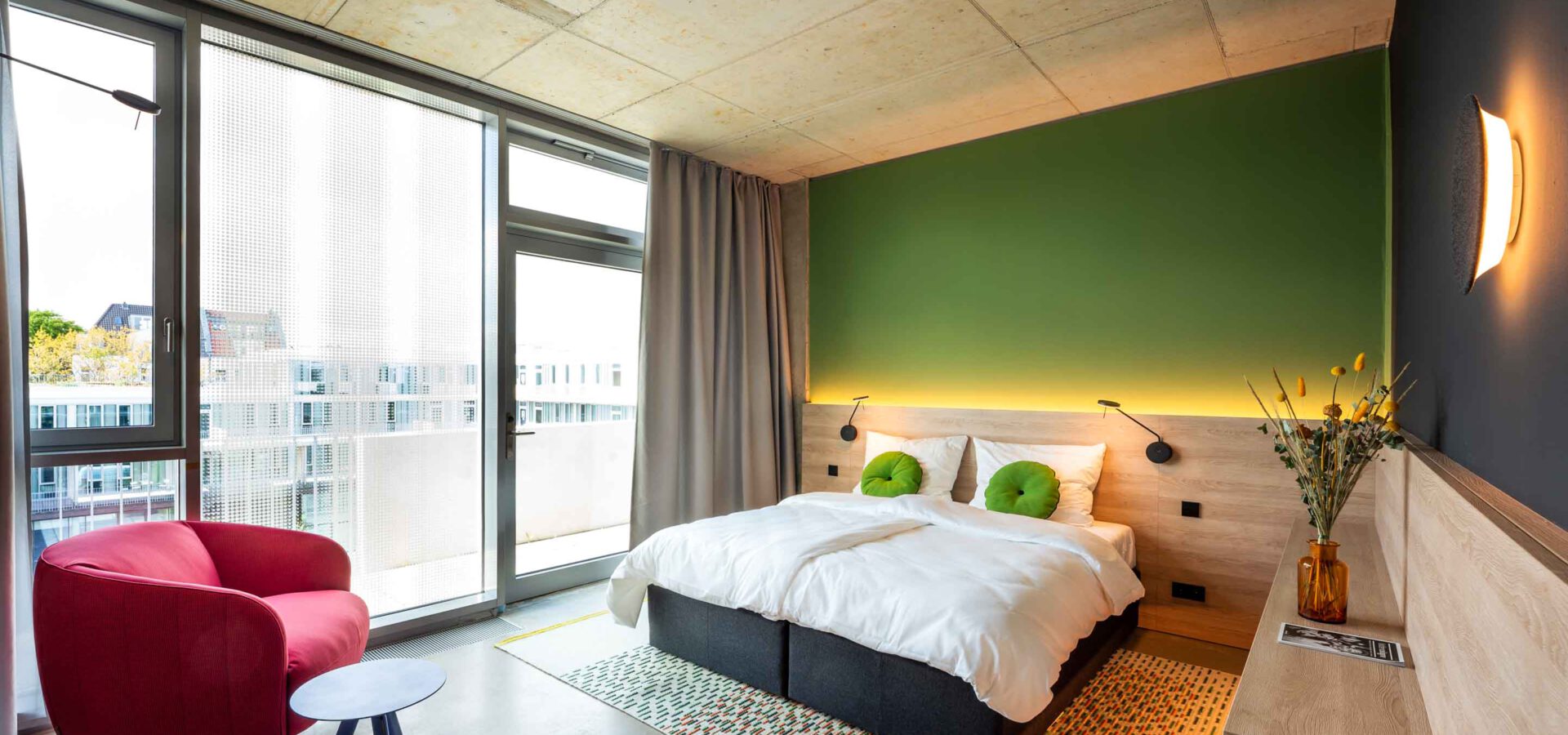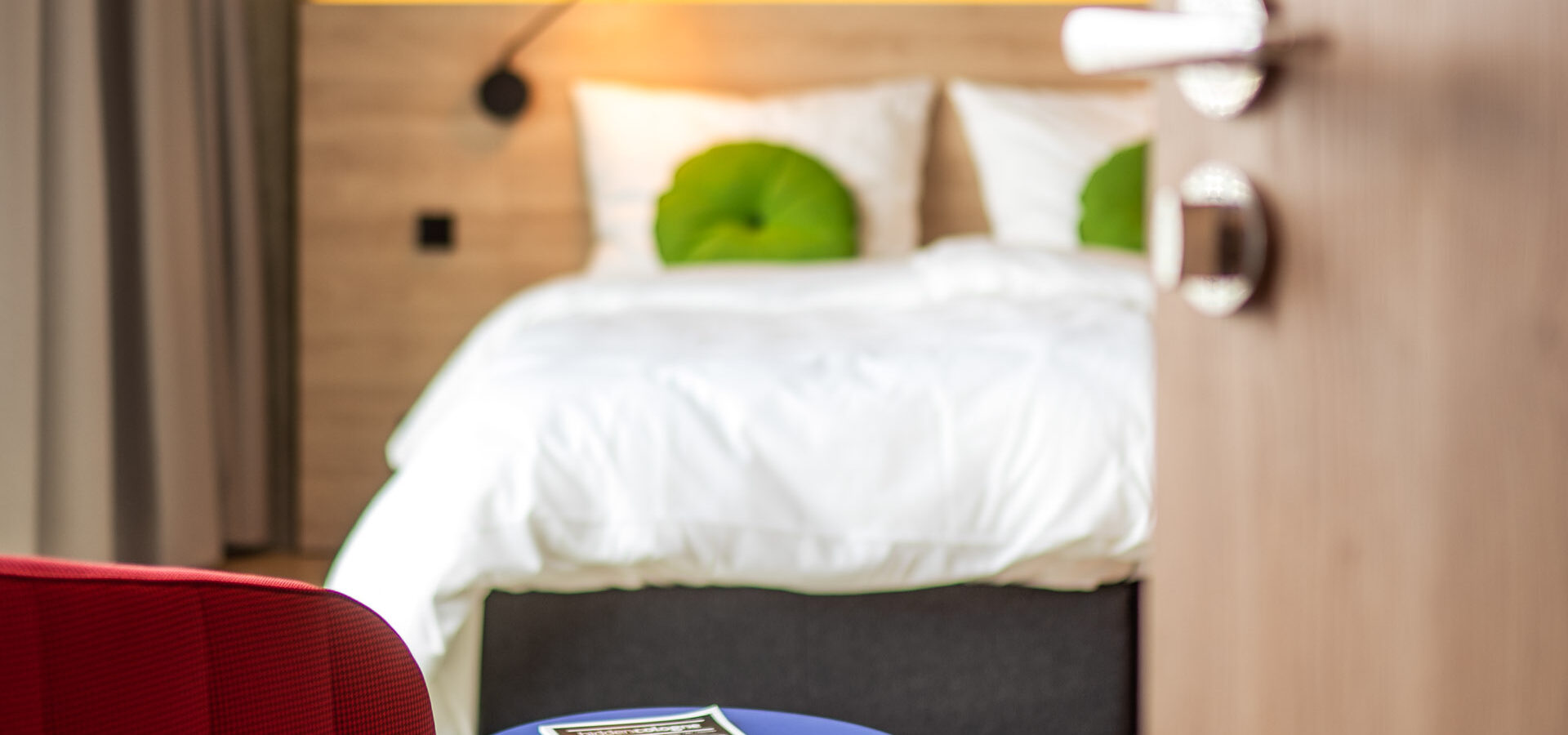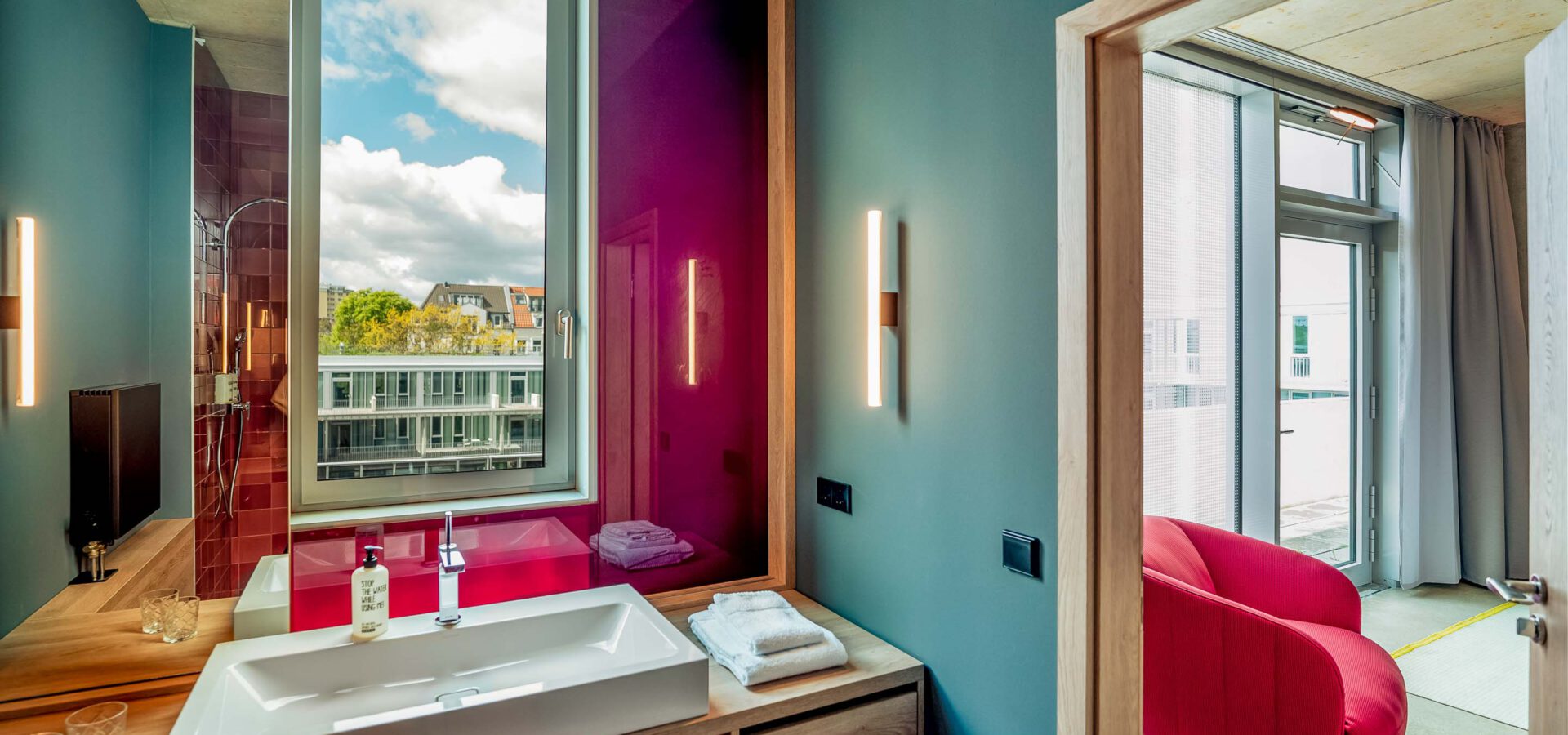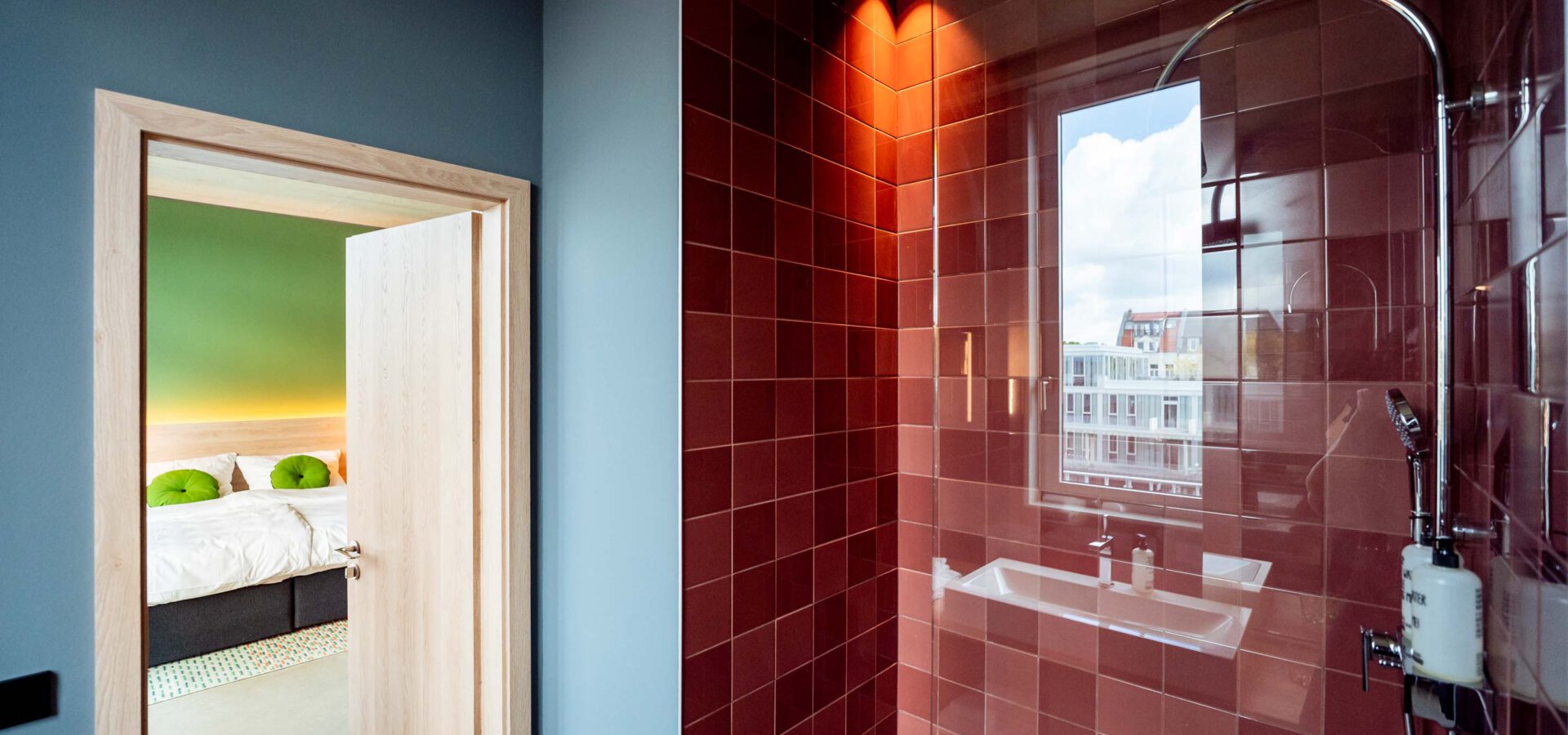 awesome
balcony
MEDIUM
Here you look Nippes right in the face. The beautiful M-rooms with floor-to-ceiling windows invite you to daydream and revel in the night, because something always moves in the Veedel.
Comfort on over 20 square meters
King size double bed (180cm)
Spacious bathroom with a spacious shower
Cloakroom & spacious closet space
Flat screen HD TV with Chromecast
High-speed WiFi
Accessible
A wheelchair accessible room can be booked in this category. Please ask explicitly when booking!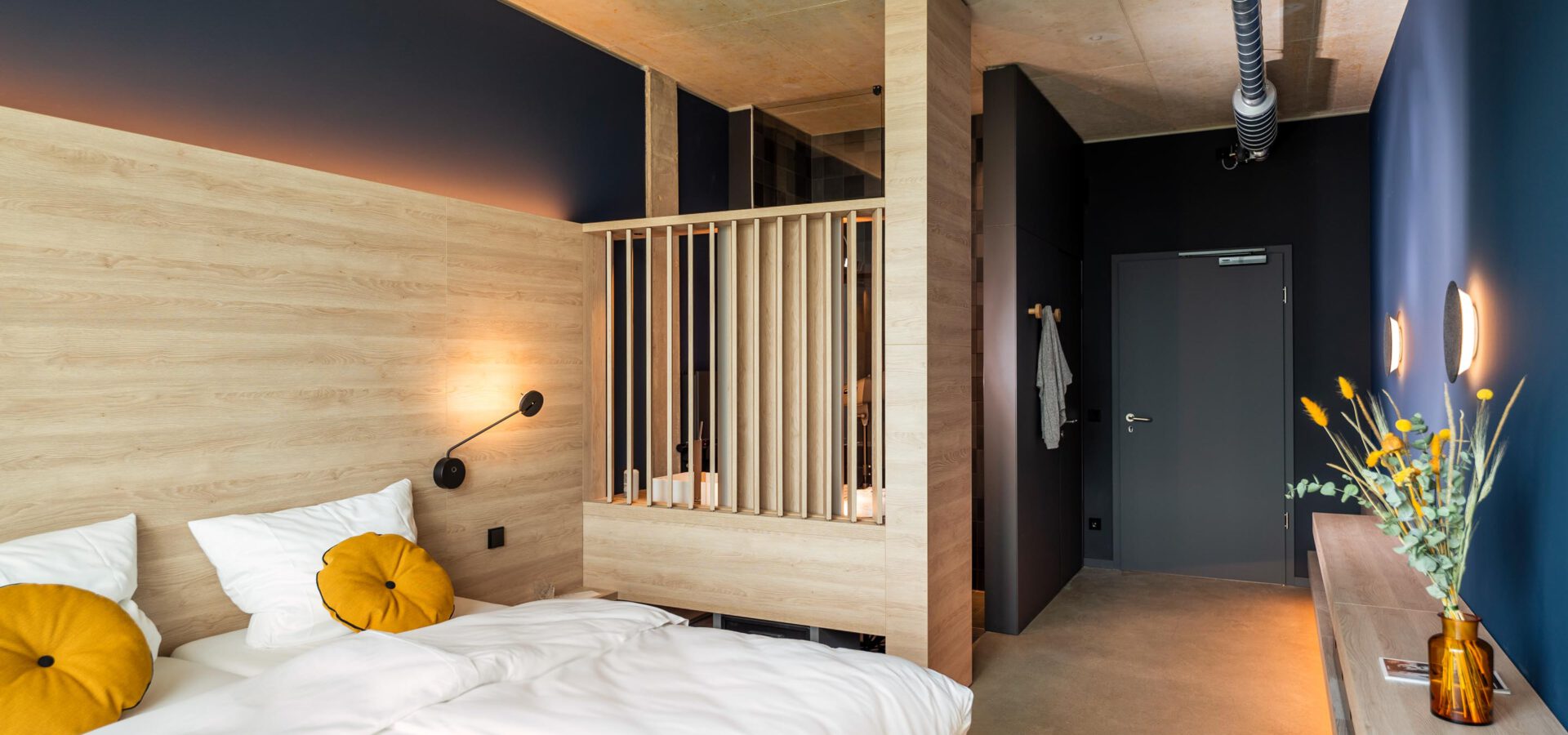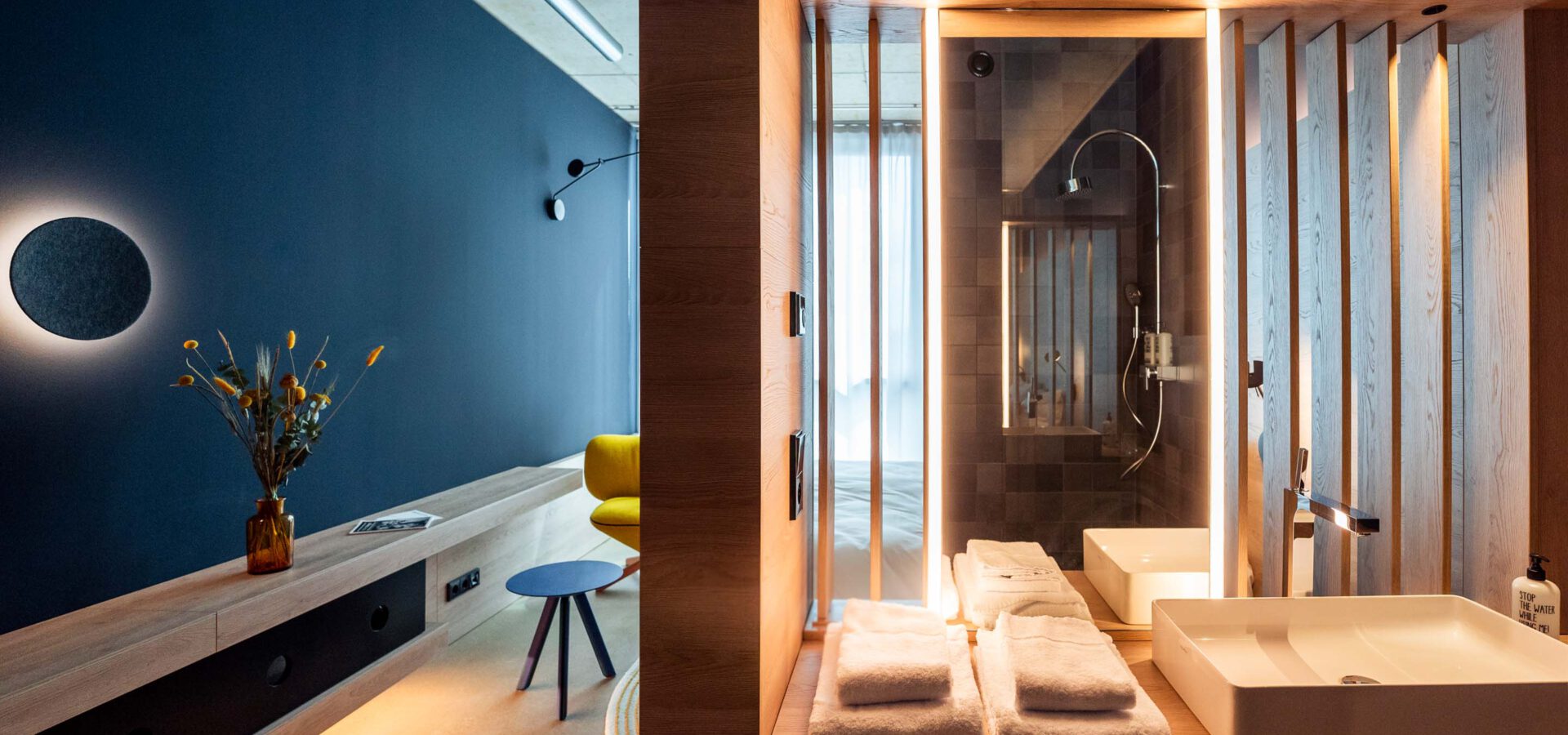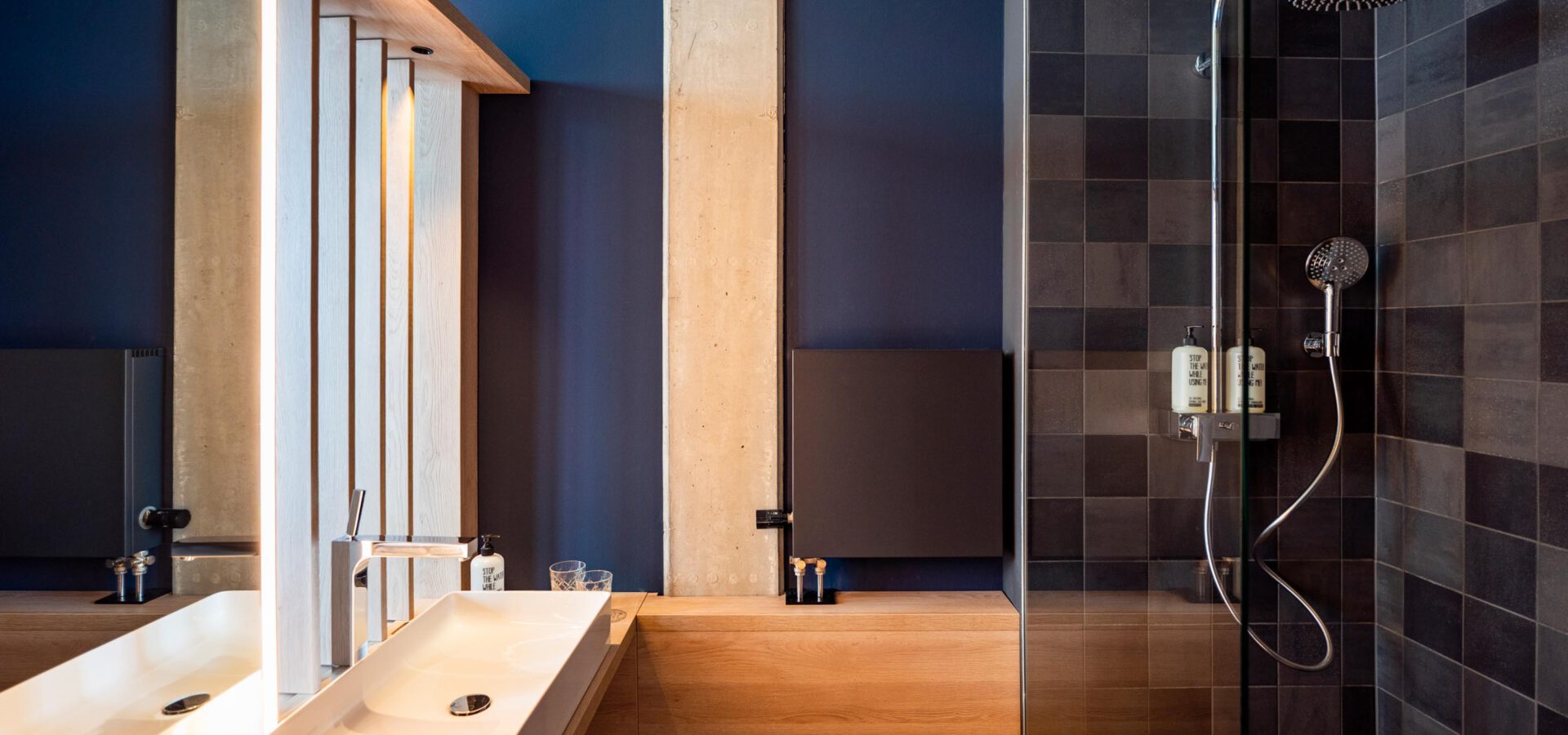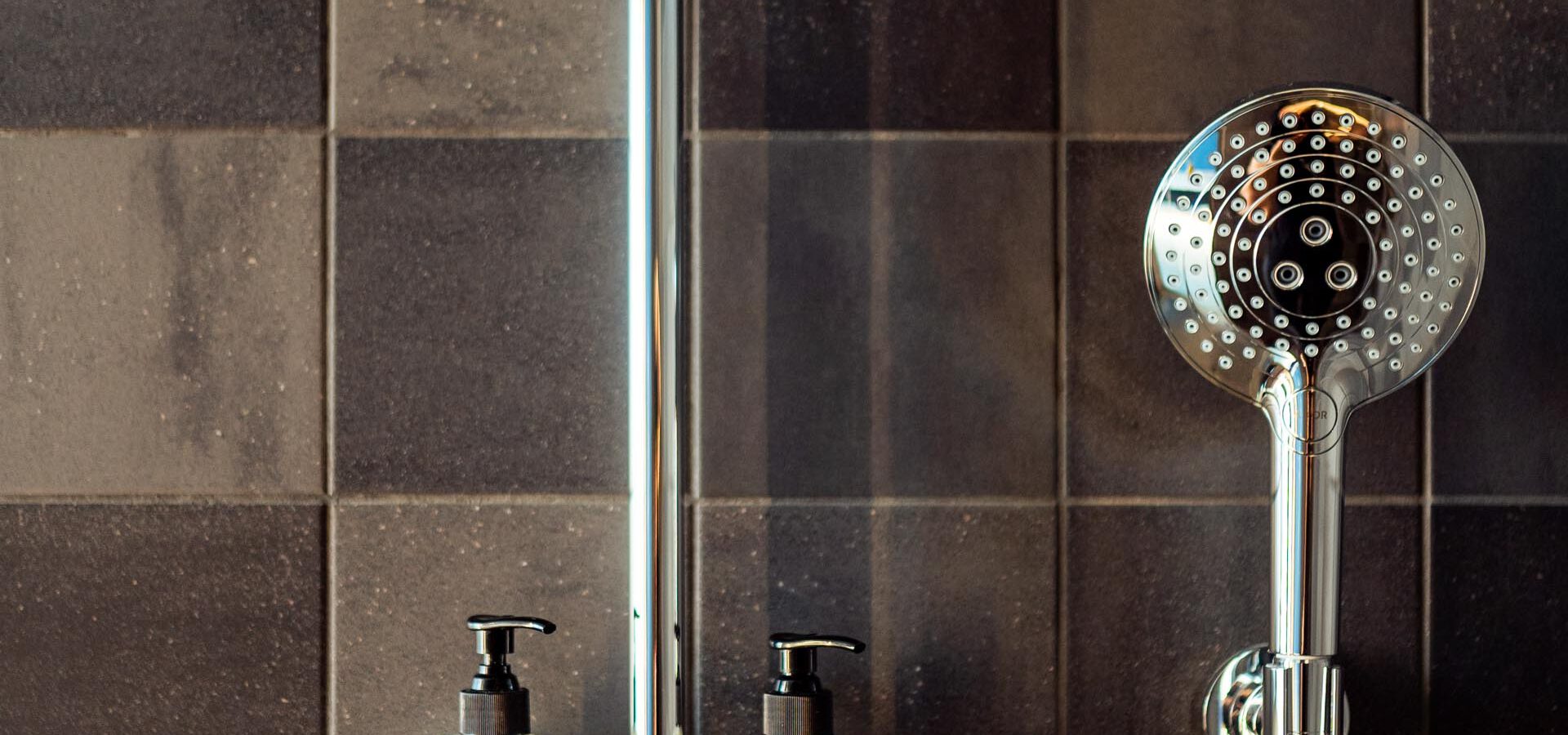 Hotel
Our Hotel Josefine welcomes you in the middle of the Clouth Gummiwerke. In our salon you can let your thoughts run free while you are inspired by the cool ambience and the stylish little souvenirs of former days. You prepare your meals in our community kitchen, which you can then enjoy outside on our rooftop terrace.
Room
Your room in Nippes is casually chic and offers everything you need for an all-round perfect stay: a comfortable bed, flat-screen TV and lots of little things with which you can do something good for the environment during your stay! Be curious and make the world a little bit brighter with us.
Events
The perfect event location above the rooftops of Cologne! Rent our salon and our roof terrace exclusively as a stylish event setting: from the roof terrace you have a breathtaking view of the St. Bonifatius Church and the Veedel. Our salon offers you a super cool atmosphere, a magnificent view and various seating areas – perfect for creative workshops or casual parties. Just get in touch with us!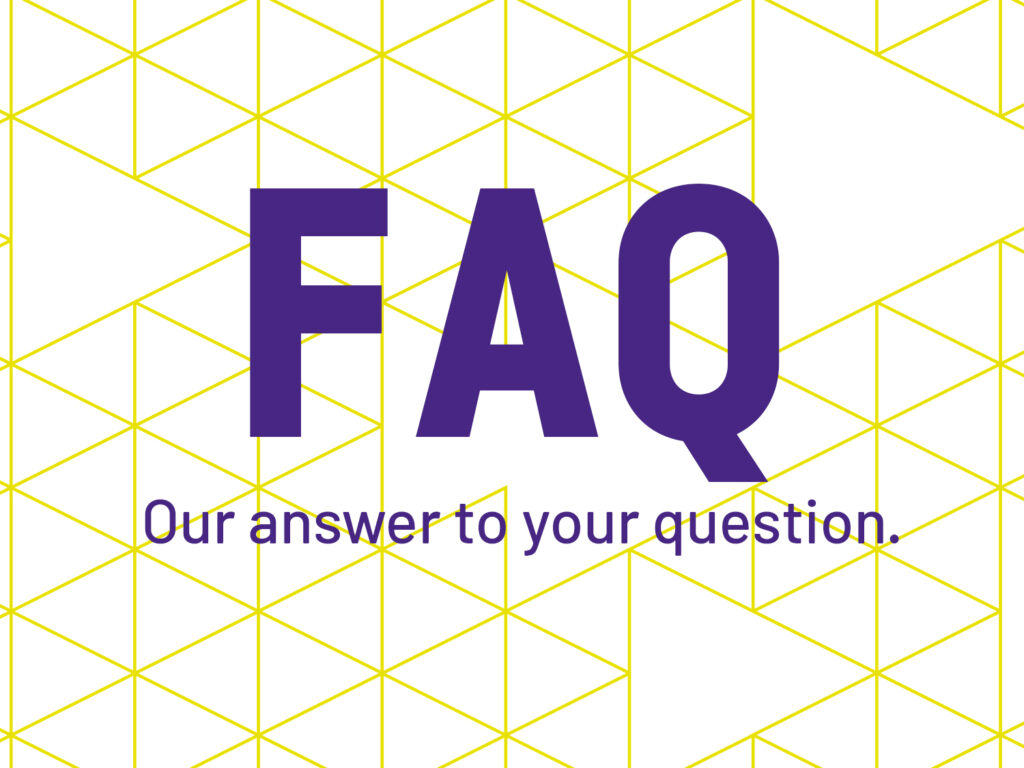 GOT QUESTIONS?
No worries, there is most likely someone who has been asking it before. But you are right: Some things are different in our hotel. You check-in via smartphone or at our terminal, there is no staff on property and all of this to make the world a bit better?!
Just have a look at our FAQ page and you will see that it's all quite simple and you surely will love it!
Our answers to your questions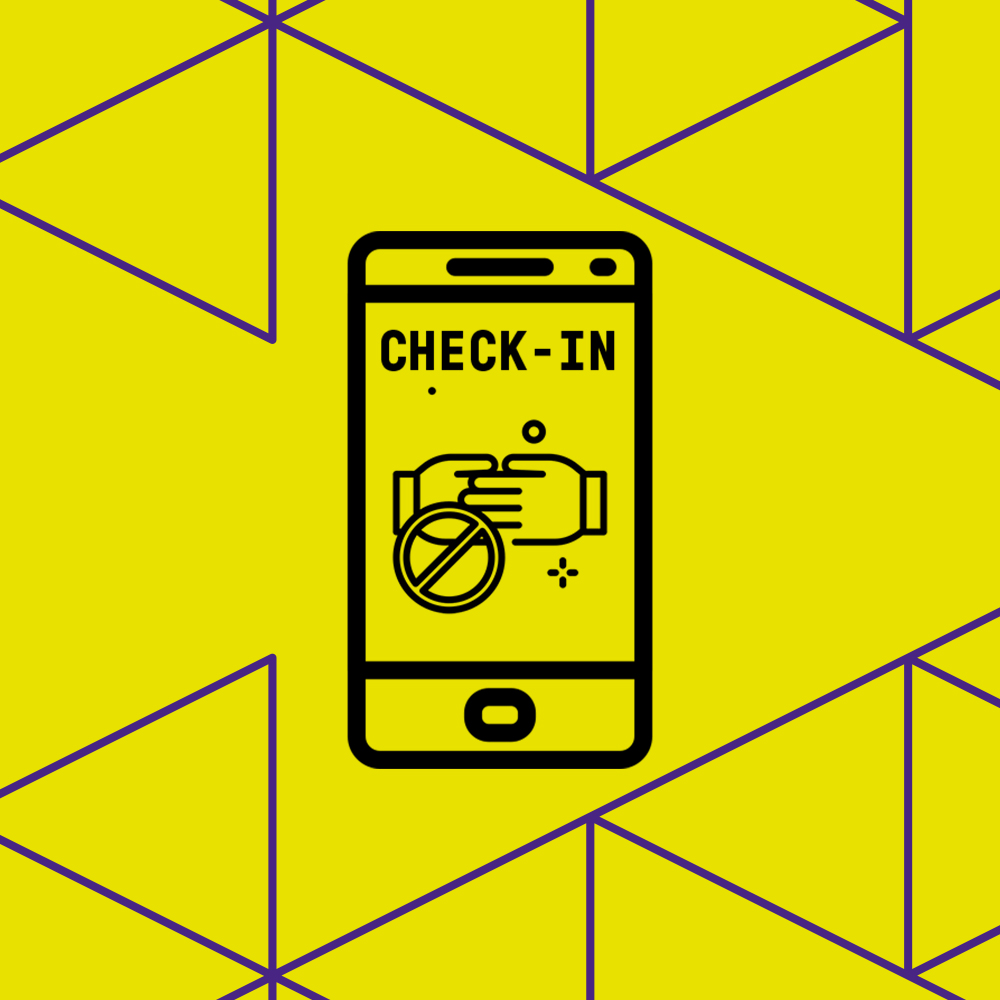 YOU ARE IMPORTANT TO US!
Ever since 2017, you have been able to check in and check out contactlessly with your smartphone in our hotels. Doing so, you can conveniently open your room and all doors in the hotel using the app. We have also adjusted to the new situation: Your bed linen is cleaned to the highest hygienic standards, we limit room cleaning to the day of your arrival and of course we disinfect all surfaces several times a day.
During your stay you get in contact with as few other people as possible. We are still available for you around the clock.
We hope that you not only feel comfortable with us, but also feel safe with us!
GOOD 2 KNOW
KONCEPT HOTEL Josefine
Niehler Straße 104
50733 Köln
Clouth 104 – Staircase B – 3rd Floor
Phone
+49.221.16530395
eMail
hallo.josefine@koncepthotels.com
Plan route