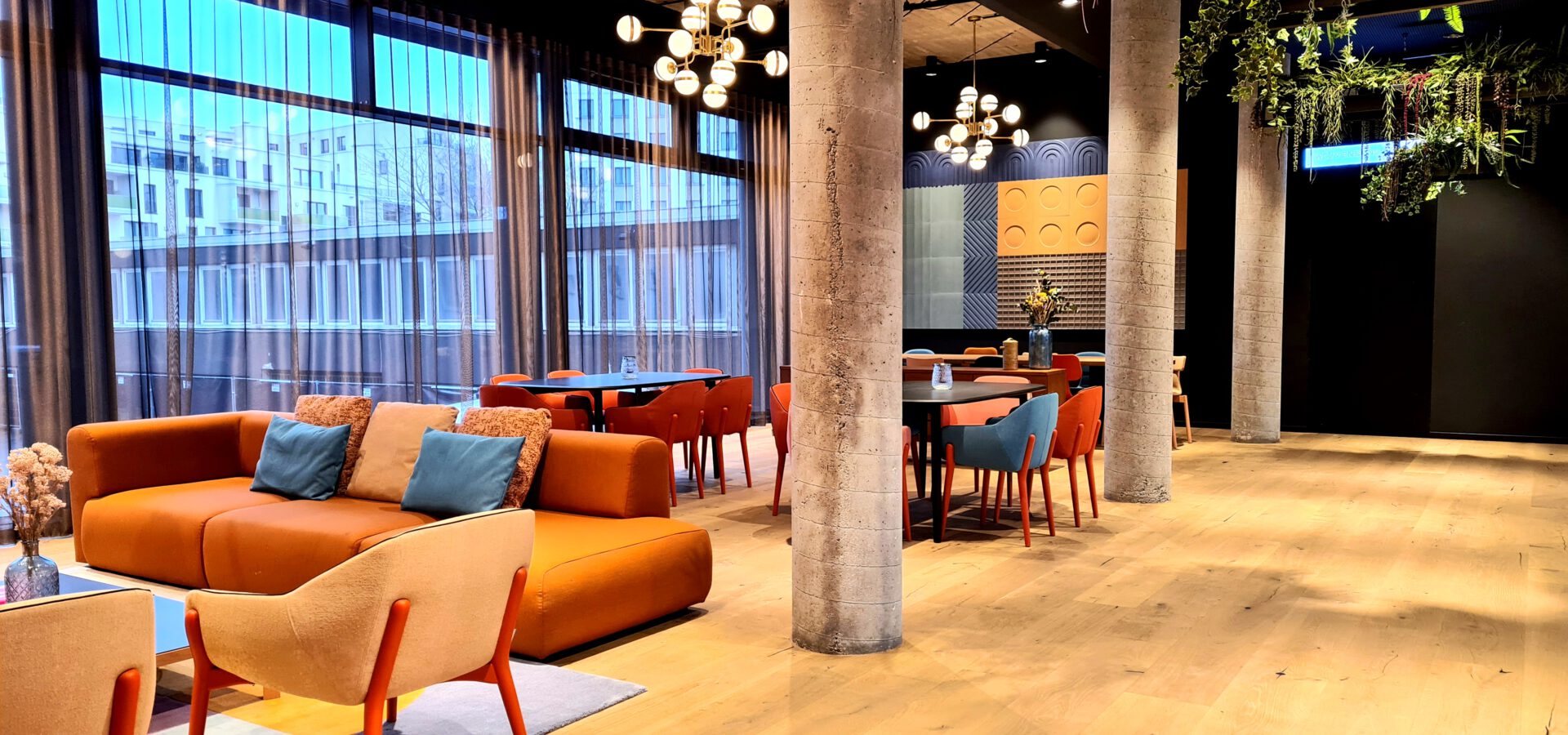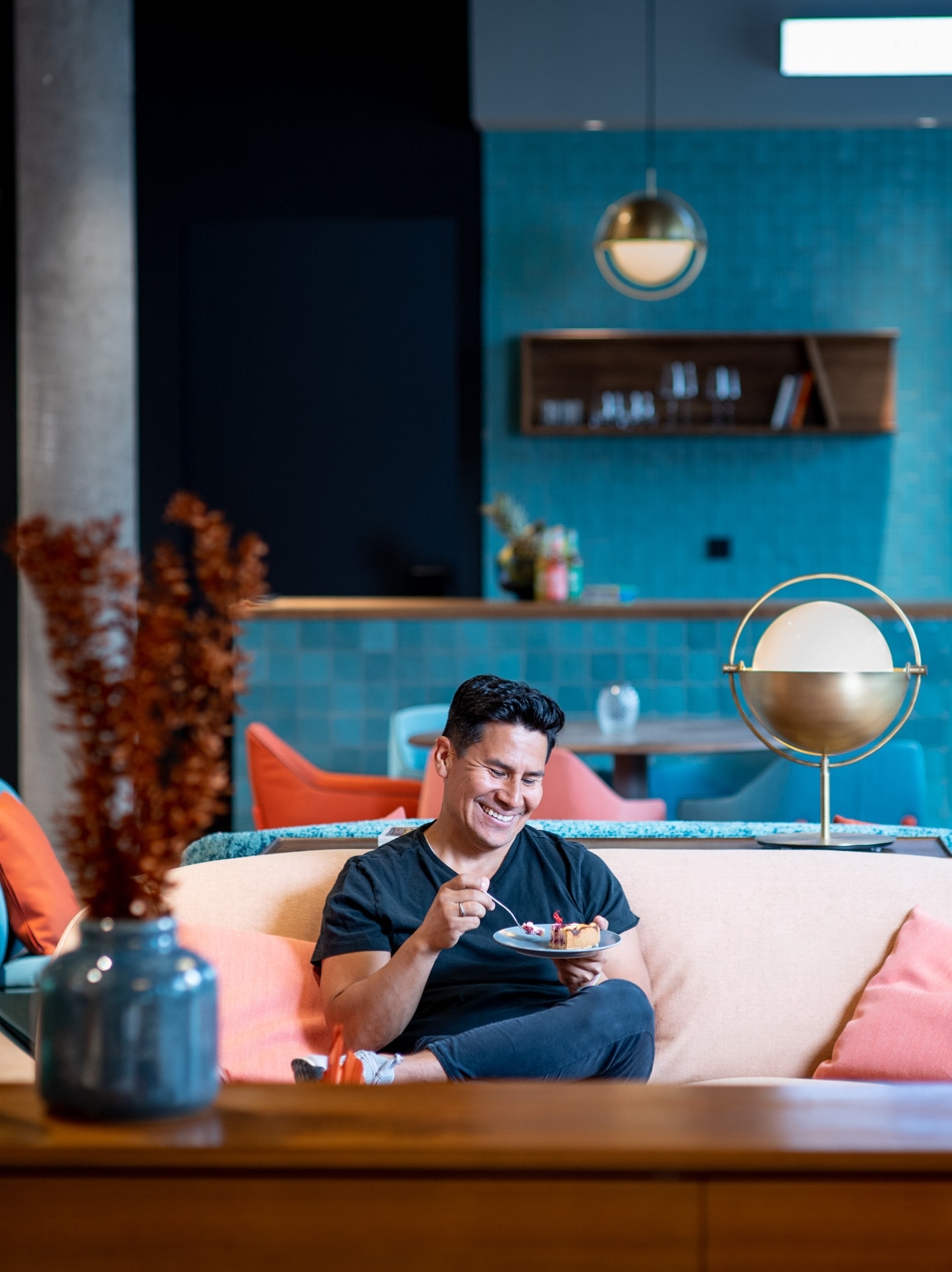 KÖLLEFORNIA DREAMIN'
Cologne has always been colorful, cosmopolitan and multicultural. At KONCEPT HOTEL International we continue this tradition and invite you to the most authentic Cologne experience in the city!
One thing is certain: before you there were others who went in and out here where our hotel is today. Perhaps the Romans who founded our city almost 2000 years ago were the first immis. That's what some Cologneers call the other Cologneers, who weren't always Cologneers.
Then Merovingians, Greeks, Italians, French, Turks, Croats and even people from Düsseldorf came to our beautiful city. And if you ask them today where they come from, most say: From Kölle am Rhing.
Not just at the carnival, where all the differences are eliminated at the latest at the third Kölsch, but actually every day: Our city is a place where people from all over the world get along well.
This is our secret recipe and is what makes Cologne so special. And you will feel it at the KONCEPT HOTEL International!
Everything at a glance
Free Wifi
Throughout the hotel
Breakfast
Available to buy daily at our DJ/Breakfast terminal in the lobby
Lift
Quickly up & down with our lift
Check-in & check-out
Check-In: from 3.00 p.m.
Check-Out: until 11.00 a.m.
Early Check-In &
Late Check-Out
If doable: For 10 euros per hour
Meetings & Events
e.g. in our great lobby - Talk to us!
Luggage
Cool lockers for free!
Self Check-In only
You check in independently at our terminal
Antiallergic bedding
It goes without saying!
Coffee machine
All Medium Extra and Large rooms have a coffee machine with sustainable coffee
Barrier-free access
For sure!
Smart TV
Stream as much as you like
Room cleaning
For the environment: Every 2 days
Paid parking
Sure! Within walking distance
Distance to public transport
Tram stop Poststraße: 210 meter
Distance to TOP locations
Rhein: 900 meter
Südstadt: 1,8 kilometres
Belgisches Viertel: 2 kilometres
YOUR ROOM IN COLOGNE
Your room at the KONCEPT HOTEL International in Cologne is as unique as you are.
It is colorful and tells stories of those who are not from here – just like you. And yet they now feel at home in Cologne and for the duration of your stay that shouldn't be any different with you.
In your room in Cologne you are right in the middle and where the Cologne soul lives: between Vringsveedel and the old town, the Rhine and Barbarossaplatz.
Let yourself drift through the streets of our city, discover with us a Cologne that remains closed to many others. Get lost in the urban jungle or feel safe in the small oases that Cologne has to offer everywhere. Nothing is strange here for a long time!
LARGE
Now let's be honest: Cologne, that is above all the Veedel. But how awesome would it be to see the cathedral from your bed? Pretty awesome, we think. That's why you can do just that in our LARGE rooms.
From 28 square meters
Free-standing king-size double bed (180cm) with cathedral or water tower view
Coffee machine with sustainable coffee capsules
Large bathroom
Luxury bathtub or panorama shower to relax
Desk for all busy people
Closet & spacious closet space
Flatscreen HD TV with Chromecast
Free high-speed Wi-Fi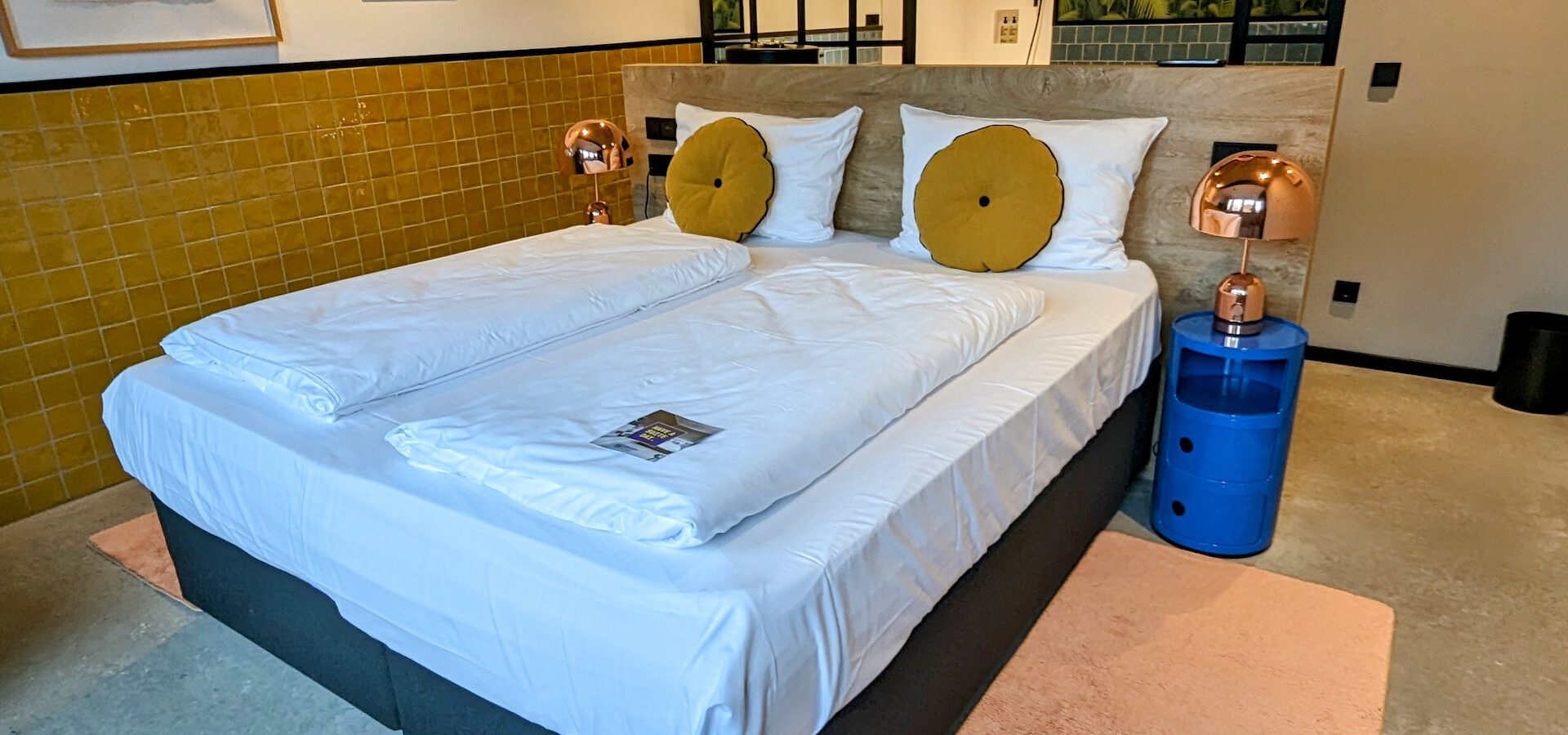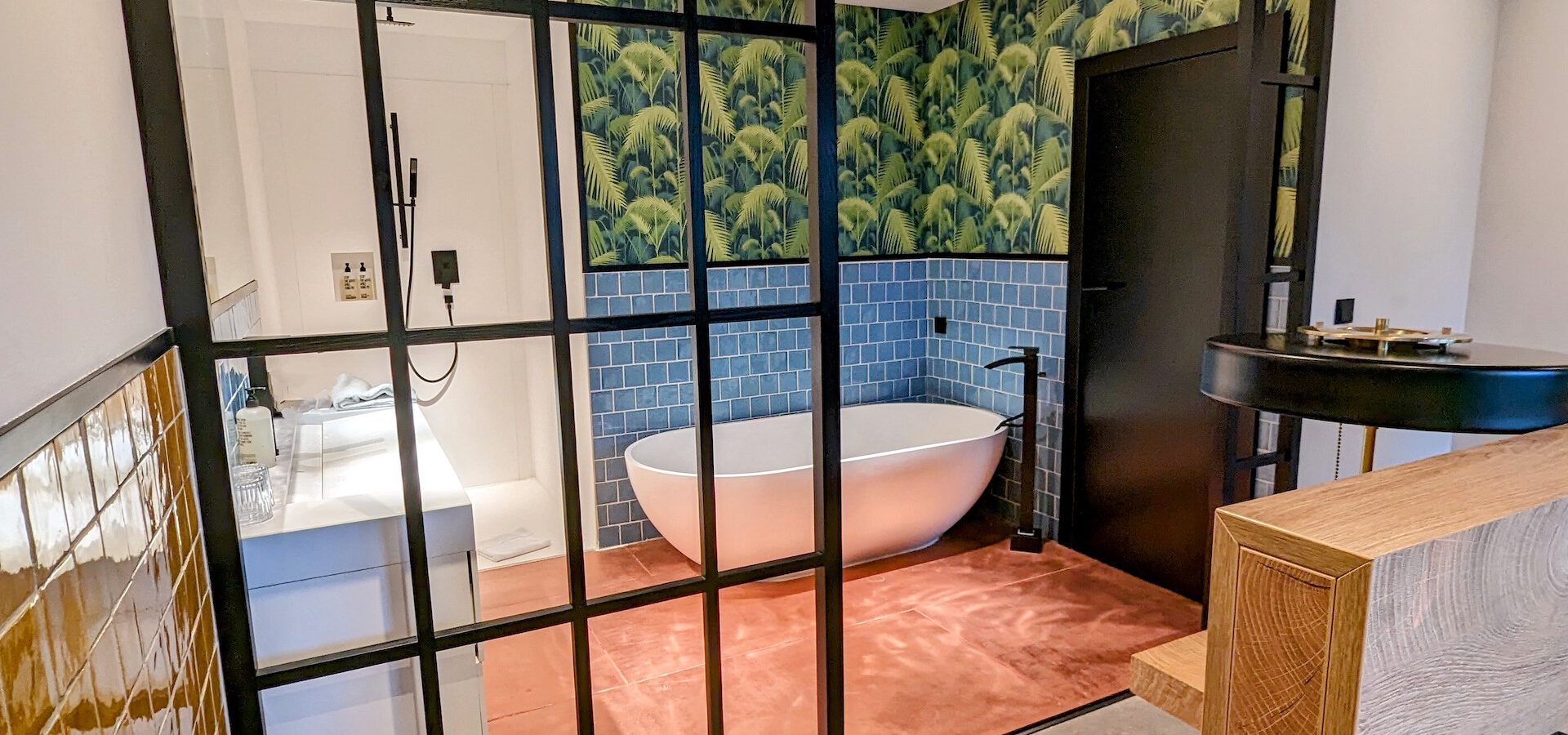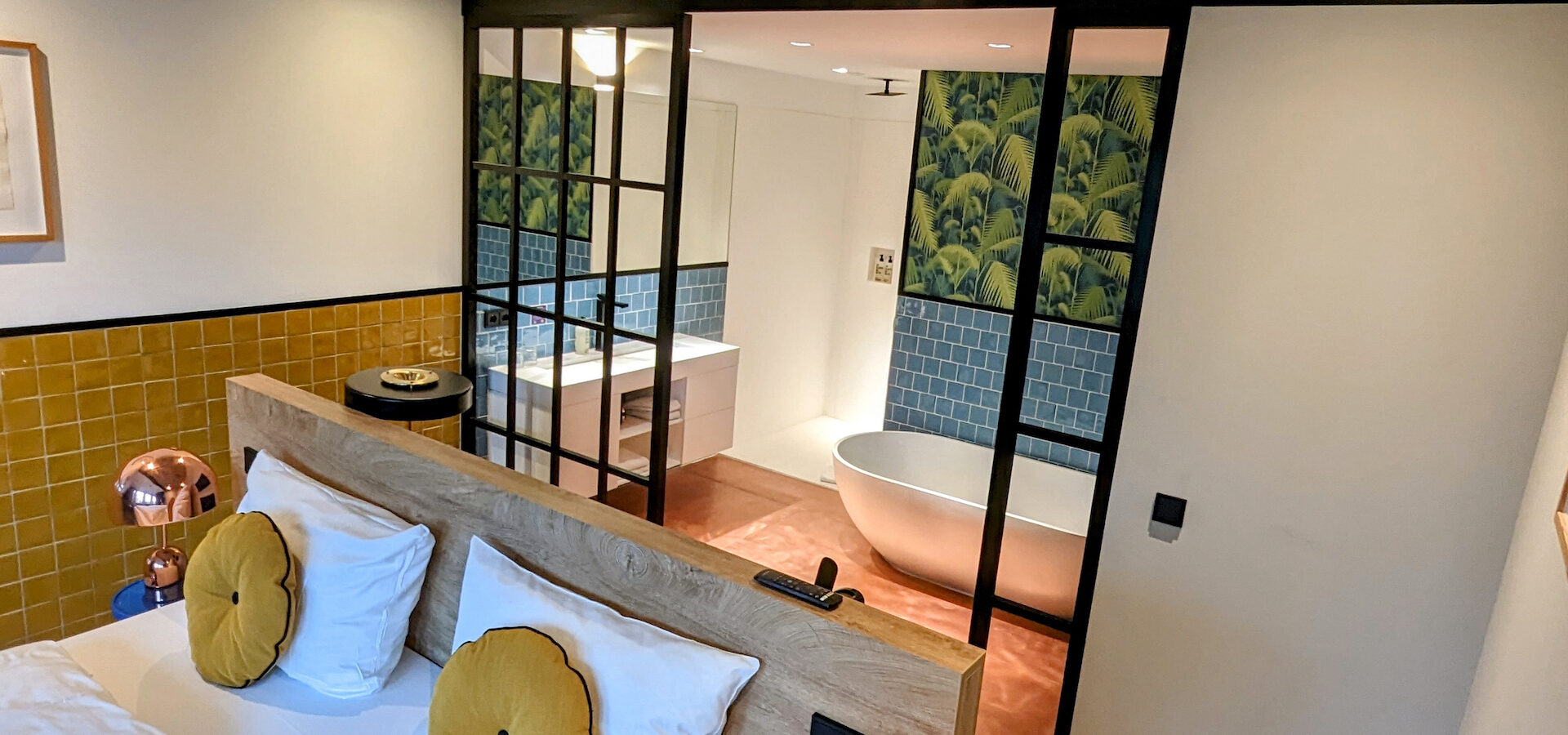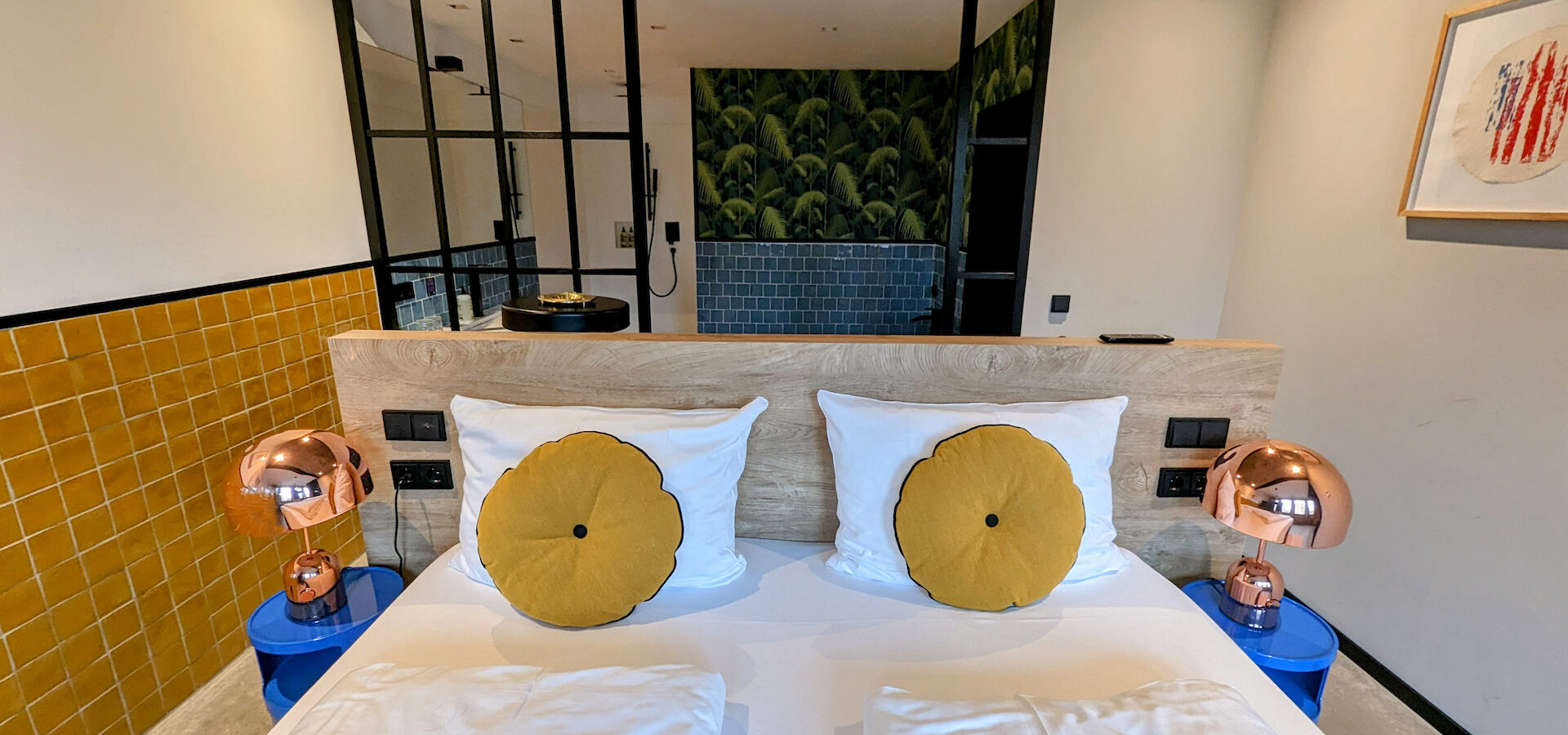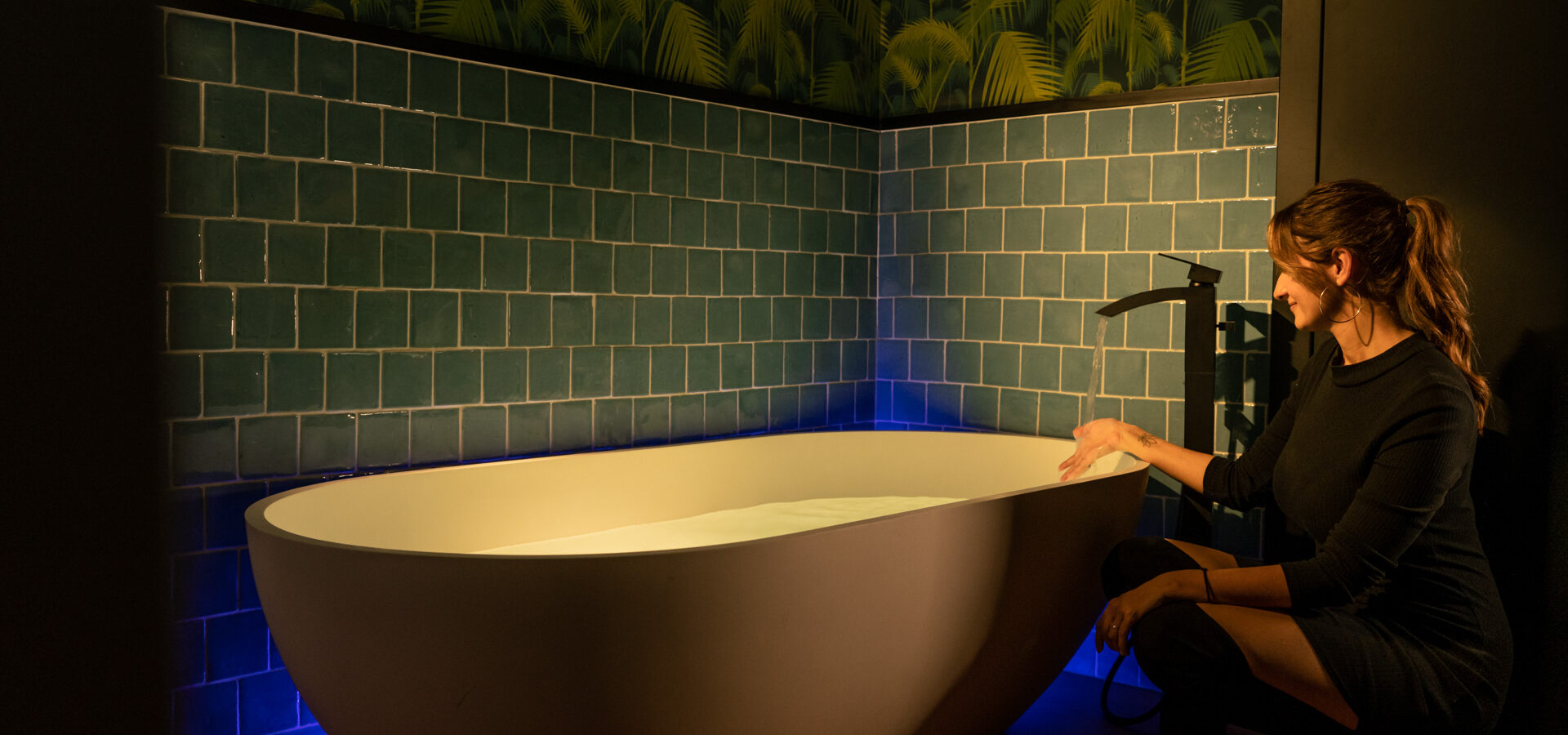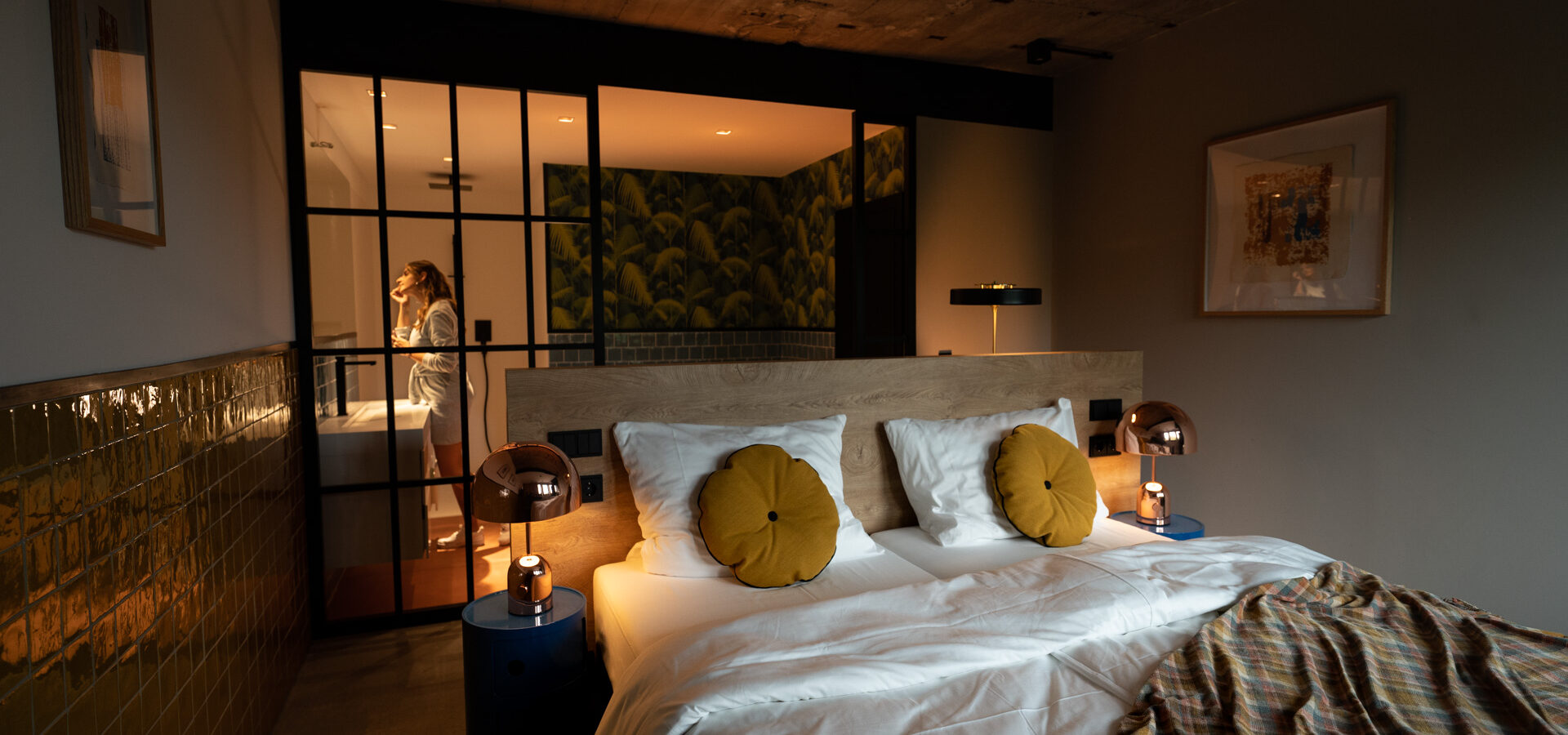 super
luxury
MEDIUM EXTRA
You want to make our hotel your home for a few days? Then our Medium Extra rooms are just the right choice! Relax, work, get creative and conquer the city – from here you can take off.
From 28 square meters
King-size double bed (180cm) or twin beds (2 x 90cm)
Coffee machine with sustainable coffee capsules
Spacious bathroom with a spacious shower
Desk for all hardworking
Cloakroom & spacious closet space
Flat screen HD TV with Chromecast
Free high-speed WiFi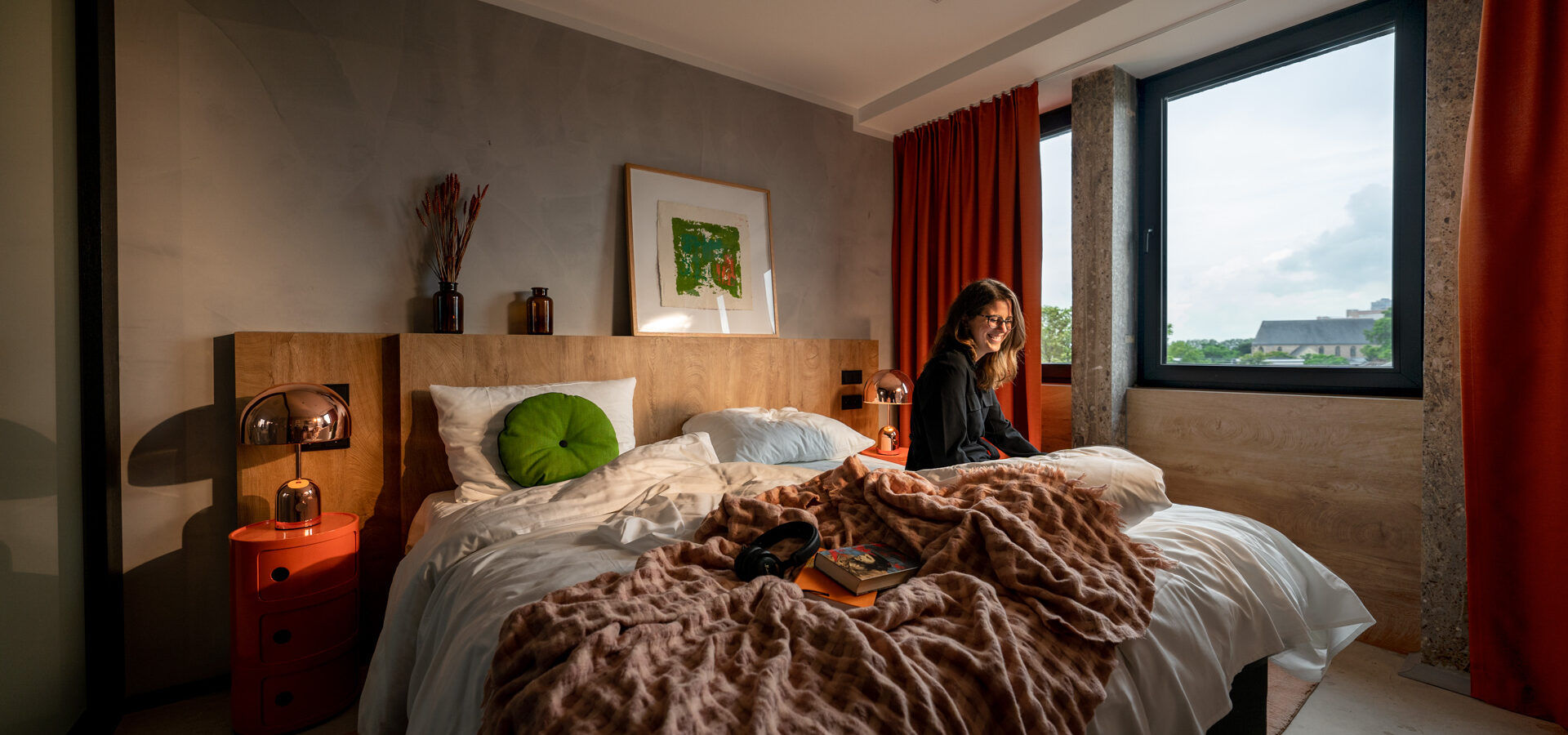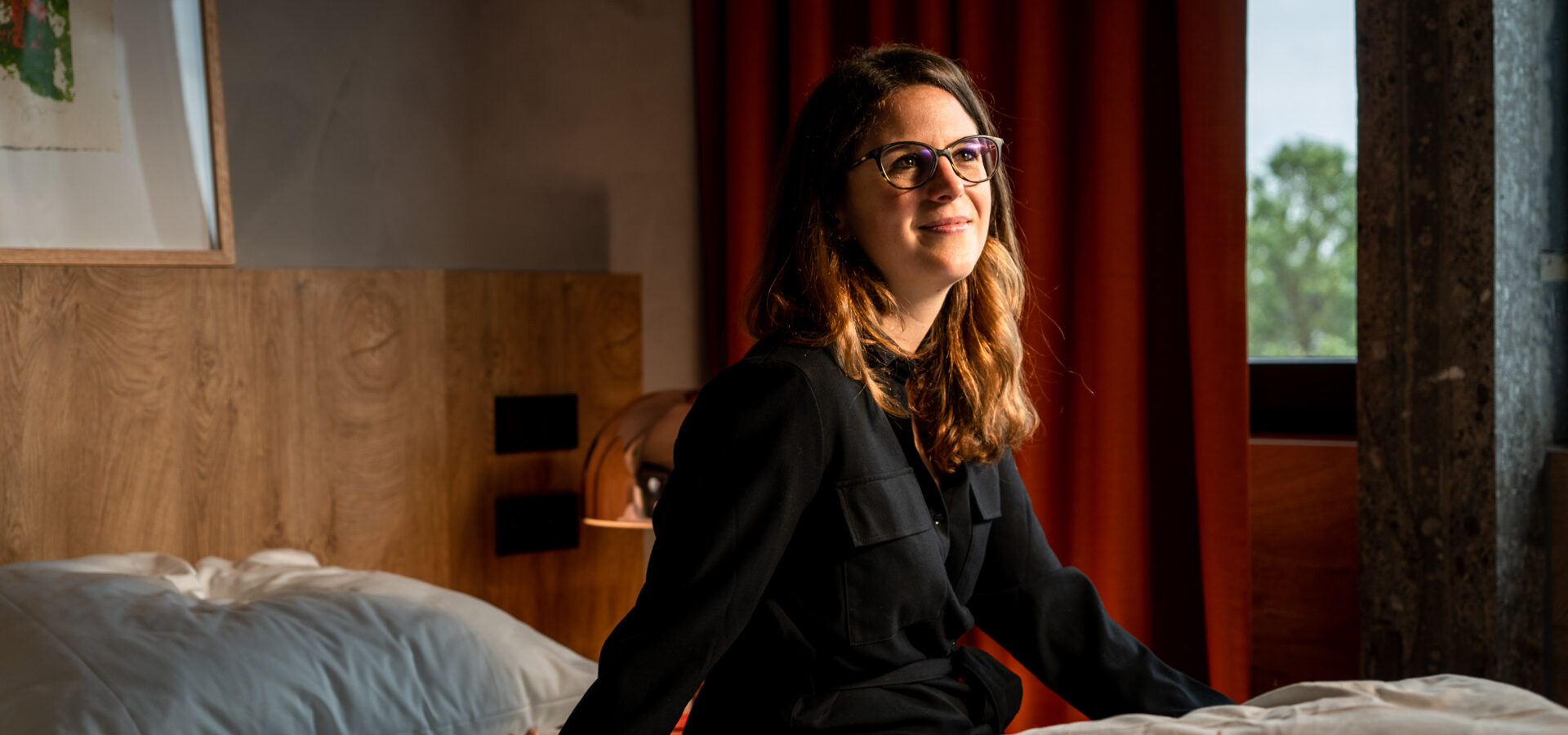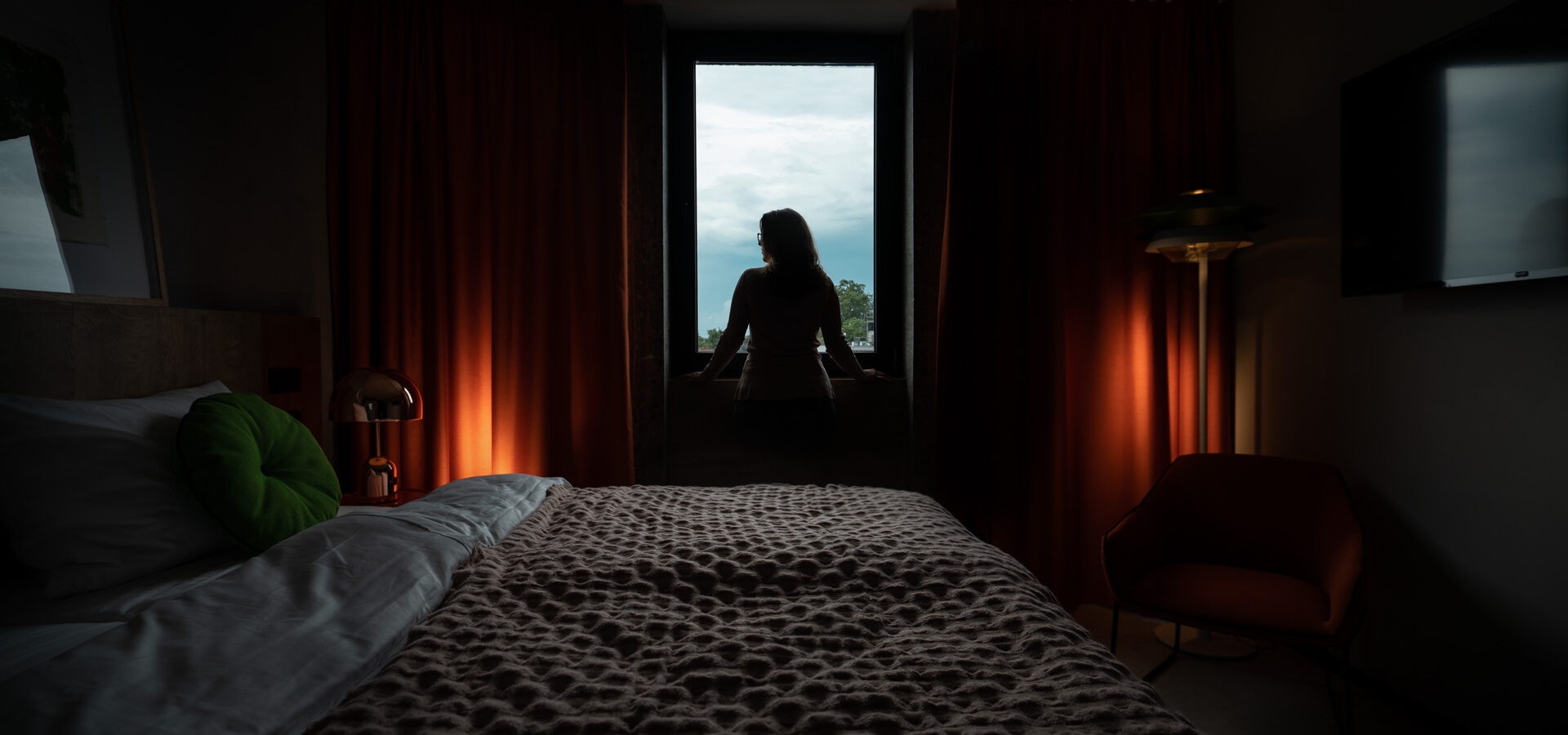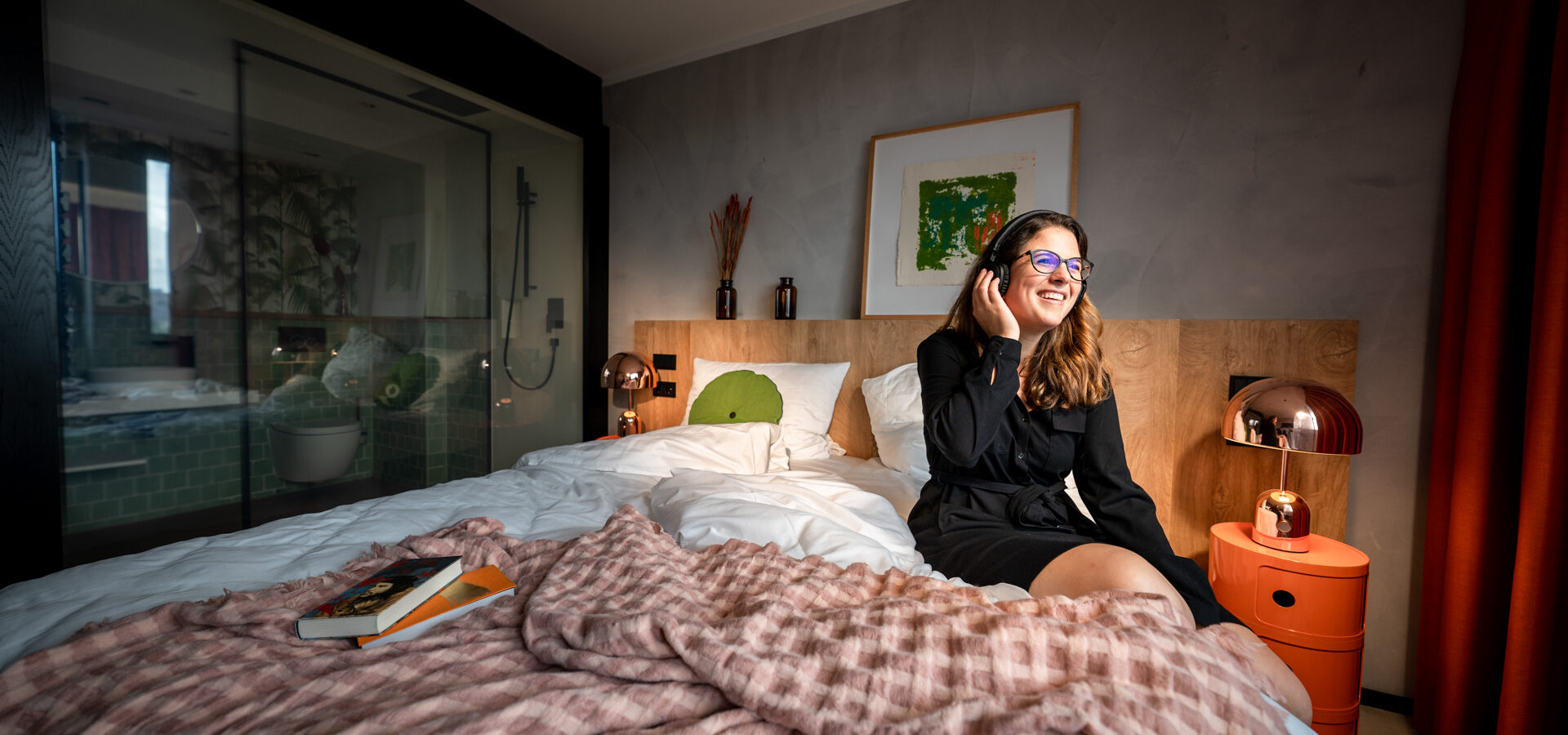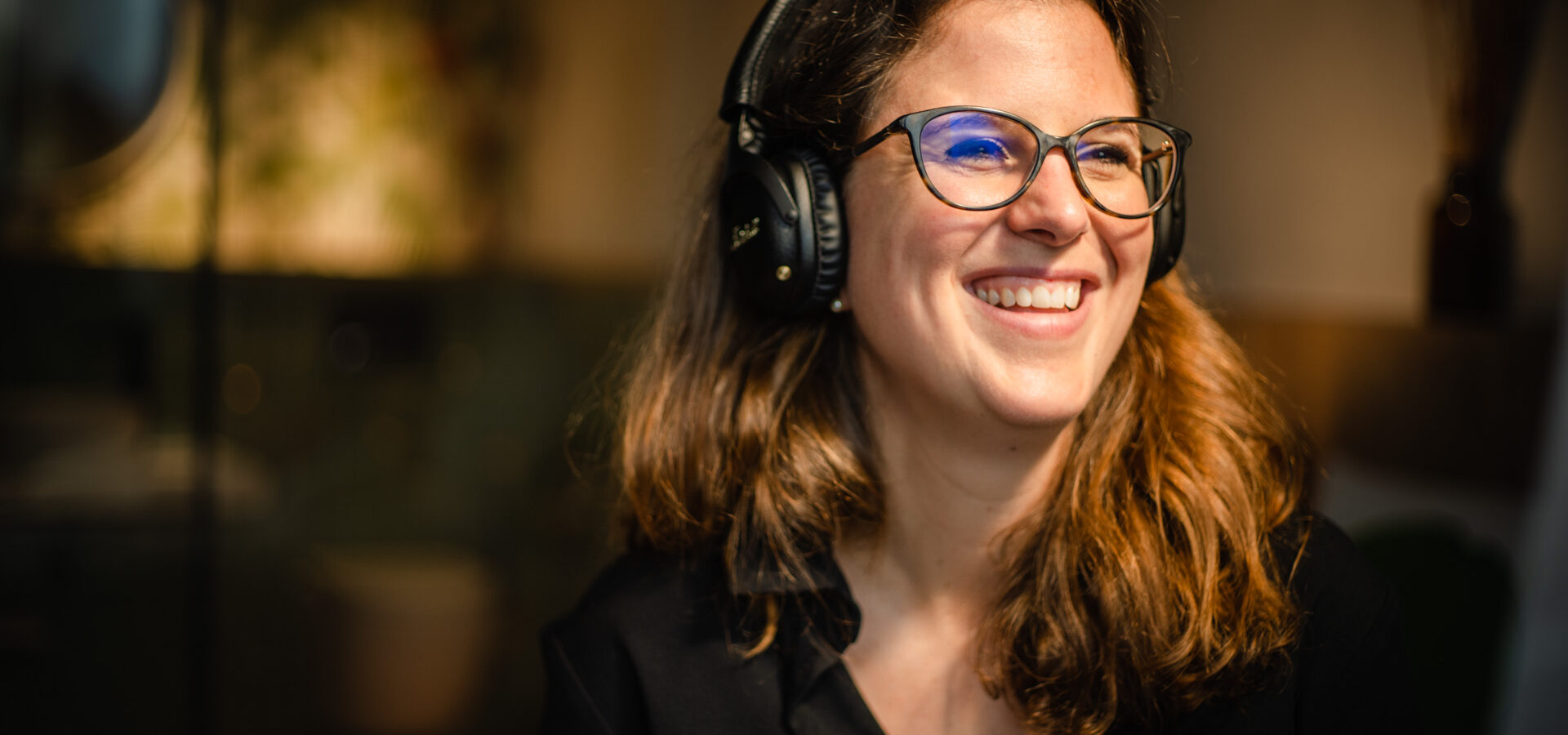 super
nice
MEDIUM
Everything you need during your stay in Cologne can be found in our medium rooms. The bright and friendly ambience leaves you plenty of room for inspiration & relaxation!
From 20 square meters
King-size double bed (180cm) or twin beds (2 x 90cm)
Spacious bathroom with a spacious shower
Cloakroom & spacious closet space
Flat screen HD TV with Chromecast
Free high-speed WiFi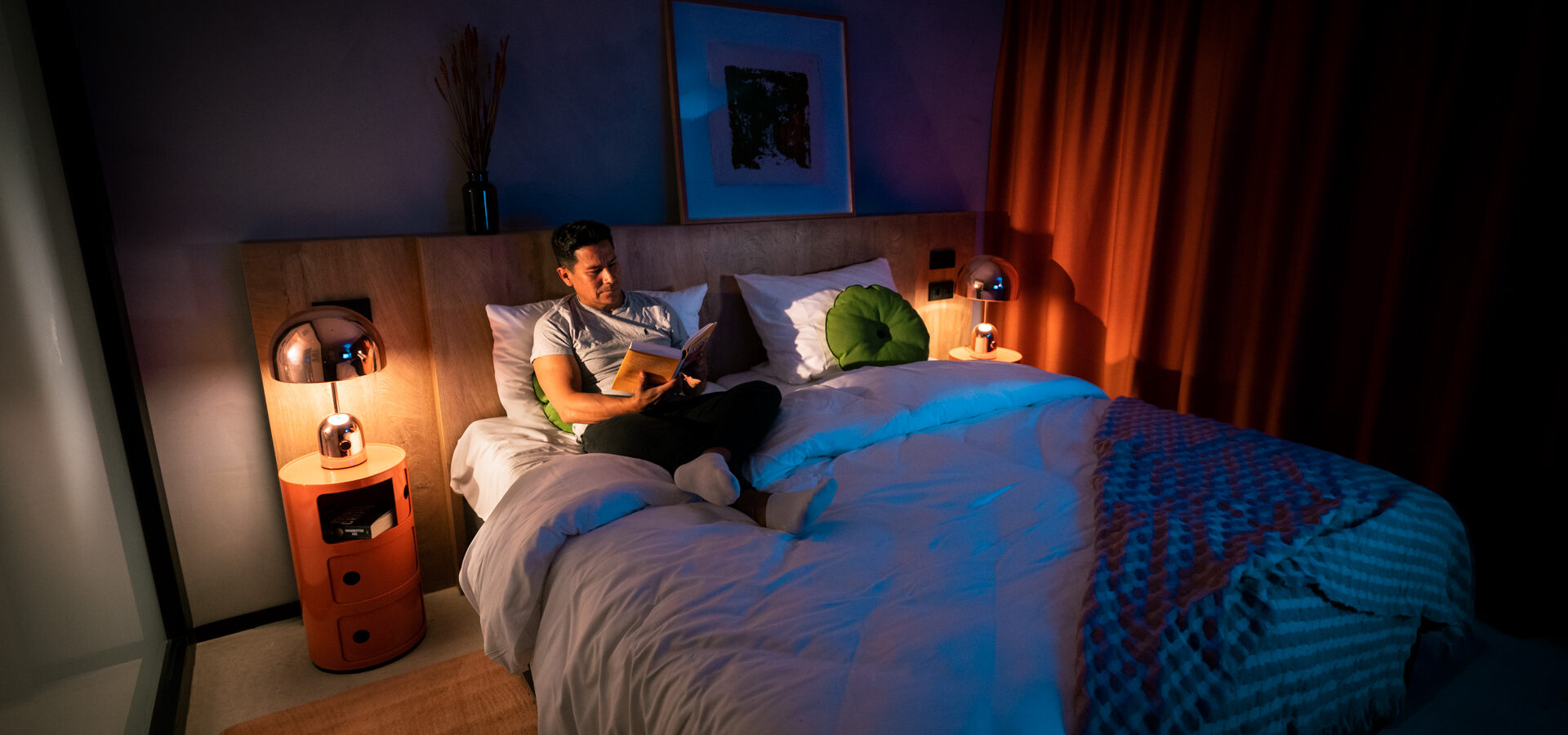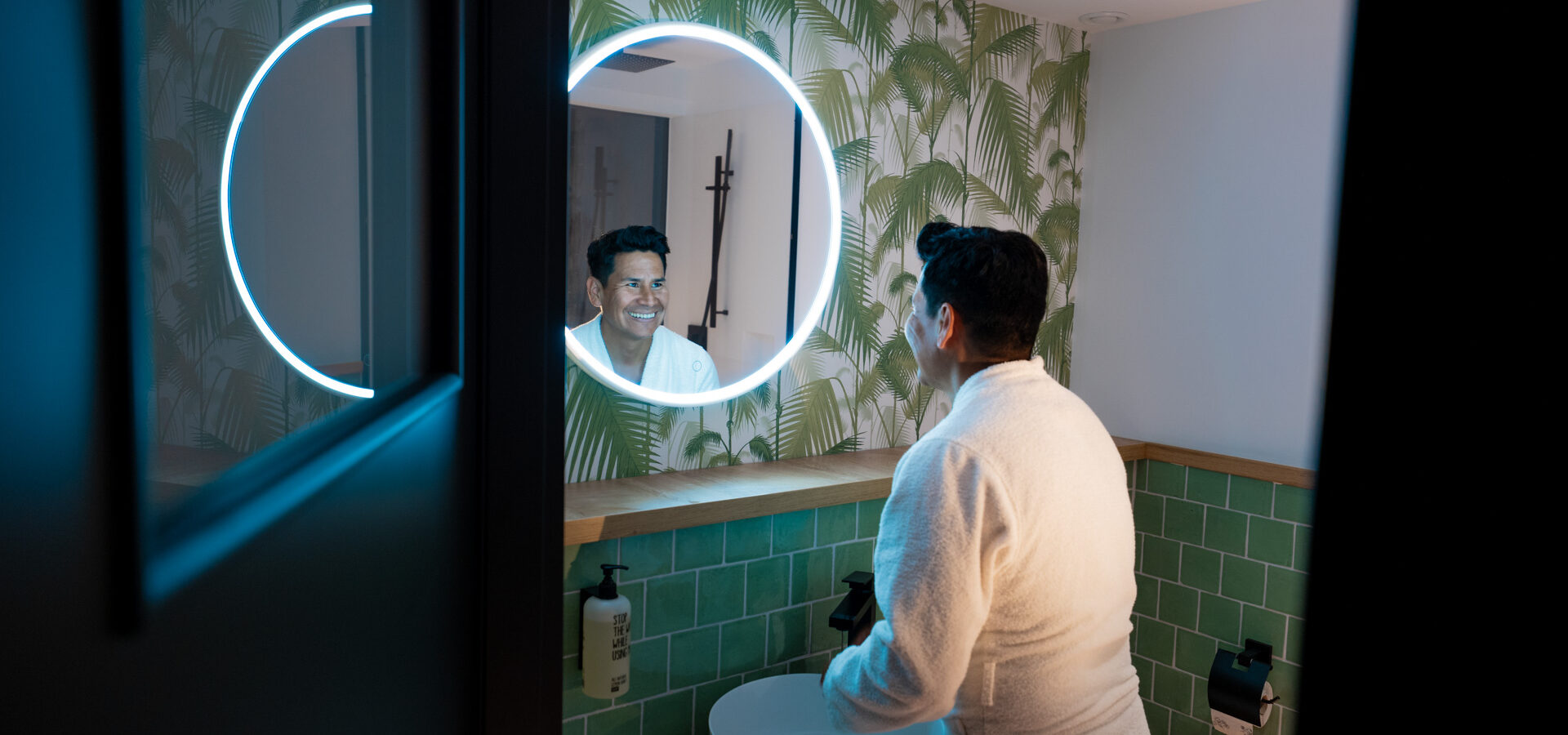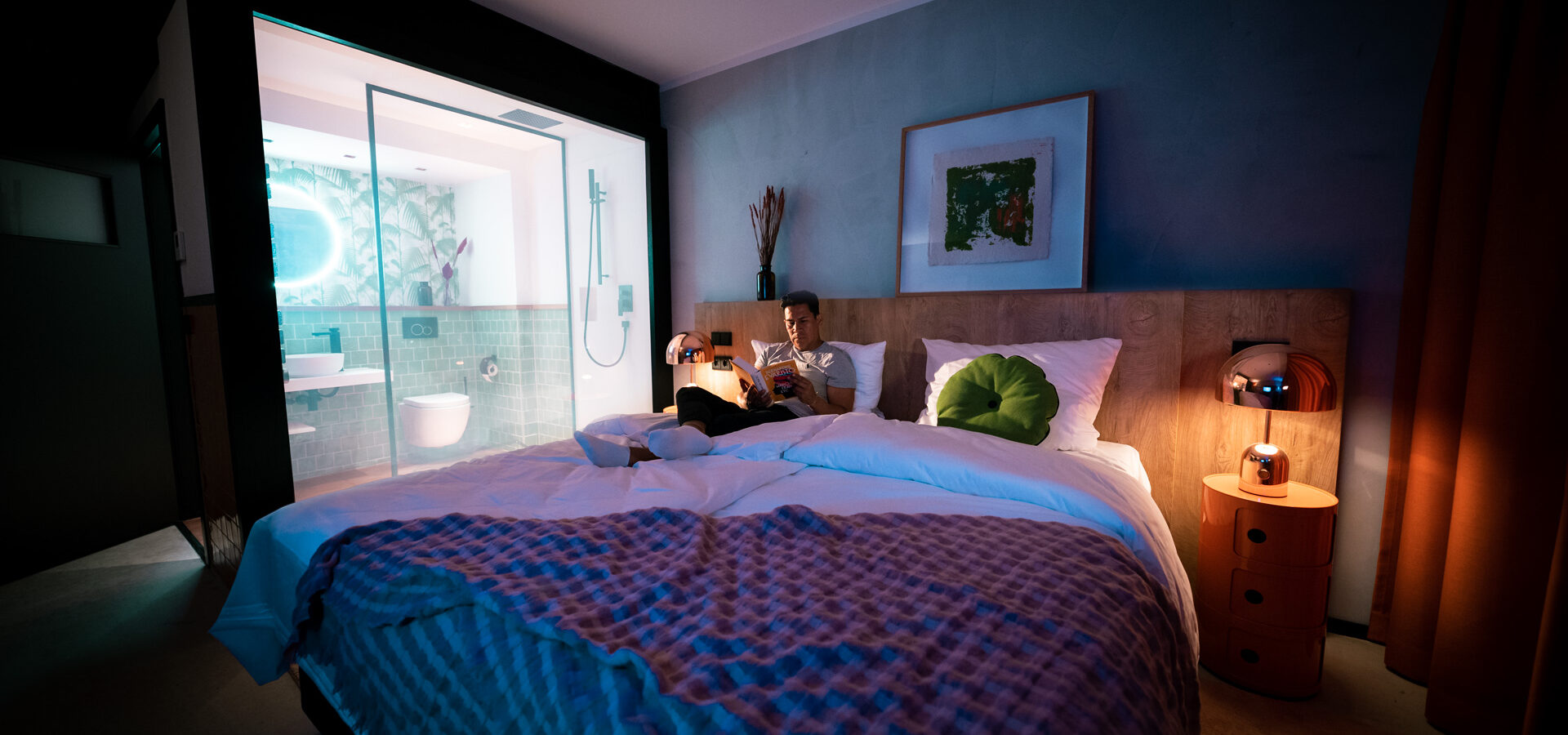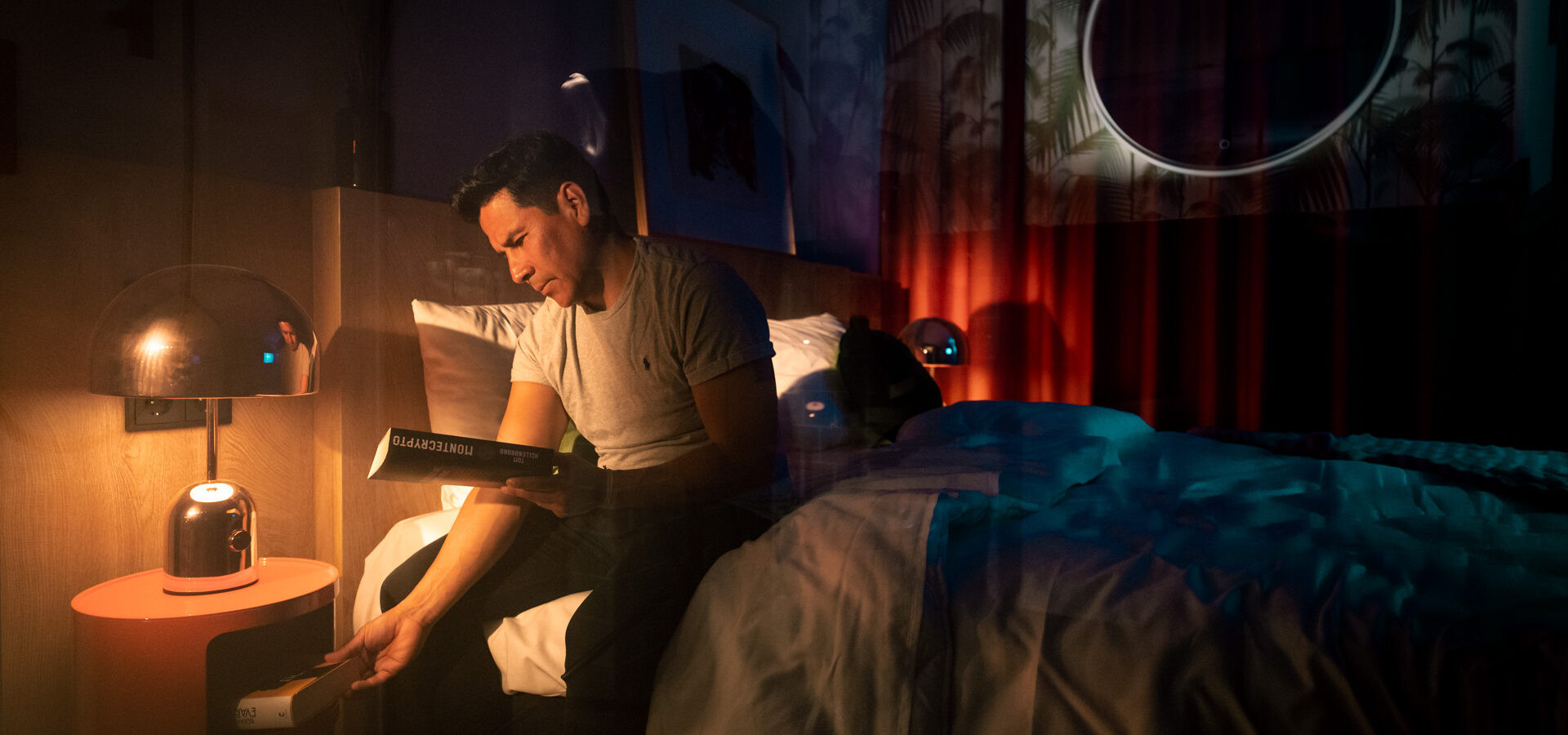 super
comfy
SOCIAL CLUB
All in or nothing! Since sharing a room with strangers is not a recipe for success at the moment, we only offer our cosy Social Club rooms as a whole. Whether you are travelling with your family or want to spend the Cologne nights with friends, our 4-bed rooms are the ideal place for hours in the horizontal!
4-bed room from 20 square meters
Bathroom with shower and toilet
Own locker for your valuables
High-speed WiFi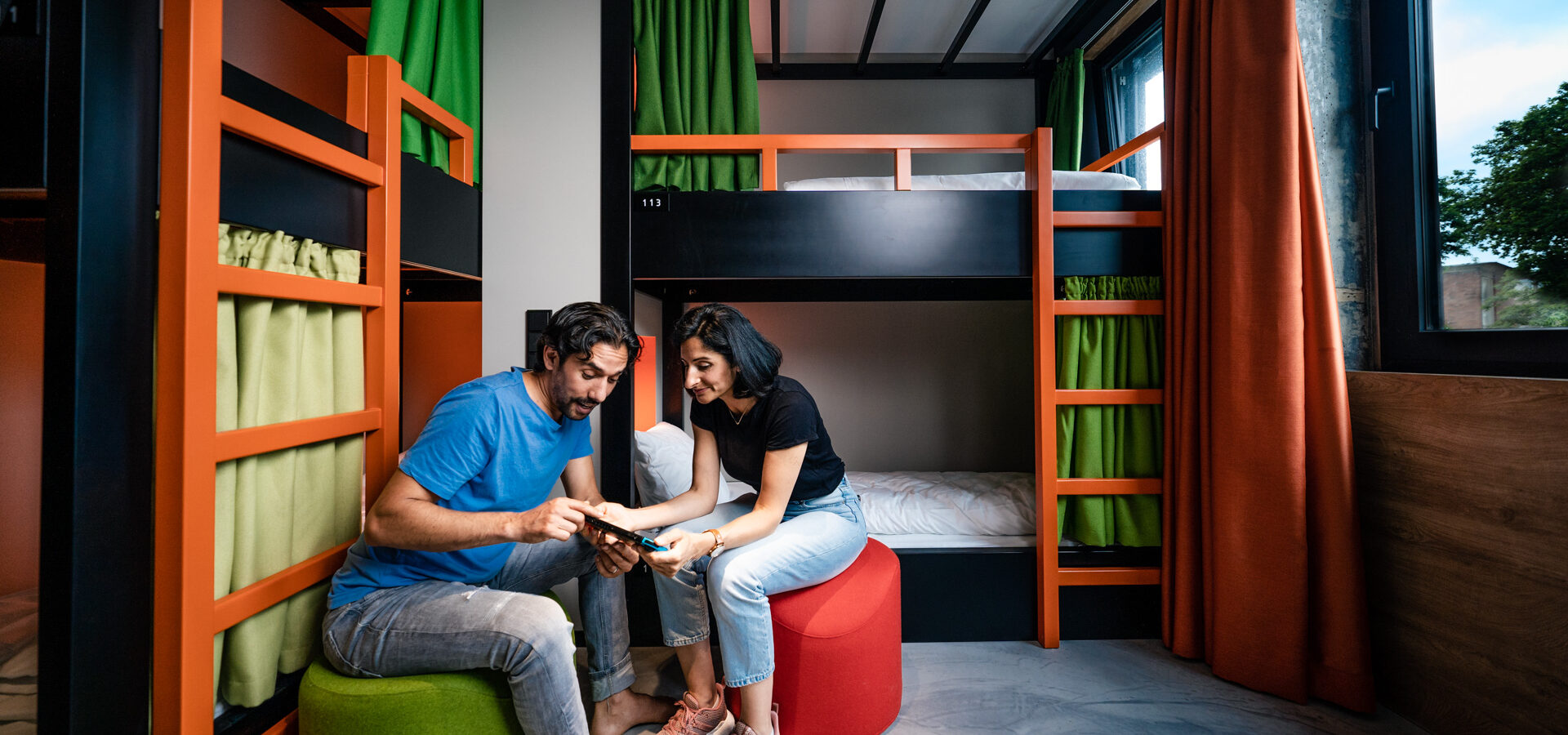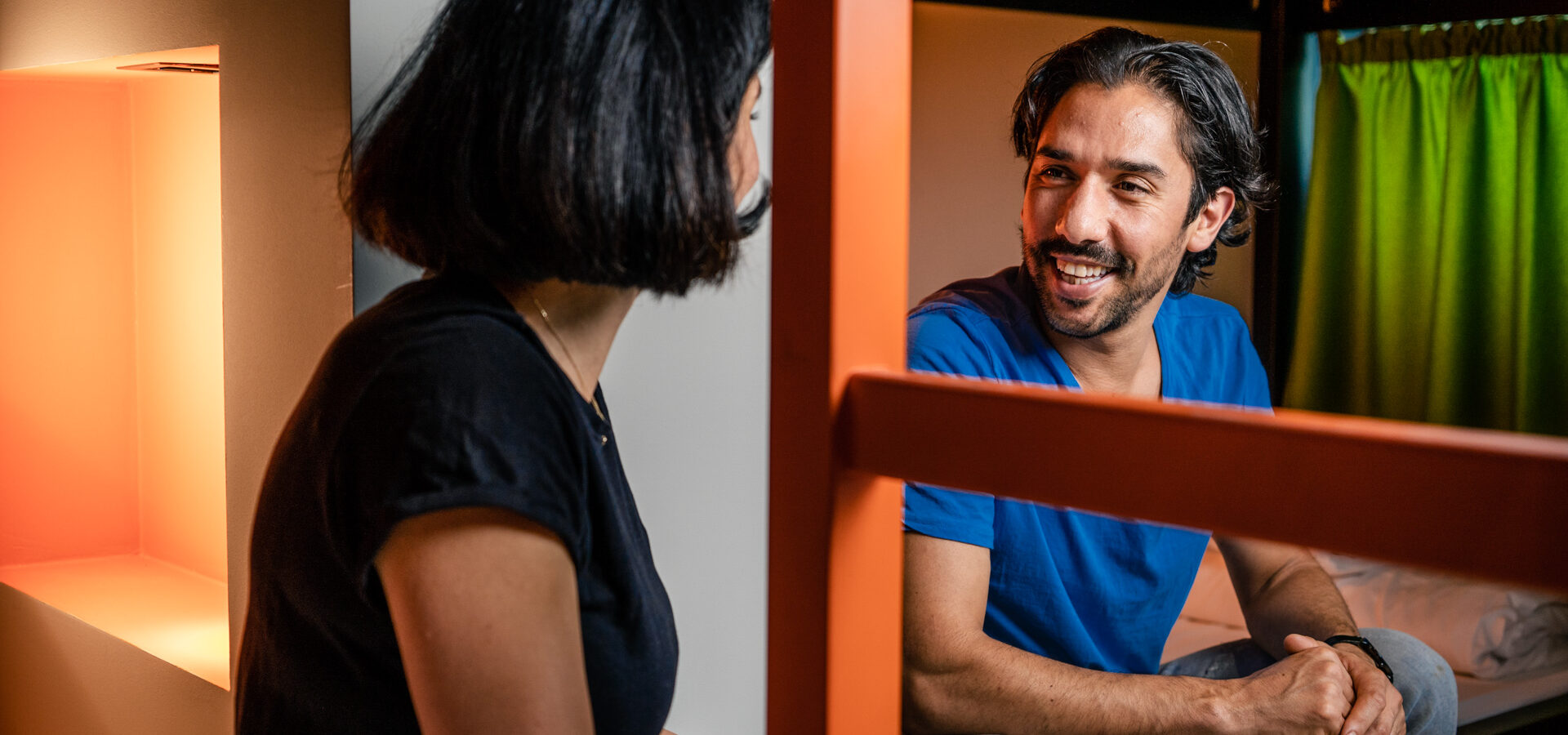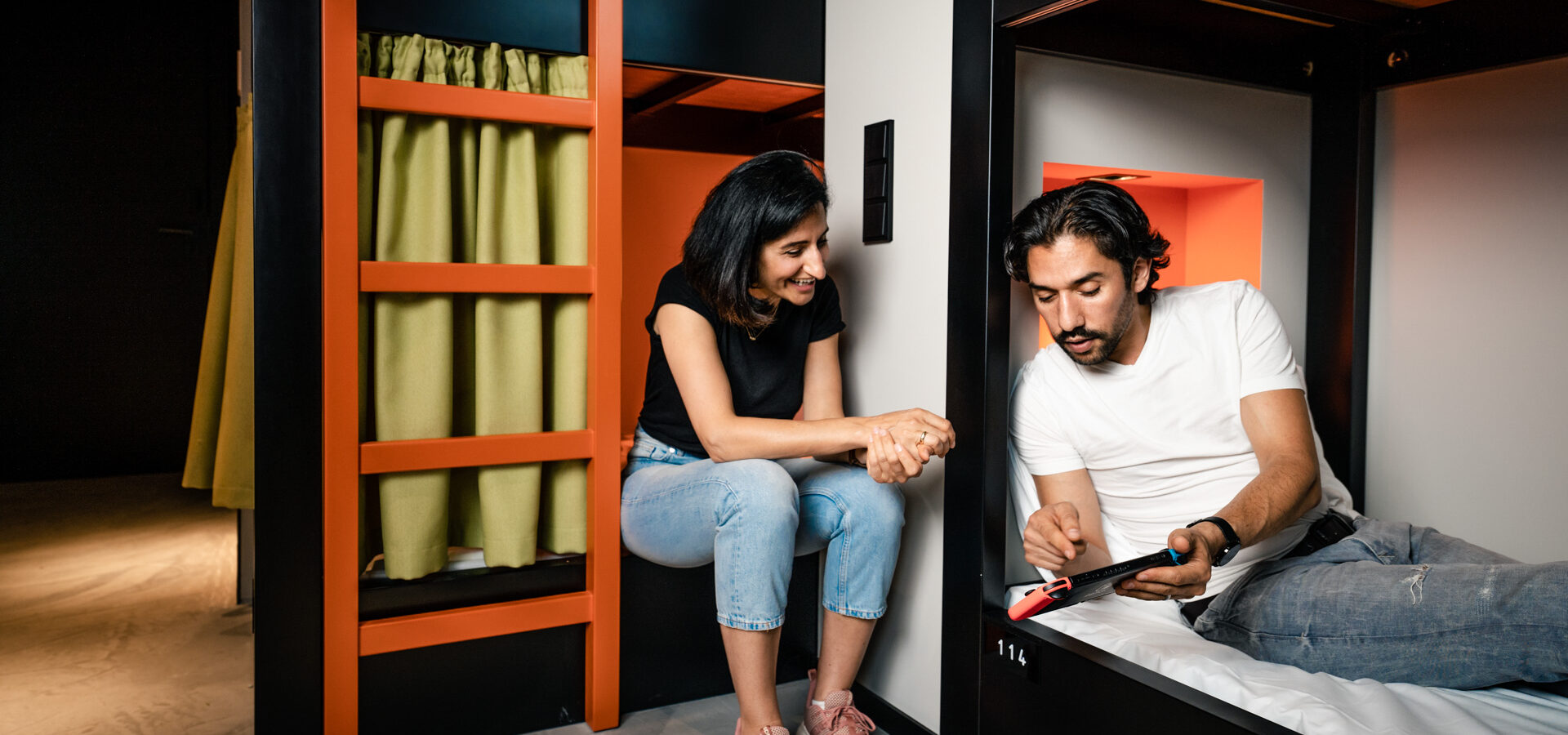 mega
deal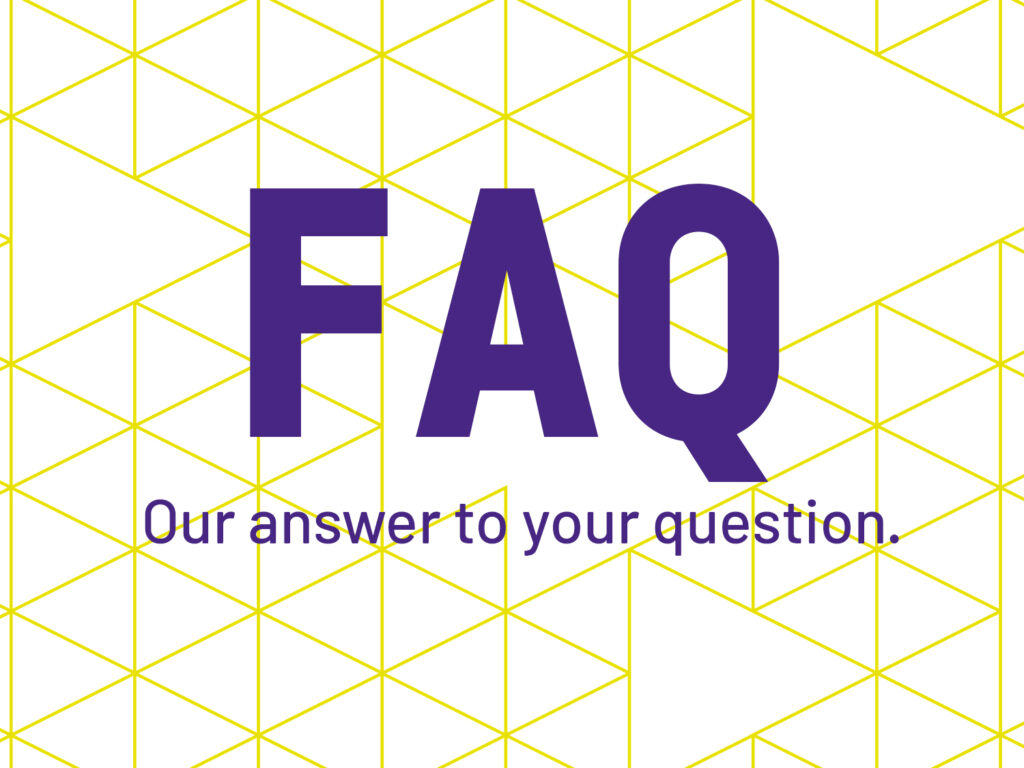 GOT QUESTIONS?
No worries, there is most likely someone who has been asking it before. But you are right: Some things are different in our hotel. You check-in via smartphone or at our terminal, there is no staff on property and all of this to make the world a bit better?!
Just have a look at our FAQ page and you will see that it's all quite simple and you surely will love it!
Our answers to your questions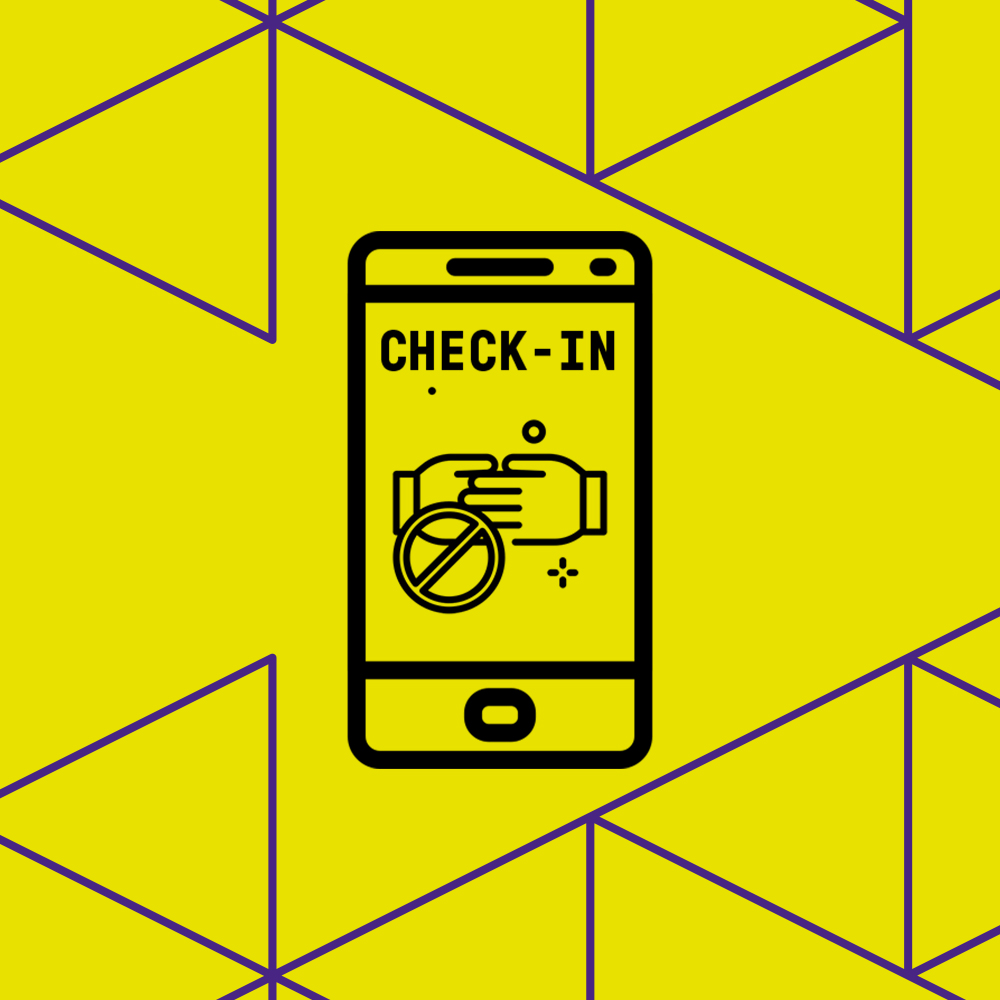 YOU ARE IMPORTANT TO US!
Ever since 2017, you have been able to check in and check out contactlessly in our hotels. Doing so, you can conveniently open your room and all doors in the hotel using your smartphone. We have also adjusted to the new situation: Your bed linen is cleaned to the highest hygienic standards and of course we disinfect all surfaces several times a day.
During your stay you get in contact with as few other people as possible. We are still available for you around the clock.
We hope that you not only feel comfortable with us, but also feel safe with us!
GOOD 2 KNOW
KONCEPT HOTEL International
Blaubach 13
50676 Köln
Phone
+49.221.16530396
eMail
hallo.international@koncepthotels.com
Plan route