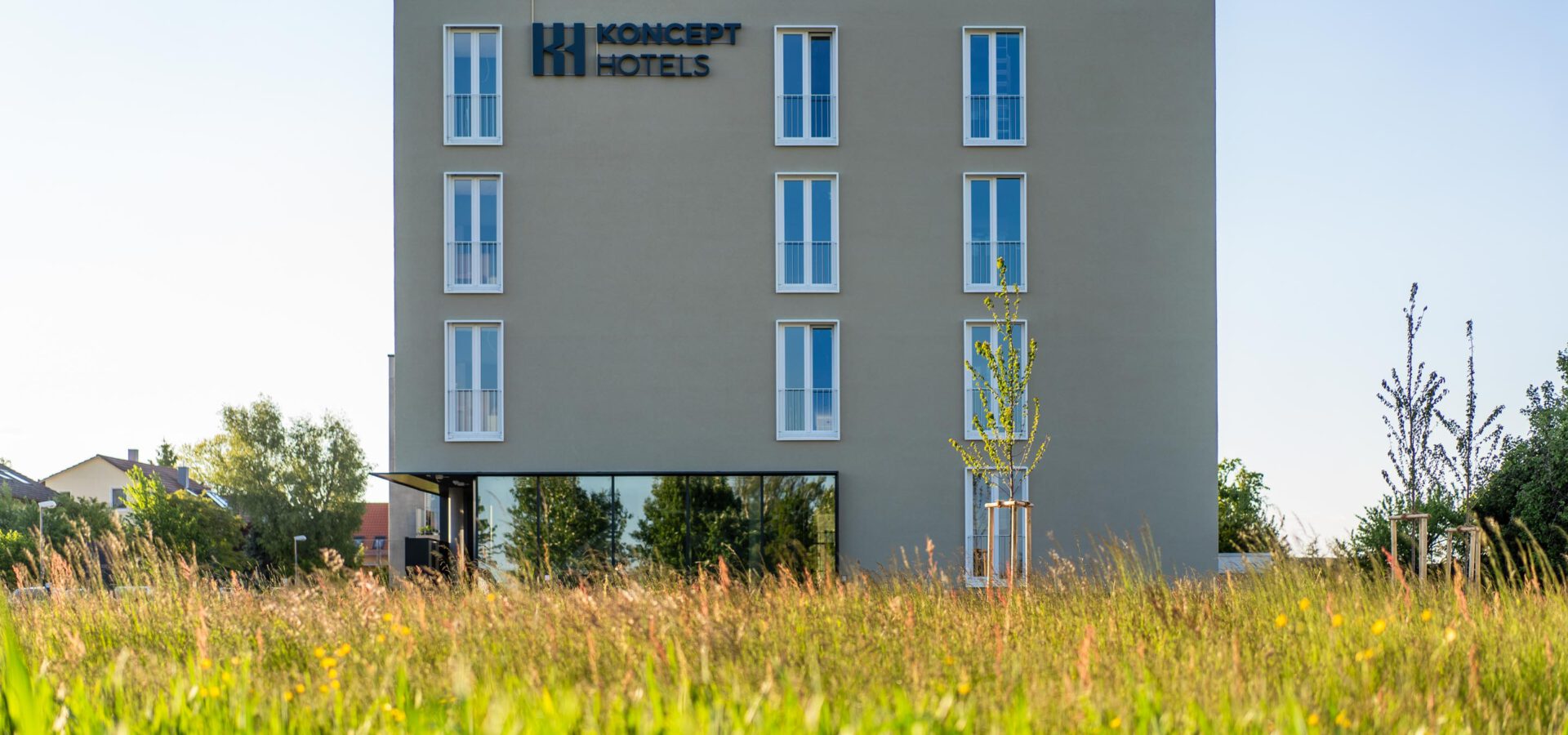 FAIRESPONSIBILITY REPORT 2022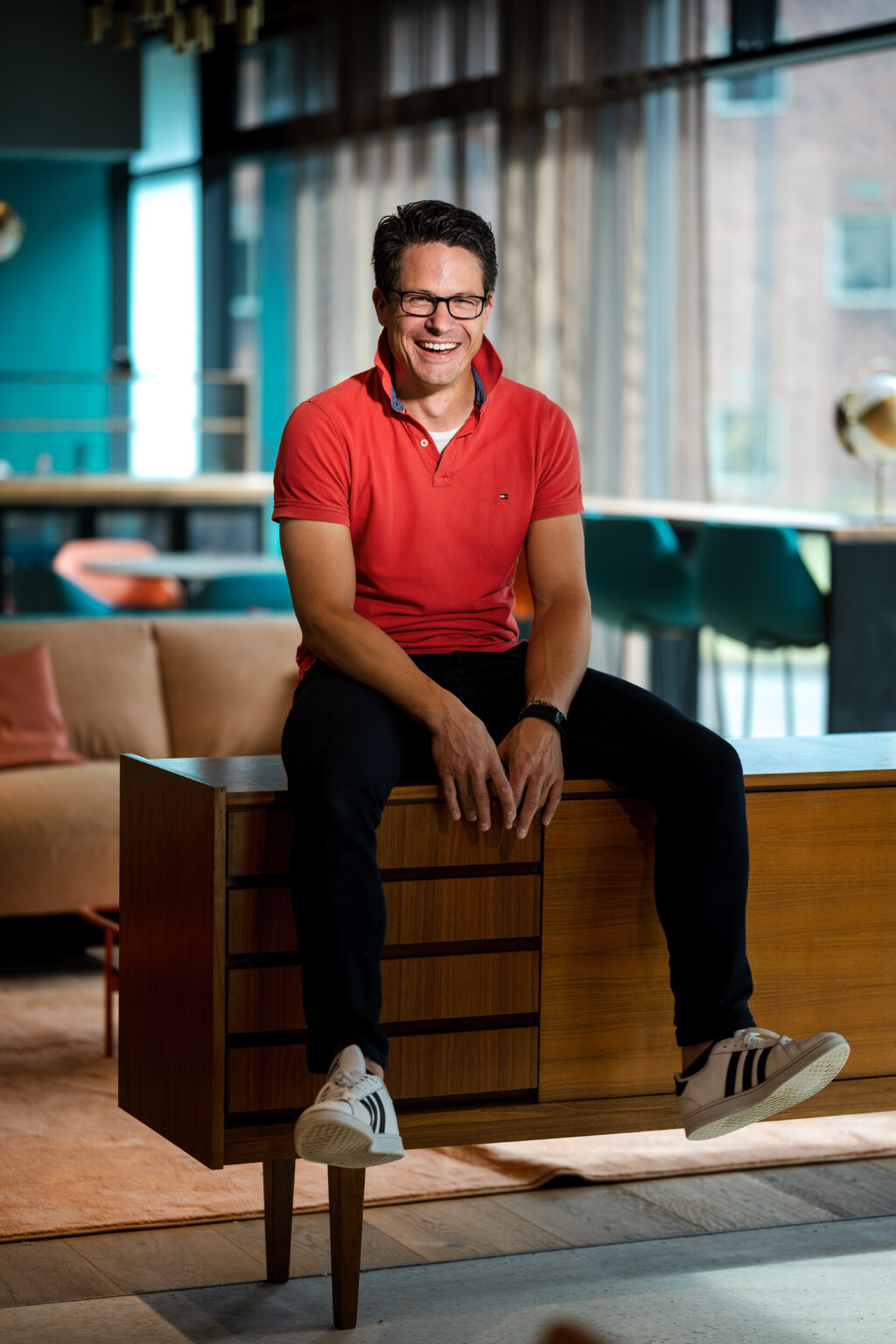 "Where are we going?" "Always homeward."
We. The flap of a butterfly's wings. Everything is connected to everything else. But never before has that been as visible, as tangible and as apparent as it is today. CO2 from our cars and power plants, the plastic used by our consumer society and even our intellectual goods and values move around the globe. Worldwide, we are setting more and more processes in motion that are threatening to get out of hand. That's why we need to act. Now.
Are moving. Climate change, poverty and hunger, flight and migration are issues that cannot be solved by one person, one company or one country alone. They are global issues. The mission of keeping our planet habitable can only be achieved together. The approach must be a global one and needs to be coordinated and aligned. It's up to all of us. Politics and economics, each and every one of us – including, and indeed especially, us as a young start-up hotel company.
Forward. For our young company it is important that we agree on our route in our "big schedule". The Agenda 2030 with its 17 sustainable development goals serves as our compass. It was adopted on 25 September 2015 by 193 heads of state or government at the UN Summit in New York. The Agenda 2030 is a "treaty about the future of the world" whereby countries pledge to ensure that everyone has a dignified life by 2030. To achieve this goal, we in Germany also need to change our way of life.
Together. The goals of the Agenda 2030, which are also our goals, are essentially:
The goals of the Agenda 2030, which are also our goals, are essentially:
Ending poverty, hunger and inequality
Increasing and ensuring people's autonomy, gender equality and a good and healthy life for all.
Promoting and building prosperity and a sustainable way of life for everyone.
Respecting the Earth's ecological limits, fighting climate change, preserving natural resources and acting sustainably.
Protecting human rights, guaranteeing peace, good governance and access to justice
Building a global partnership
Here you will find our complete Fairesponsibility Report 2022 to download as a PDF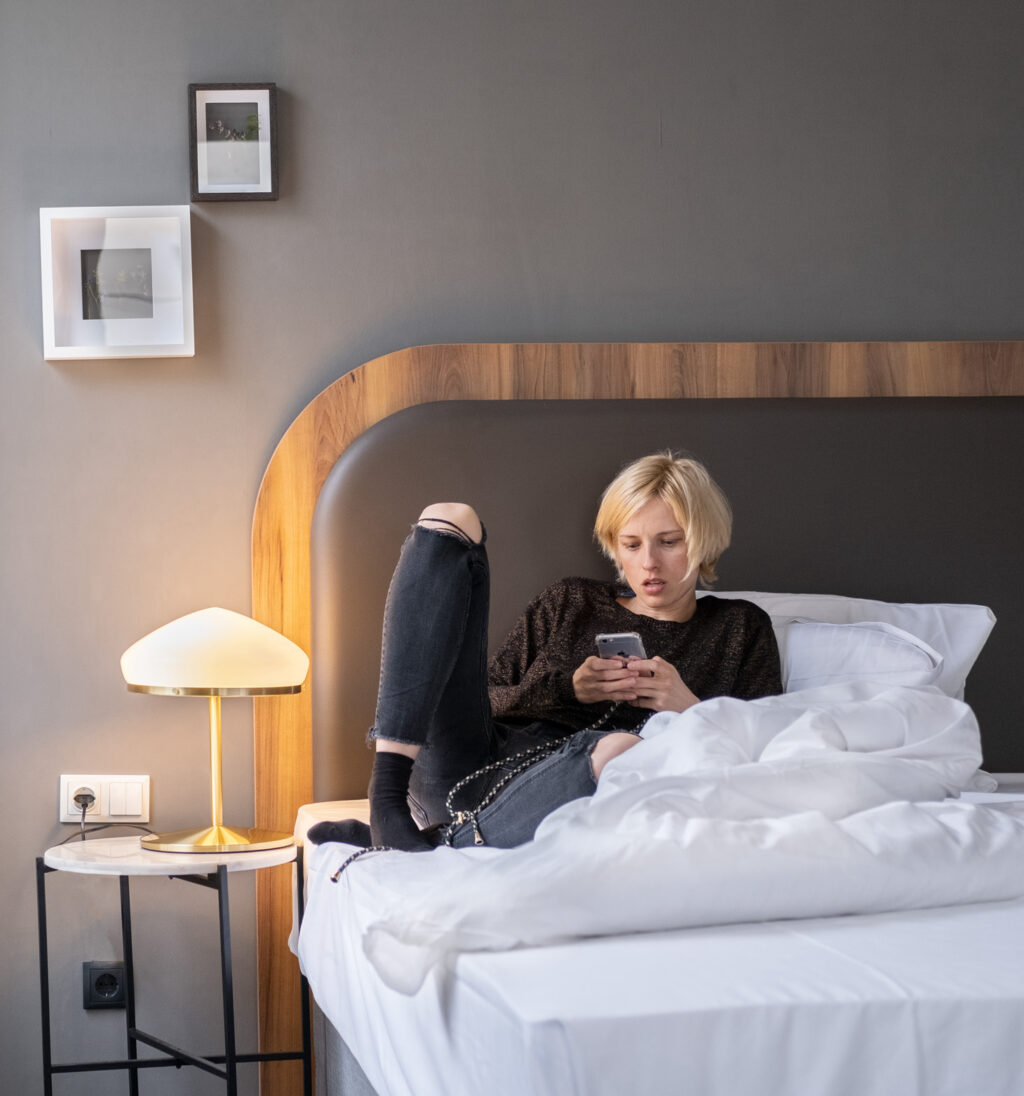 Digital, sustainable, local – our contribution to the Agenda 2030
Imbuing a hotel with sustainability is a complex endeavour. The products and processes of a young hotel company like our KONCEPT HOTELS can be designed in very different, sustainable ways. To understand how we do this, it is necessary to take a look at our entire value-added process and our core concept: digitalisation. At first glance, aren't digital and sustainable contradictory? No. On the contrary.
Using digital scope. With our digitalised hotel concept based on self-service, we create scope for investment in a holistic, sustainable operations management. Inspired by the United Nations 17 Sustainable Development Goals which were adopted in 2015, we go beyond purely economic performance indicators when defining our company's success.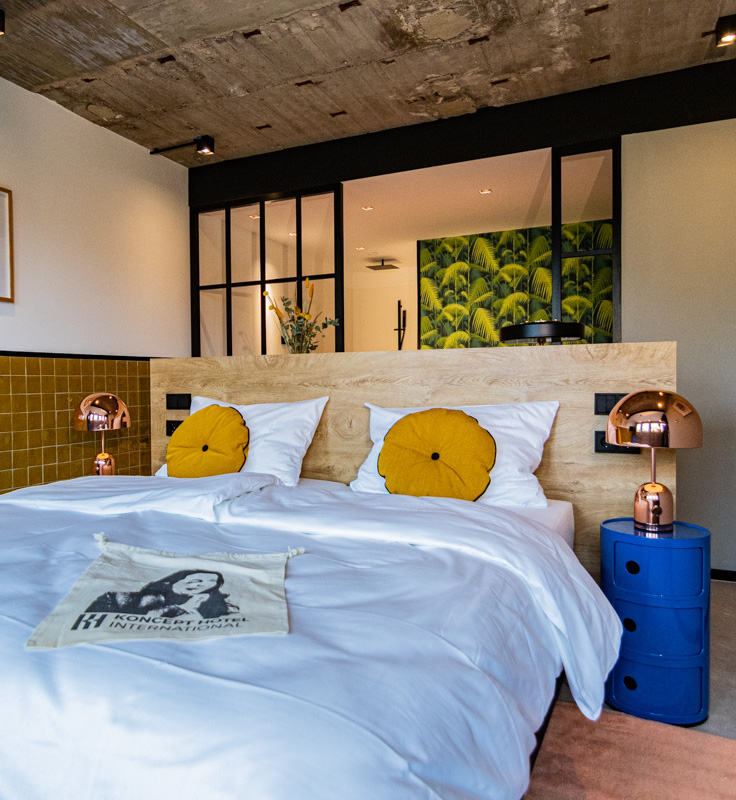 Reinvesting cost advantages in a green way. Based on our digitalisation concept, which received the cross-sector Digital Leader Award in 2018, we optimise our processes from accounting to guest self-service. This gives us cost advantages that we reinvest in sustainability. We donate a share of our proceeds every year to our chosen charities. In addition, we opt for products which are as regional and sustainable as possible, as well as locally produced room furnishings. We also follow the "digital, sustainable, local" principle when choosing our partners and cooperating with companies who also pursue sustainability goals for their part – and have to factor it in to their product prices.
Acting fairly and responsibly. Because we link responsibility with fairness, we have called our corporate sustainability strategy FAIRESPONSIBILITY. All the sustainable efforts we make follow one big goal: as a hotel company, we want to act totally sustainably in all areas. That is why we see our many small measures as important steps along the way. We have made excellent progress with some of the 17 goals; with others we still have some way to go.
Step by step to more sustainability. Our gradual development can be clearly seen when it comes to energy. From the very beginning, we have used exclusively green electricity – with no biomass gasification. Over the years we have continually reduced our energy consumption though numerous energy saving measures. We have replaced energy guzzlers, insulated existing buildings and controlled corridor lighting with motion sensors according to demand.
For most of our 17 sustainability fields we have drawn up rigorous corporate goals. As far as energy is concerned, for example, we want to bring electricity consumption in all our hotels under 7kWh per overnight stay. By 2025, we intend to produce at least 15 percent of the energy we consume ourselves.
Step by step to more sustainability.

How KONCEPT HOTELS are implementing the 17 goals of the UN Agenda 2030:
Goal 1: No Poverty
Better cotton for better working conditions
Global challenge: There is almost nothing as energy-intensive in the hotel industry as the daily processing of hotel laundry. And what's more: cotton is one of the most environmentally harmful crops on our planet. On the other hand, the feel of cotton bedding is particularly comfortable and almost impossible to replace…
Our part of the solution: We rely on Better Cotton Initiative (BCI) producers for the production of cotton. The initiative helps famers to increase their cotton yields despite a reduced use of pesticides and water. Our bed linen also bears the EU Ecolabel.
This way we ensure that only particularly environmentally friendly fibres are used and all the chemicals involved in the production of textiles are subject to strict criteria. All our textiles are exclusively produced in plants that meet the OEKO-TEX and Green Button standards and accordingly shoulder their social and environmental responsibilities.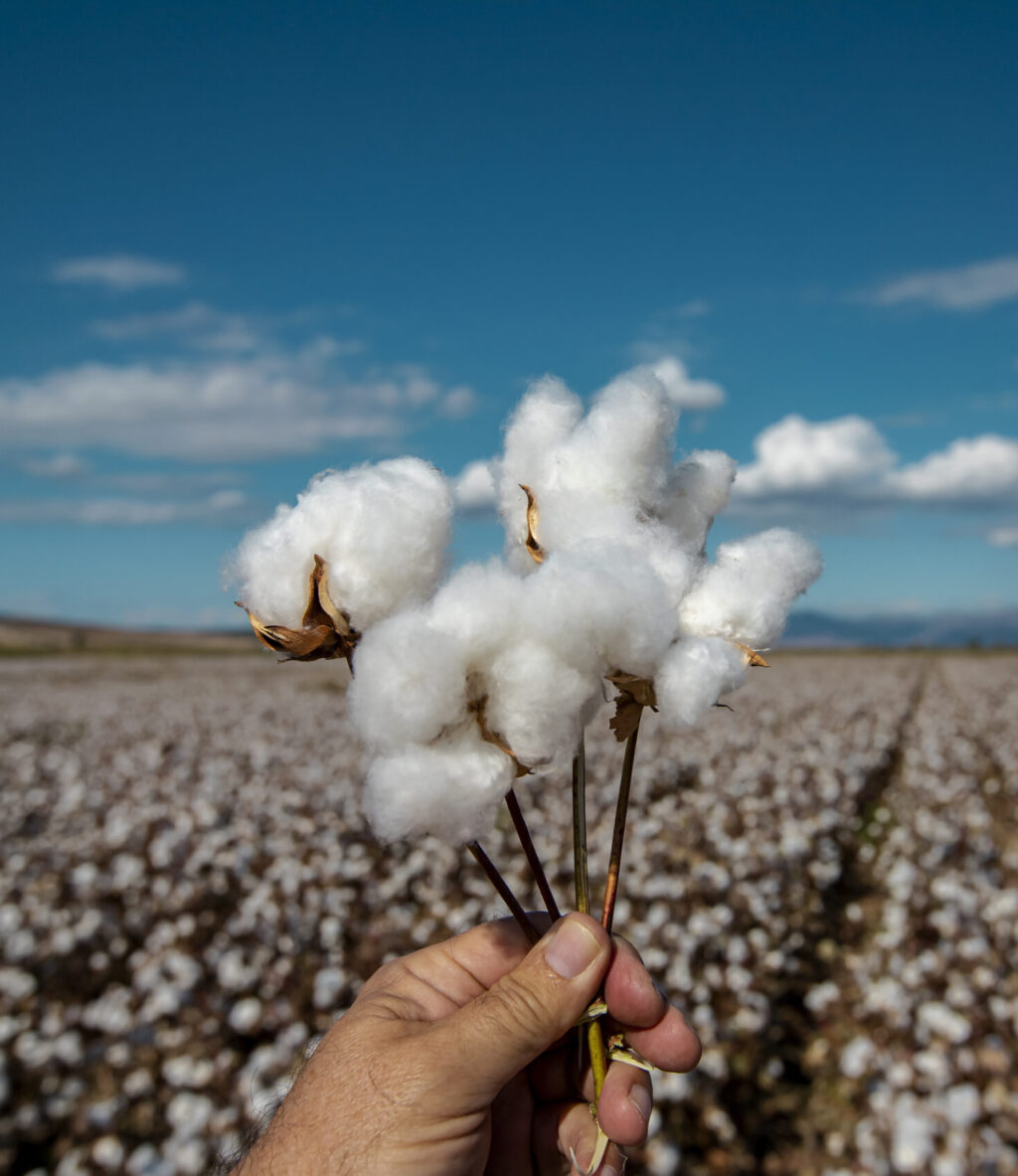 Goal 2: Zero Hunger
Fairtrade coffee against exploitation
Global challenge: People are exploited at work throughout the world and cannot adequately feed themselves. A big problem for people and the environment is non-Fairtrade coffee.
Our part of the solution: In all KONCEPT HOTELS we only serve organic coffee, wherever it is available, which has been traded in accordance with Fairtrade rules. Fairtrade coffee cooperatives are democratically organised. This has many advantages: greater bargaining power, the opportunity for joint investments, simplified access to financing and mutual learning and interaction.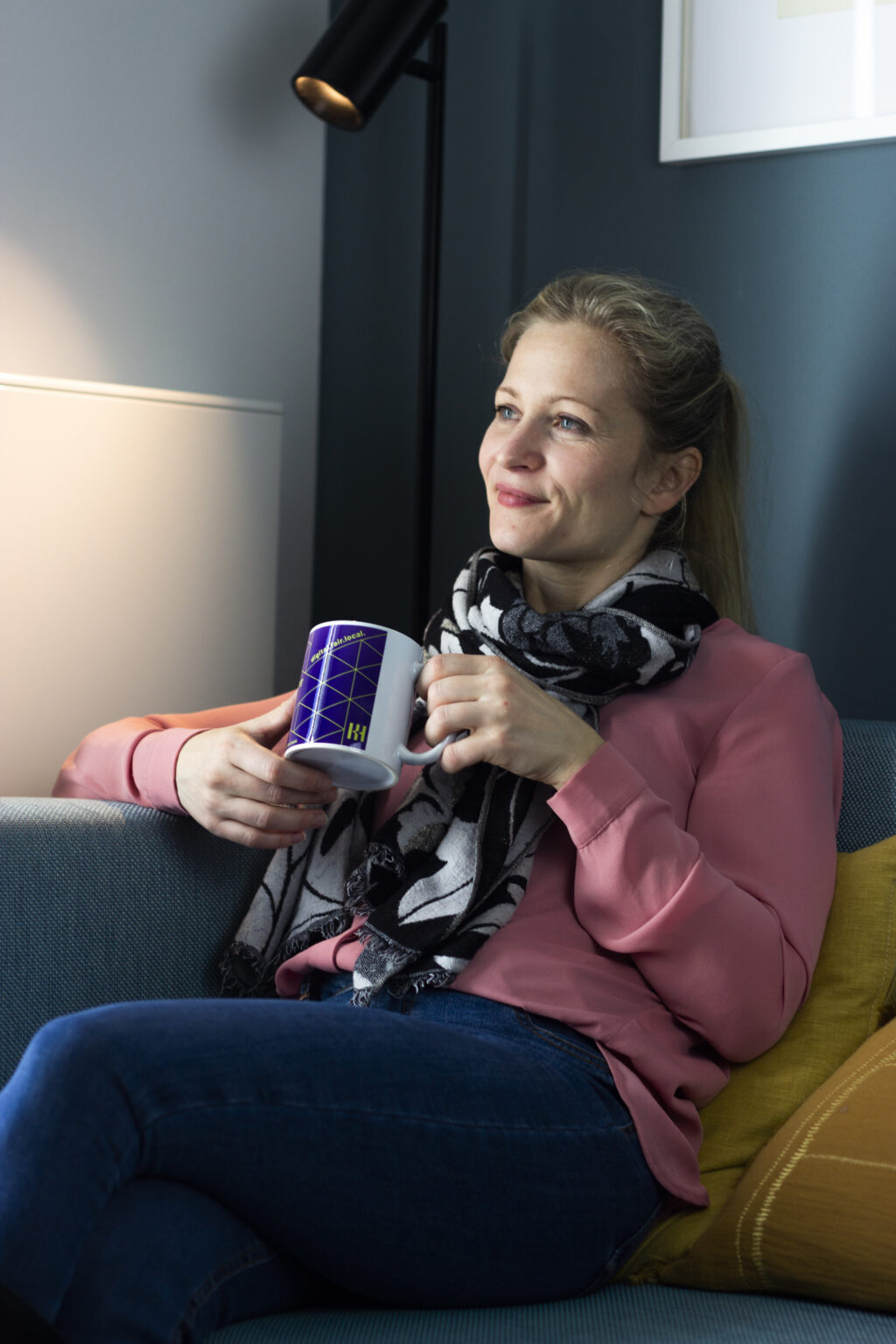 Goal 3: Good Health and Well-Being
Sustainable products create new quality of life
Global challenge: Globally, many millions of people in emerging countries and developing nations have no access to sufficient medical provision, life-saving medication, healthy nutrition, clean water or clean air.
Our part of the solution: Since KONCEPT HOTELS were first founded, we have been working with sustainable products from the socially engaged companies Goldeimer-Toilettenpapier, Viva con Agua and Stop Water While Using Me (SWWUM). SWWUM, like our other two partners, promotes water pollution control and access to clean water. One percent of every product sold goes to the Good Water projects. Through participation in global projects, SWWUM has so far, in cooperation with international NGOs and partners, already donated more than 22 million litres of clean water.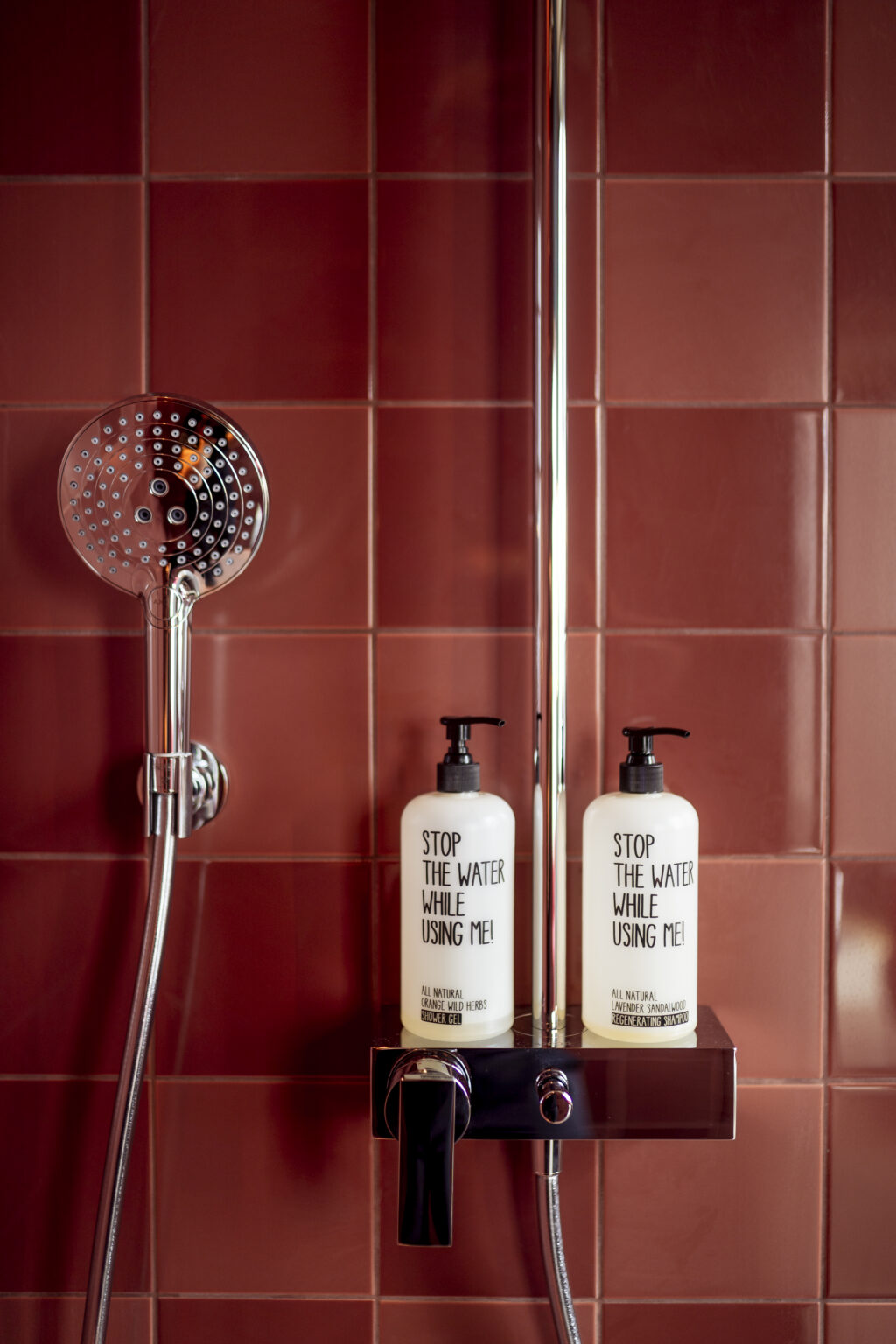 Goal 4: Quality Education
One tree per booking for education
Global challenge: Education creates the basis for prosperity, democracy and liberal values as well as the observance of human rights. Millions of people throughout the whole world still do not have access to sufficient – or any at all – inclusive, high-quality education with equal opportunities.
Our part of the solution: For every booking on koncepthotels.com, the start-up B'n'Tree planted during 2019 – 2021 a tree in the reforestation project in Kyinderi in Ghana. Since 2019, the income from the reforestation project has financed the local secondary school. There, young Ghanaians are taught the fundamentals of business management, alongside the normal school subjects. Since the start of the project over twenty students have already graduated. Even if one tree on its own cannot save the world, many trees can considerably improve the lives of several people.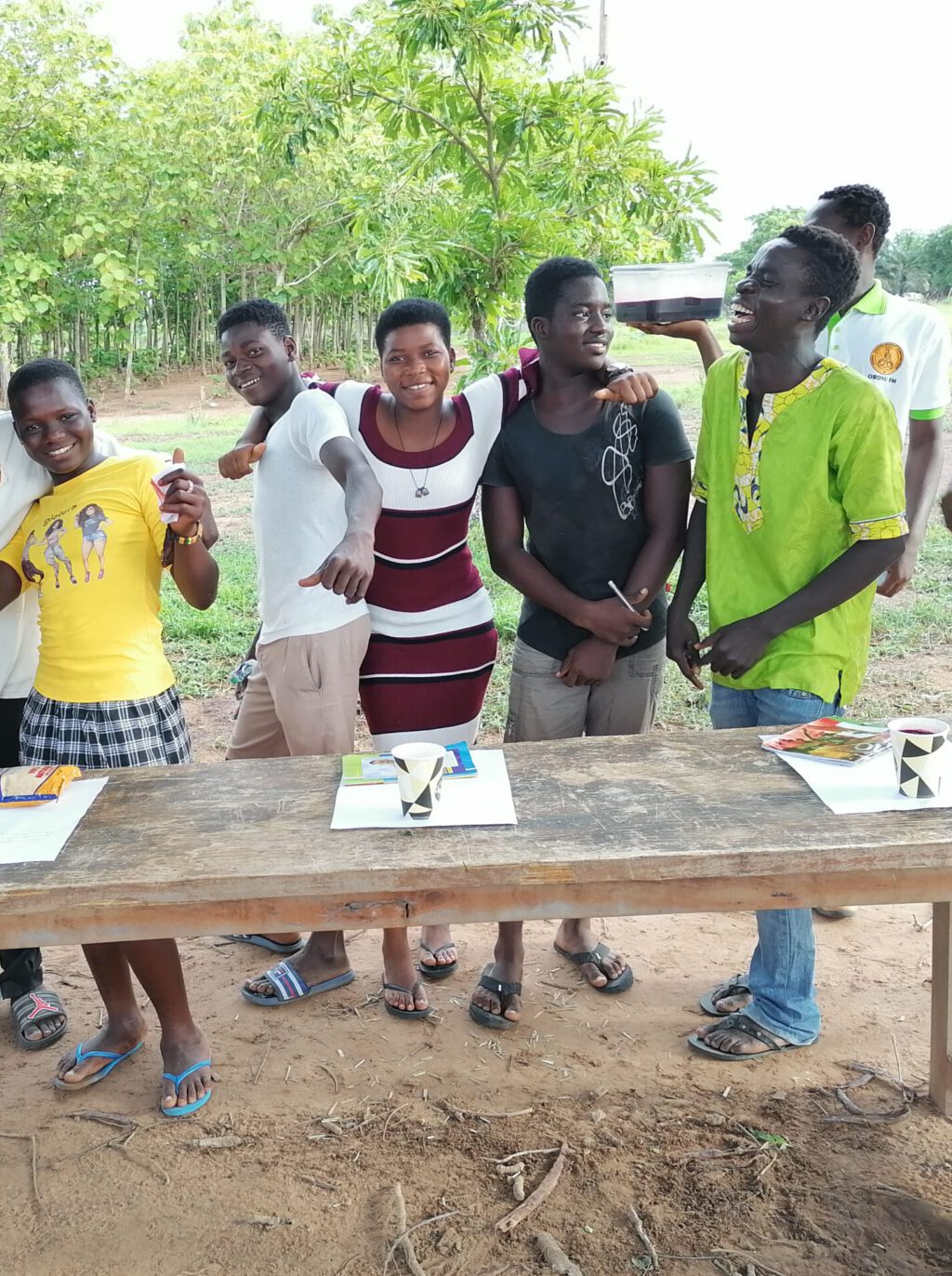 Goal 5: Gender Equality
Fair remuneration for all workers
Global challenge: There is still unequal treatment of men and women throughout the world. This is hardly as evident in any other topic as in remuneration for work. Even in prosperous nations, women are still paid less than men in the same positions on average.
Our part of the solution: We aim for maximum transparency in the wages of our staff and we keep a close eye on commensurability. In doing so, we are guided by the Gini coefficient which is established in economics as a measure of how fairly or unfairly income and wealth are distributed within a population group.
The coefficient is usually expressed as a number between 0 and 100. Zero means that everyone within the population group earns or owns the same. A coefficient of 100 accordingly means than only one person owns everything or receives the sole wage and the rest of the group has or earns nothing. The average Gini coefficient in the European Union is 30.2. Germany is more unfair than the EU with a coefficient of 34.4 in 2019. Data for 2020 are not yet available. The KONCEPT HOTELS' Gini coefficient was 29.0 in 2020 and improved to 26.0 in 2021.
Goal 6: Clean Water and Sanitation
A whole Koncept Hotel dedicated to water
Global challenge: A reliable supply of clean water is essential for a life with good health and dignity. But there are still many people who do not have clean water and functioning sanitation. This results in a multitude of infectious diseases which play virtually no part in life in the western world.
Our part of the solution: We have dedicated one of our hotels entirely to the socially relevant topic of "water" – the KONCEPT HOTEL H20 in Siegburg. Here we put the "Blue Gold" in the foreground and explain to our guests the careful use of water.
In addition, we support worldwide sanitation projects through our cooperation with Goldeimer (toilet paper), Stop The Water While Using Me (soap, shower gel & shampoo) and Viva con Agua (mineral water). Viva con Agua supports water projects according to the principle of "Water for all – All for water!" and pursues the vision of enabling everyone to have access to clean drinking water, hygiene facilities and basic sanitation. Ever since we opened our first KONCEPT HOTELS in 2017, we have sourced our toilet paper exclusively from Goldeimer, a charitable organisation which works worldwide to ensure proper sanitation.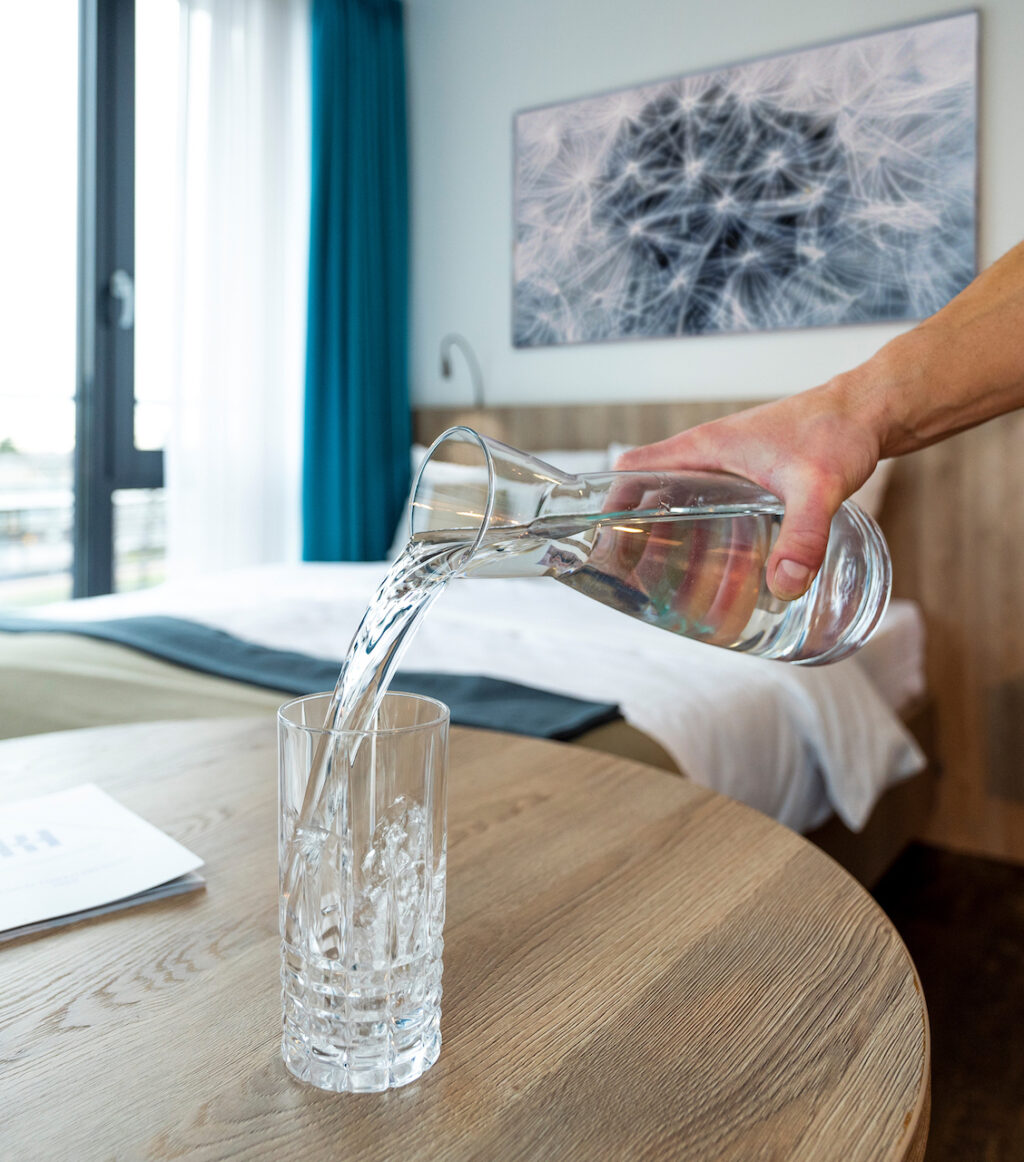 Goal 7: Affordable and Clean Energy
Reducing energy consumption and self-generated electricity
Global challenge: Climate change requires a global rethink in the way we produce and use energy. Only if CO2 emissions from industry, traffic and private households can be significantly reduced, can the dramatic consequences of global warming be reduced or prevented.
Our part of the solution: All KONCEPT HOTELS use 100 percent green electricity. Even with the two hotels we took over in 2019, we immediately switched the existing energy contracts to electricity from regenerative sources. But that was just an interim goal for us: As a next step we want to use the green electricity that is obtained through wind, water and sunlight as efficiently as possible. That's why we have optimised a number of energy-relevant details in our hotels and introduced solutions which reduced the energy consumption of each occupied room.
But that's not enough for us. Our goal is to reduce our carbon emissions by 55 percent by 2030. We want to achieve this by initially increasing the proportion of electricity generated by us to 20 percent by 2025. In Tübingen we already installed a photovoltaic system on the Koncept Hotel Neue Horizonte in 2021, which covers around 50 percent of the electricity used in the hotel.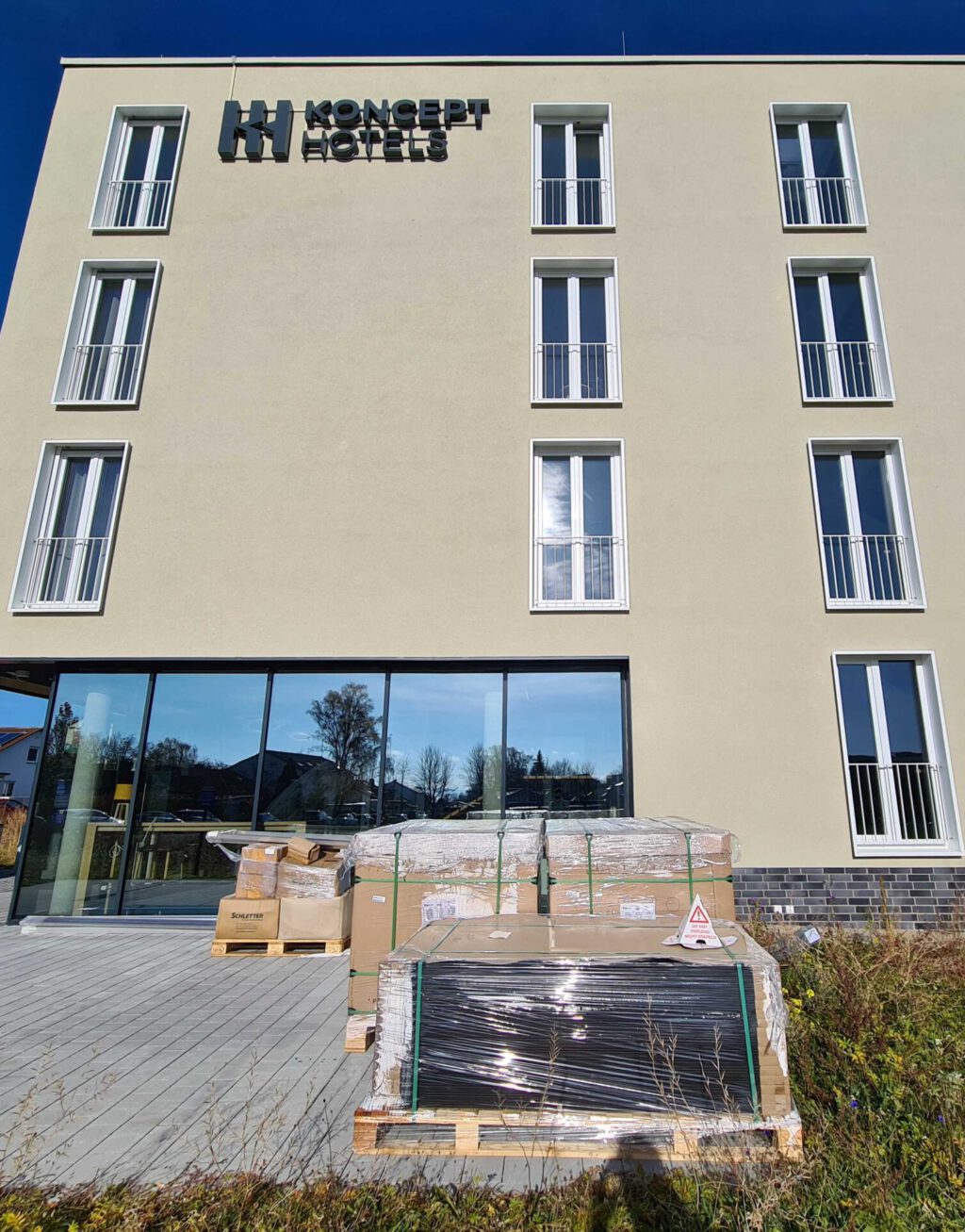 Goal 8: Decent Work and Economic Growth
Digitalisation opens space for more diversity
Global challenge: Globalisation means new opportunities for more prosperity. And yet not everybody benefits from the advantages of international networks in the same way. In many countries, major deficiencies in areas such as occupational safety, minimum social standards and decent wages still prevail.
Our part of the solution: The KONCEPT HOTELS' digital approach with a high degree of personal flexibility and lots of working from home is perfect for giving groups of people who are often discriminated against on the job market valued employment. In our eyes, professional circumstances need to fit in around private ones – not the other way round. Diversity in our team is important to us and has many positive aspects: we get a wider perspective from employees with different cultural backgrounds, lifestyles and life experiences and can thus help to ensure that our company also reflects the make-up of our society.
Employee and mother thanks to digitalisation
A successful example of how digitalisation opens up new opportunities for a flexible work/life balance is our staff member Laura. She is our very first employee and has been with KONCEPT HOTELS since 2017. When her son was born in 2020, Laura was able to gradually return to her job by working from home, thanks to our digital concept. At the same time, she had enough time to be there for her son and didn't need to draw a sharp dividing line between being a mother and being an employee.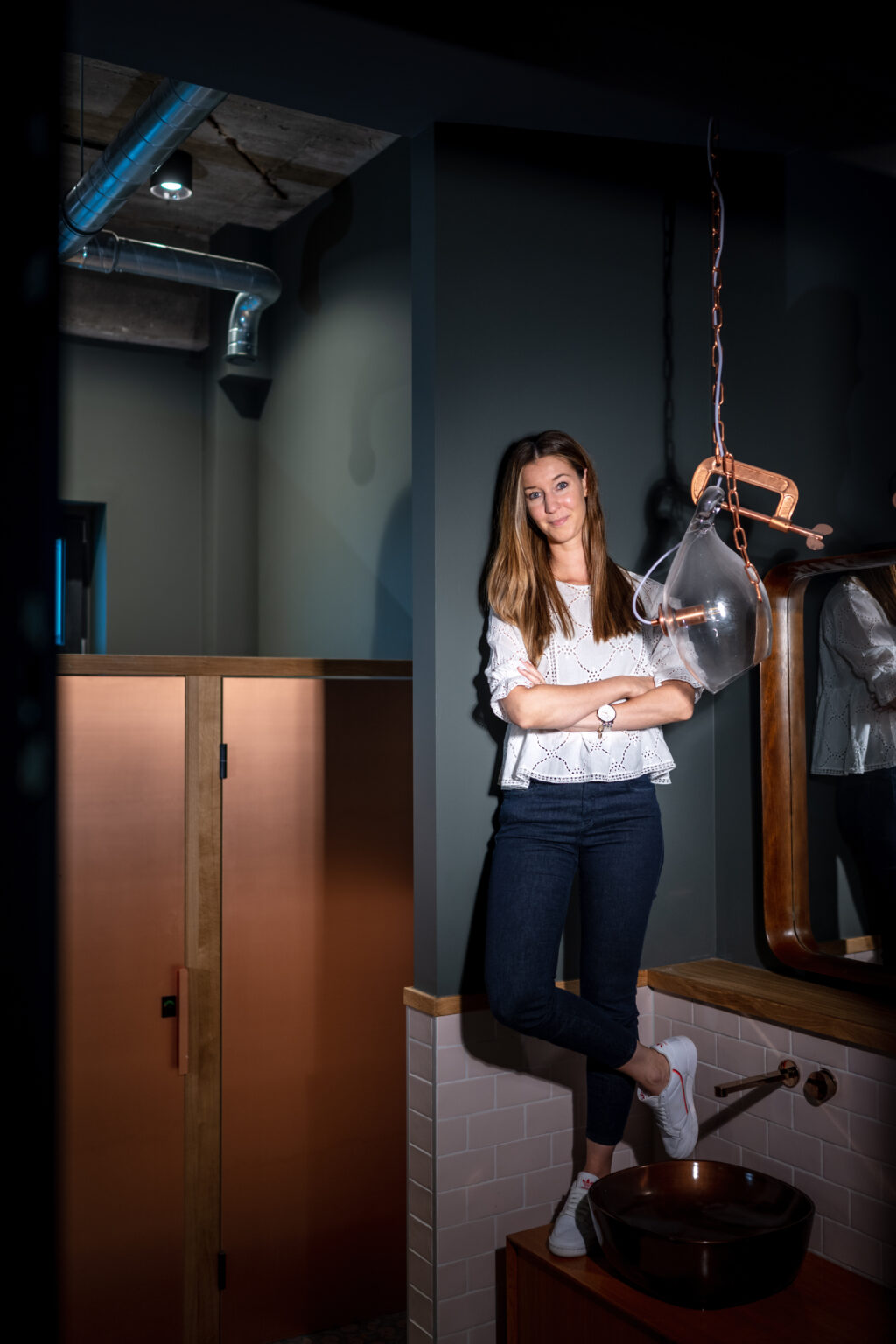 Goal 9: Industry, Innovation and Infrastructure
Strengthening regional and local companies
Global challenge: Intelligent innovations, modern infrastructure and a high-performance industry are needed for sustainable growth to become a reality. Technology is not the problem; technology is the solution for resource-efficient economic growth, sustainable production, sustainable cities and sustainable education and health systems.
Our part of the solution: KONCEPT HOTELS support craft businesses in the local region where our respective hotels are based. We not only get the best quality from on the doorsteps of our hotels, which helps preserve resources in the long-term, but we also reduce our carbon footprint. All the rooms in our KONCEPT HOTELS were furnished by workshops and manufacturers who are often based less than 50km away from the hotel – in the worst case it was a maximum of 200km. We don't use any furniture from the Far East or furnishings with long delivery routes. In 2021 we also began to look more regionally to acquire the decoration that fills a hotel room with life.
Local craftsmanship by Drechslerei Weiß
A great example of our regional approach is our cooperation with the Drechslerei Weiß woodturners from the Swabian Alb.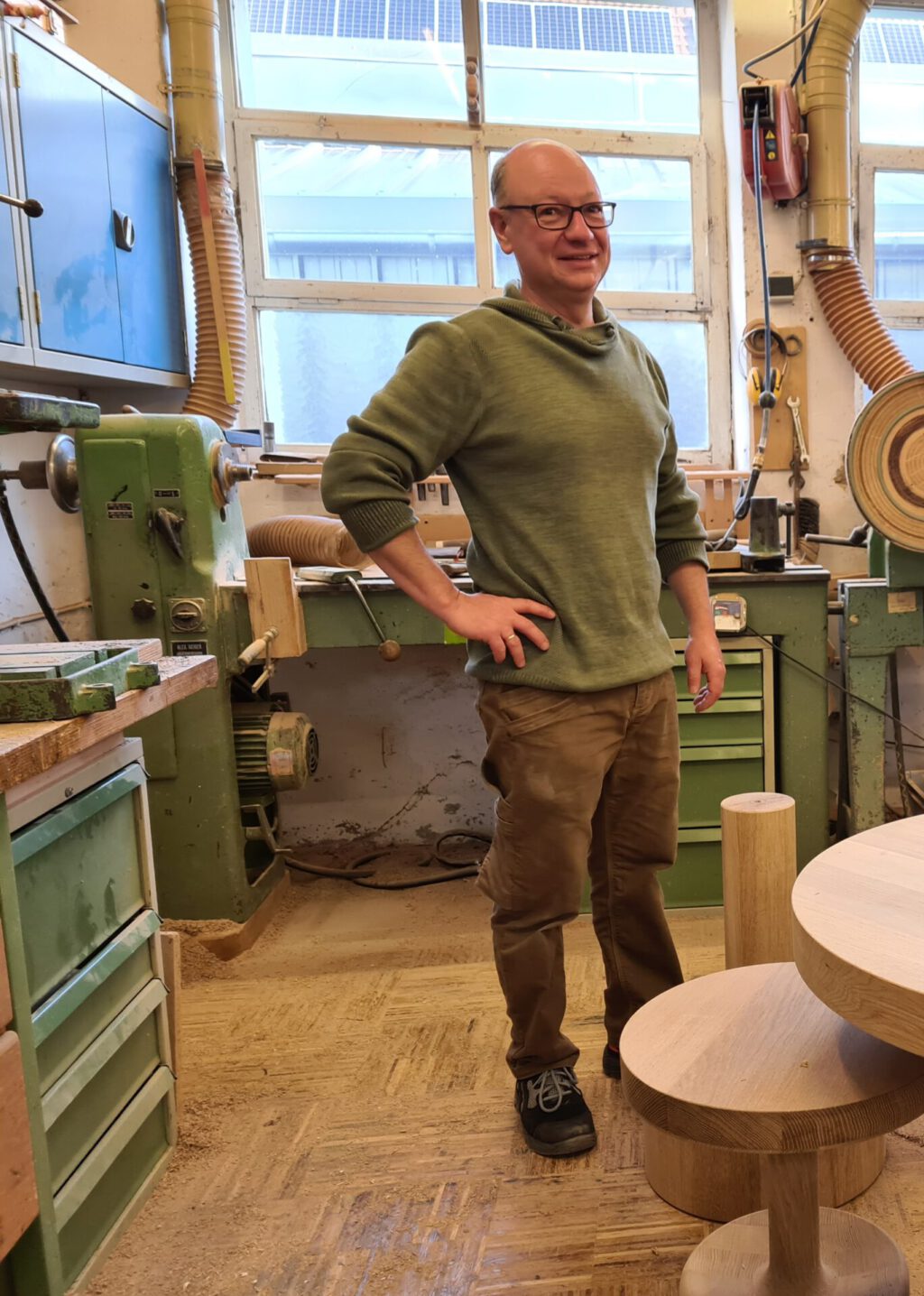 Goal 10: Reduced Inequalities
Offering people fair opportunities at work
Global challenge: Globally, incomes and assets are still very unequally distributed. In many countries this inequality is continuing to grow. The income of the poorest 40% of the population, in particular, needs increasing to a liveable level, and wages for men, women and people with disabilities need to be made equal.
Our part of the solution: Through our cooperation with the St. Stephanus workshops over the last five years, we want to help ensure that people with disabilities are treated and remunerated fairly. The Stephanus Foundation is a Christian charity and member of the Diakonie Deutschland umbrella organisation. From the outset, KONCEPT HOTELS has had its cotton laundry bags printed by the DruckBar working group of the Wilhelminenhof Stephanus workshop.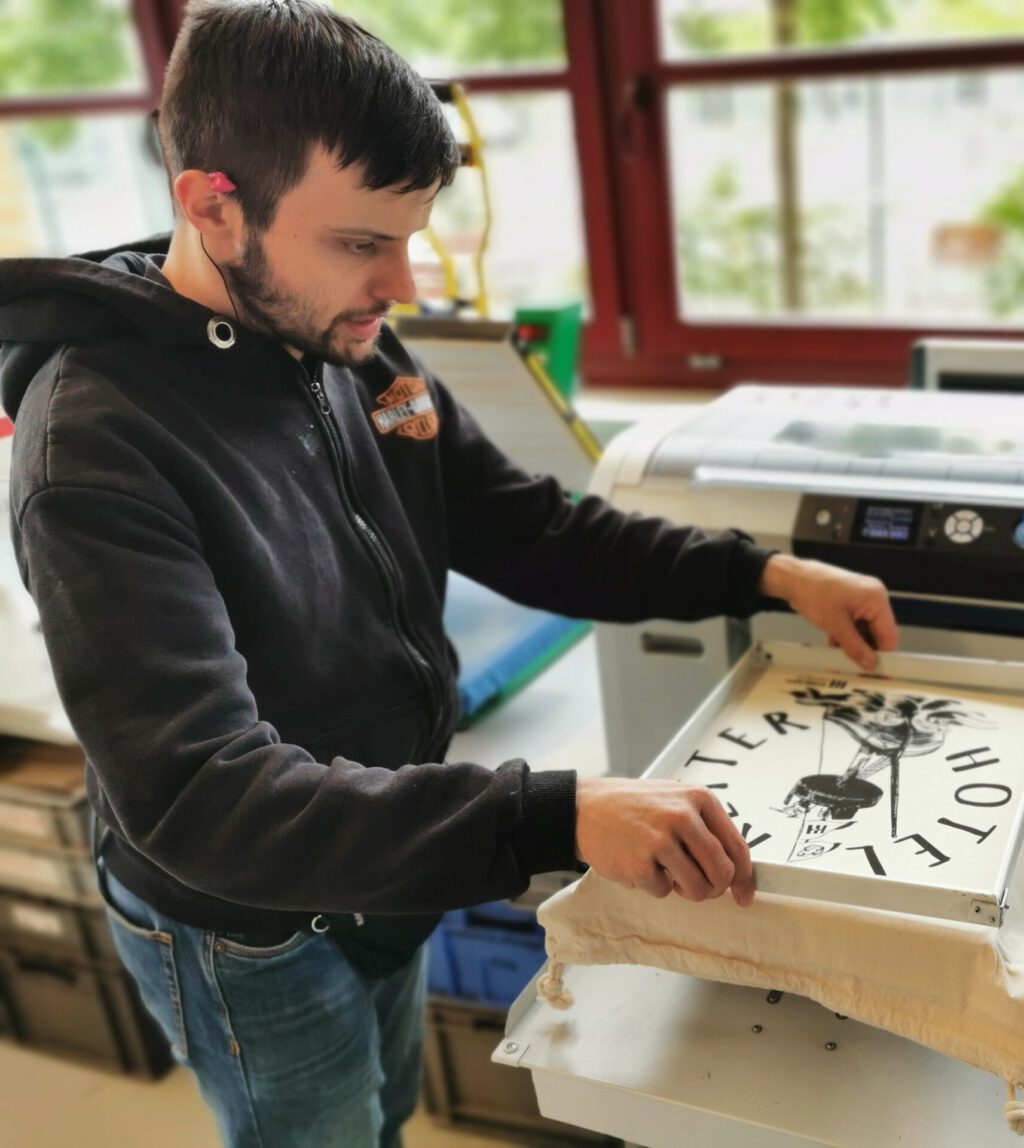 Goal 11: Sustainable Cities and Communities
Making mobility as sustainable as possible
Global challenge: Cities magically attract people. Worldwide, every second person now lives in an urban area. The influx is unwavering. For a liveable future we need affordable housing and a sustainable, integrated urban development policy.
Our part of the solution: For more sustainability in the environs of our hotels, particularly in urban areas, we are particularly committed to the topic of mobility. A decisive factor here is how we in the company deal with mobility and what infrastructure we provide our guests with.
If we want our guests to use our mobility infrastructure, such as our hire bikes, for instance, we need to set a good example ourselves. We therefore give our staff the choice of several flexible mobility options for getting to work, including a company bicycle. In addition, we have given all travelling employees a BahnCard railcard, offered everyone in the team a Jobticket public transport commuter pass and drastically cut flights. Whilst we made 50 journeys by plane in 2019, in 2021 we only took 3 flights.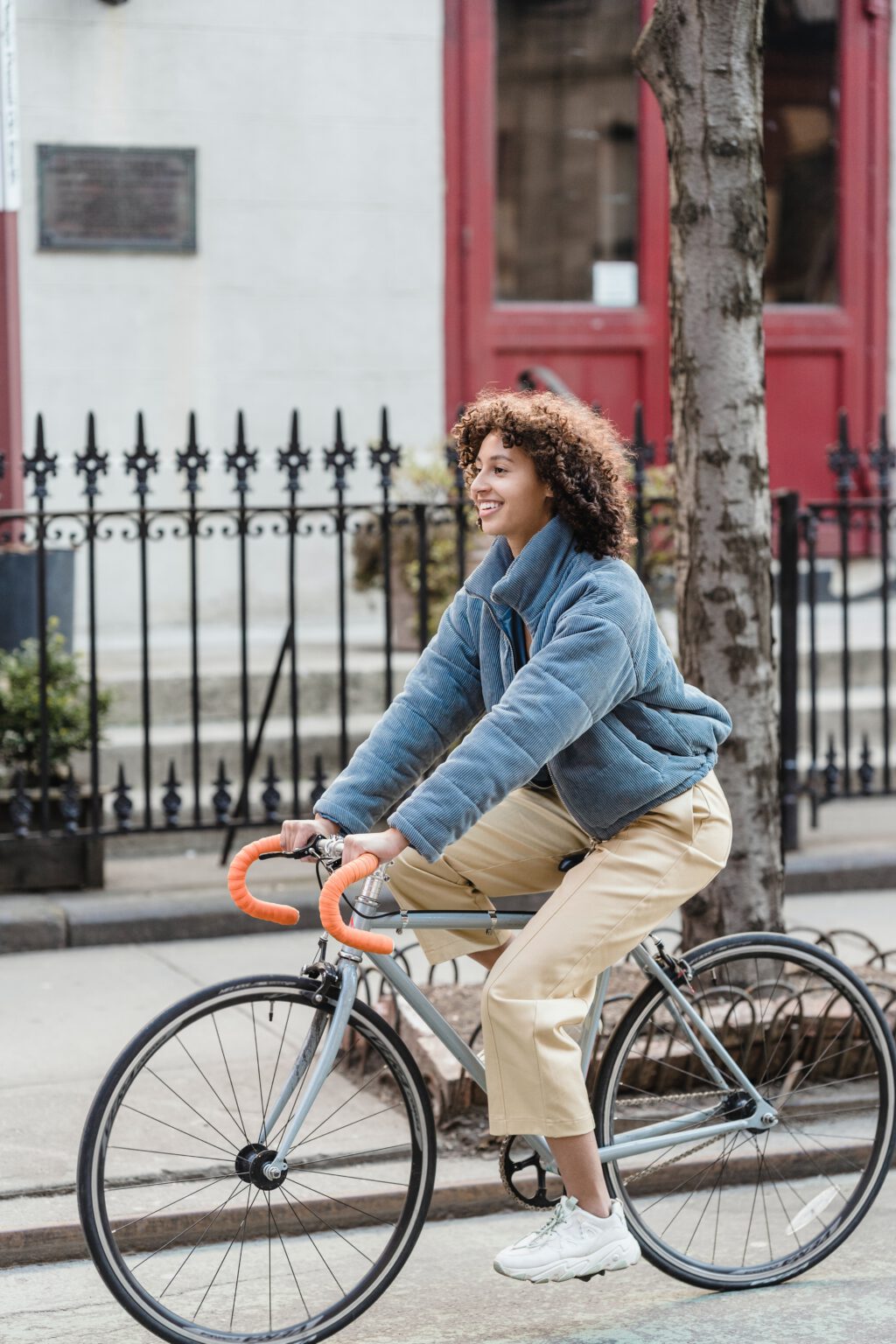 Goal 12: Responsible Consumption and Production
Recycled plastics replace new plastic
Global challenge: To use resources sparingly, considerably reduce environmental pollution and give subsequent generations a future worth living in. Spaceship Earth is limited and not infinitely resilient. In order to be able to live well in the future too, consumption and production techniques need to be changed.
Our part of the solution: We avoid the use of plastic wherever possible. That's why we have decided to switch to recycled plastics in areas where the use of plastic rubbish bags is unavoidable. And because these products are virtually unavailable, without further ado we commissioned our own products. The eco start-up The Sustainable People from Hamburg has been producing our plastic rubbish bags since the autumn of 2021. The material consists of 97 percent recycled plastic, which leads to a considerable CO2 saving and lower land use compared with the production of virgin material.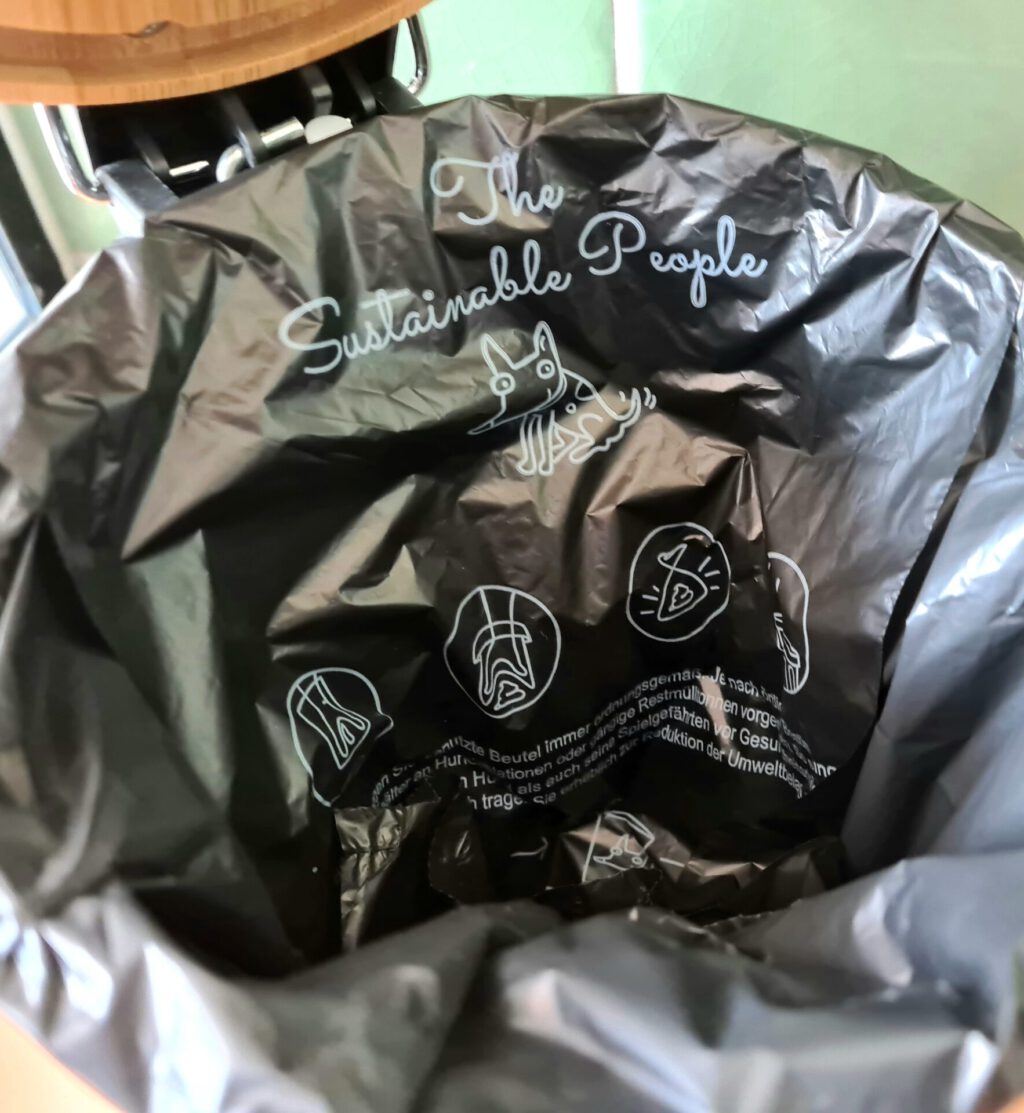 Goal 13: Climate Action
The Bürger-House brings sustainability to the region
Global challenge: Man-made climate change is fundamentally changing our habitats. With negative consequences for man and nature. Extreme weather events like tornadoes, droughts and floods are the first signs of what future generations will have to contend with. If the sea level rises and crops wither, whole swathes of land will be uninhabitable. The fact that we are now literally up to our necks in water here in Central Europe is something that we at KONCEPT HOTELS have seen in the fates of our employee's families. In the Ahr Valley floods they lost first their homes, belongings and ultimately some also lost their lives.
Our part of the solution: With our digital, sustainable and local Bürger-House hotel concept, we offer communities the opportunity to accommodate tourists and business travellers in a resource-conserving hotel. We act completely sustainably on a local and regional level and contribute to global climate protection.
In developing our new hotel concept especially for regional locations and small communities, and by striving for an extensive network of Bürger-Houses, we want to reduce the distances travelled by tourists and business travellers. If you can stay the night near a tourist destination or company, you don't need to travel long distances home or to get to big cities with sufficient accommodation and thus CO2 emissions are reduced.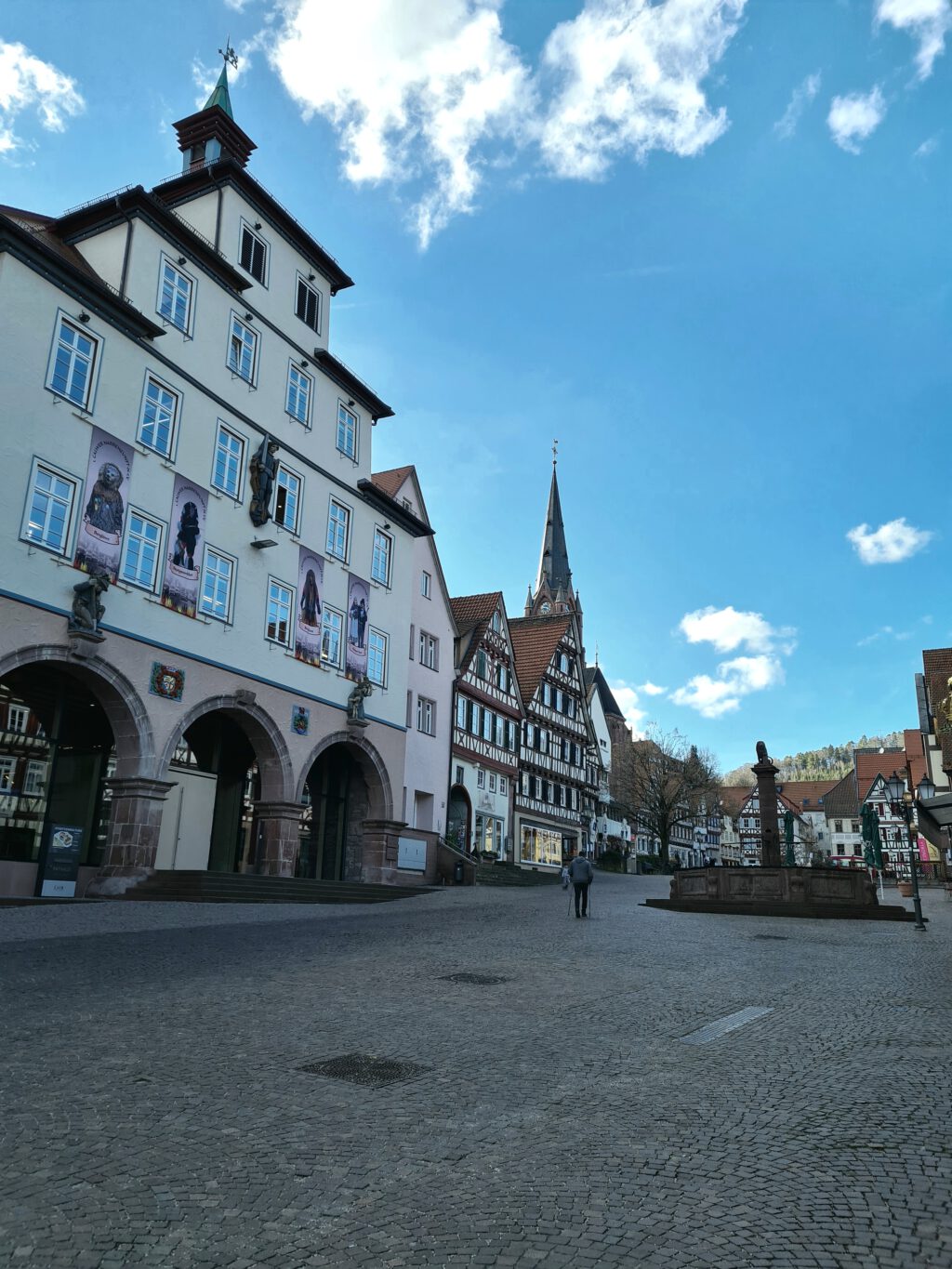 Goal 14: Life Below Water
Cleanliness and hygiene without chemicals
Global challenge: One of the most important foundations of life are the oceans. They give us food, raw materials, energy and serve as transport routes. And although they are so essential for our life, the seas are acutely endangered. We can see that in the rising water temperatures and increasing marine pollution.
Our part of the solution: Cleanliness and hygiene play a very important role in a hotel. But there's one thing we need to consider: what we gain in cleanliness can lead to pollution elsewhere. So far, we have predominantly used non-chemical products for cleaning our KONCEPT HOTELS, including detergents based on vinegar or spirits. We have set ourselves the goal of only using cleaning agents in all KONCEPT HOTELS by the end of 2022 that present no risk to the environment and sewage. In addition, we have already been using dry steam cleaners since 2021 – dry steam gets rid of dirt and viruses without the use of chemicals.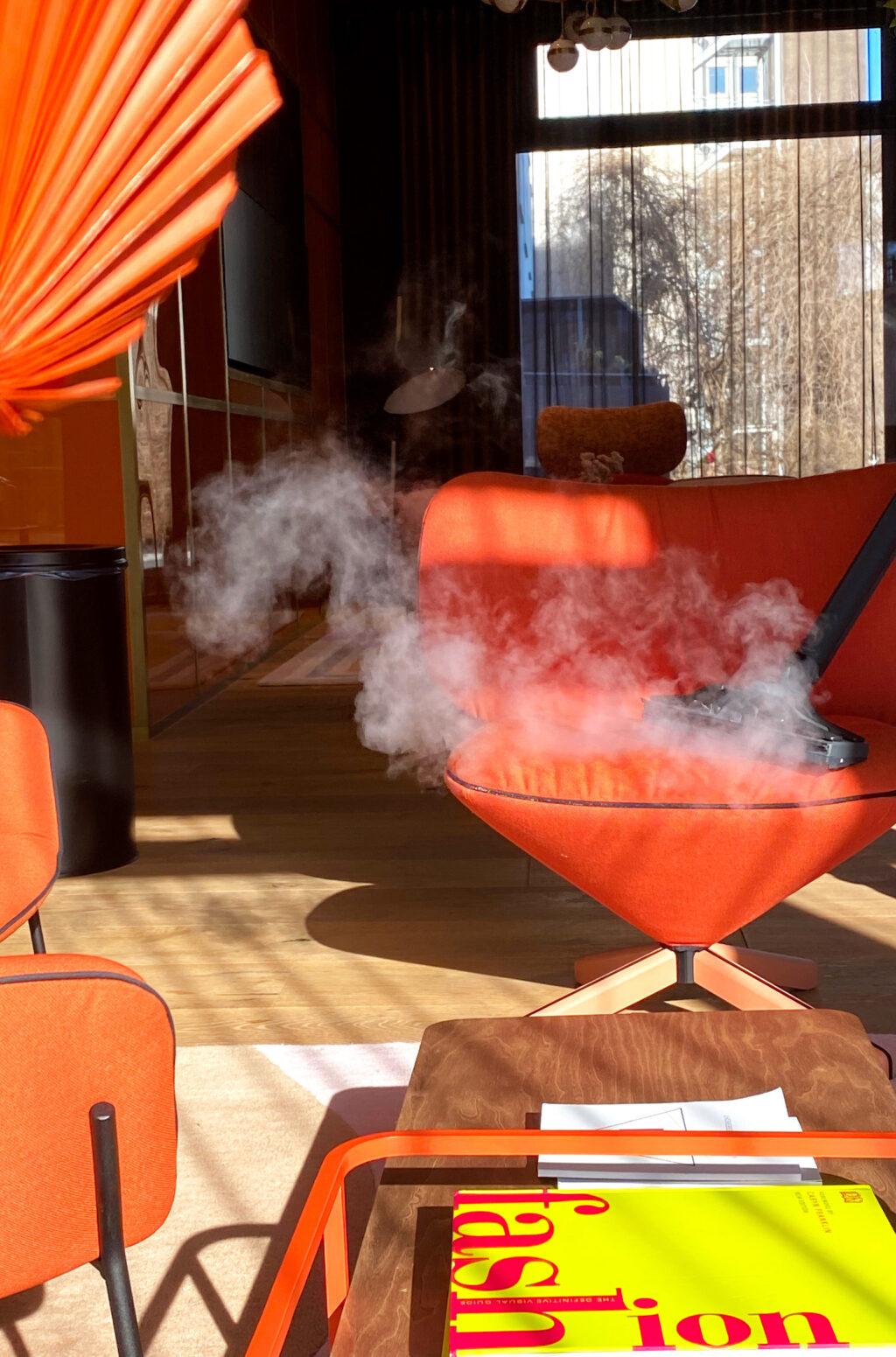 Goal 15: Life on Land
Harmoniously embedding land and buildings into the natural surroundings
Global challenge: If humans endanger life on land, we are depriving ourselves of the basis of our existence – as well as destroying species of plants and animals. Intact ecosystems form the basis of life on Earth and sustainable development. If these are destroyed, it will drive many people into hunger and poverty, lead to environmental catastrophes and endanger our climate.
Our part of the solution: Many small measures can help to preserve an ecosystem, maintain intact habitats and create new ones. A successful example of this is our ecosystem project at the Koncept Hotel Neue Horizonte in Tübingen. Here, our hotel was built in an open space that was previously used for agriculture and surrounded by old fruit trees and meadows. For us it was clear that we wanted our hotel to blend in with its surroundings as a sustainable entity. For this reason, we created a calcareous grassland meadow on our site, which is typical of the area, and where butterflies, wild bees and many other insects and birds feel at home.
Koncept Hotel gives Little Owl a new home
Our open meadow with an informal stock of trees at the Koncept Hotel Neue Horizonten in Tübingen is an ideal habitat for the Little Owl, one of the species of owl on the Red List of breeding birds. It Germany, it is considered endangered. Enough of a reason for us to design the sustainable area around our new hotel as a habitat for Little Owls. For this, we carried out an educational project where our staff and their children built nest tubes for Little Owls in accordance with NABU guidelines and put them in trees around our hotel.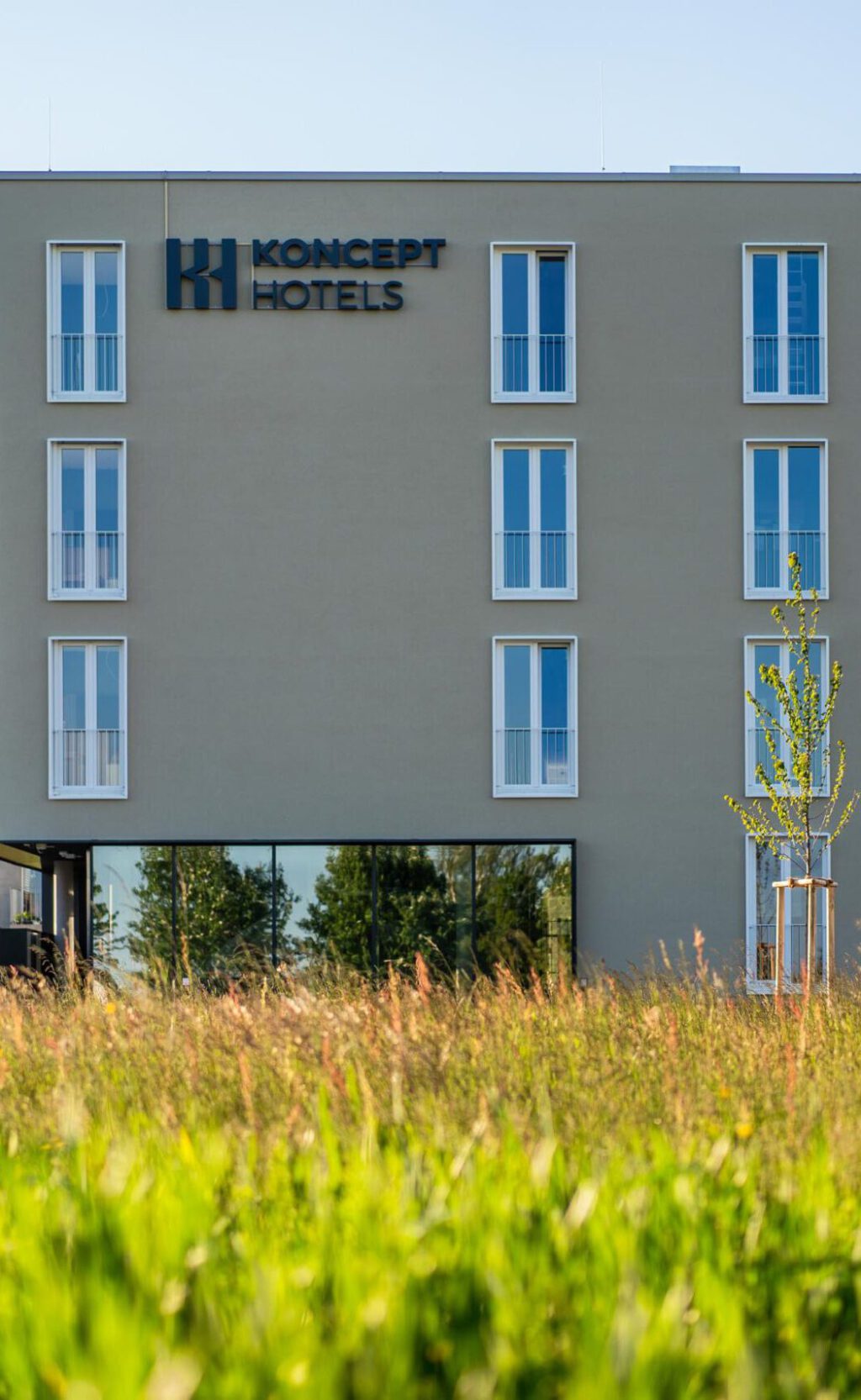 Goal 16: Peace, Justice and Strong Institutions
Setting a visible example with standards
Global challenge: Global sustainable development requires a safe environment with institutions and societies which act constitutionally. Peace, justice and protection of the individual require a strong foundation as a base for the future.
Our part of the solution: Wherever we can, we work with certified and approved suppliers and partners. When choosing new products, it is very important to us that their manufacturers act in accordance with binding standards.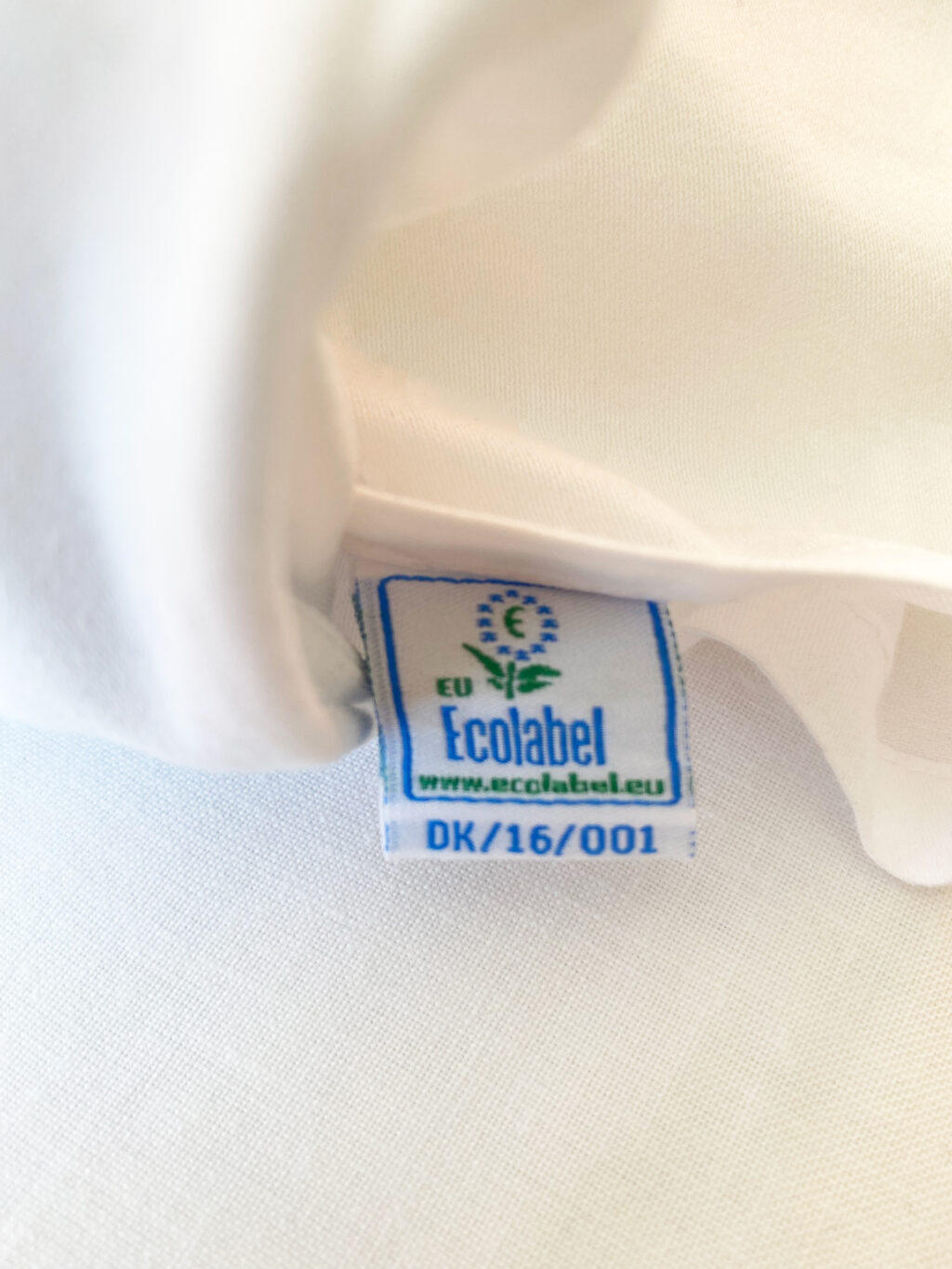 Goal 17: Global Partnerships
Supporting those who shape the future
Global challenge: big goals need strong partners. The UN's 17 global sustainability goals can only be achieved effectively through global and local partnerships. This holds true for very different challenges, such as eliminating hunger and poverty, fair trade, clean water and climate protection.
Our part of the solution: In 2021 we supported a range of projects, associations and initiatives which pursue the goal of making our world a fairer, more inclusive place. Unfortunately, due to the pandemic months where we had no guests, we could not continue the involvement we had in the previous years. This is why we are looking forward all the more to re-intensifying our support for sustainable projects in the future.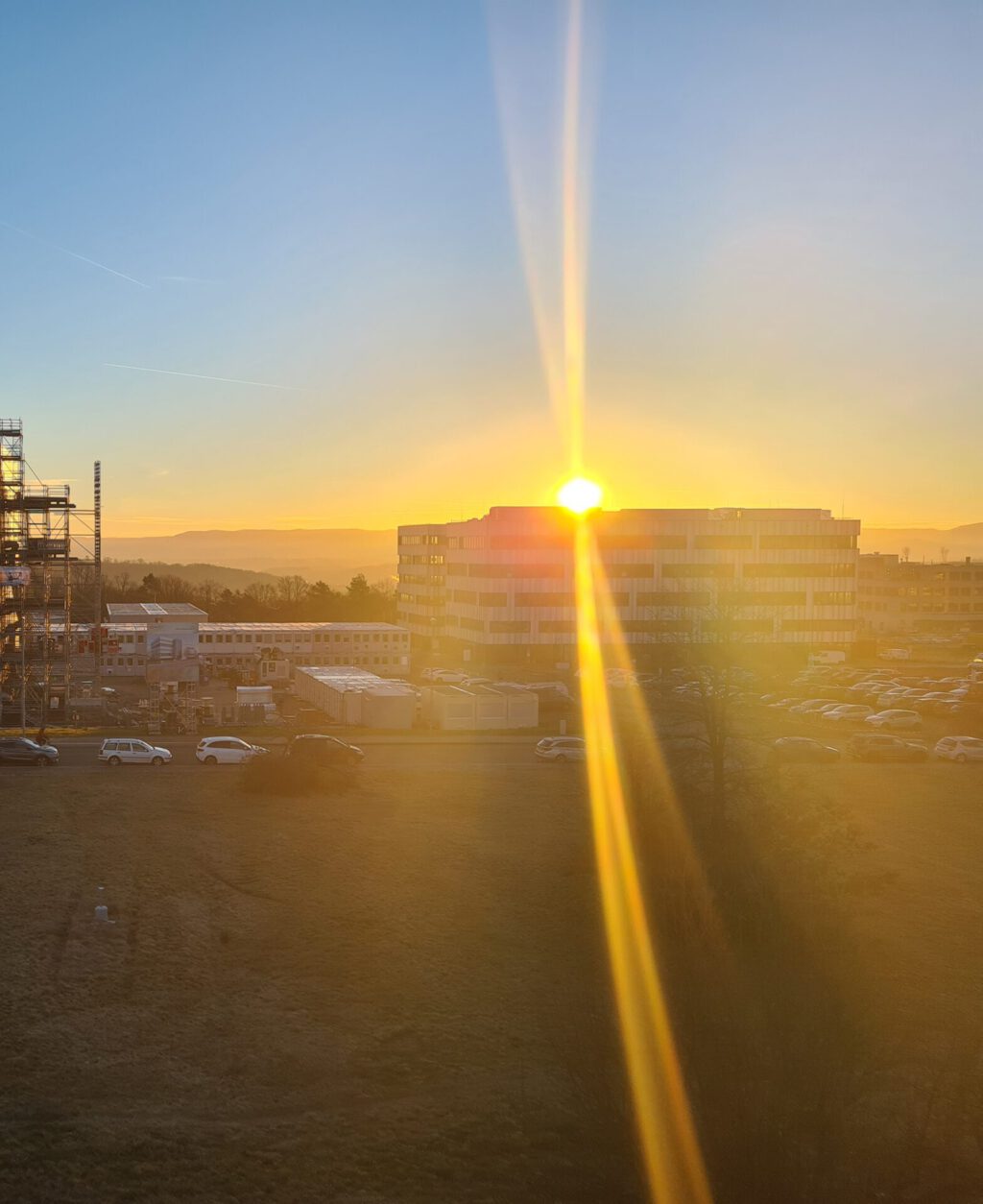 And what's next?
We want to show that hotels can be sustainable across the board. Sustainability is part of our corporate DNA. We want to become as sustainable as possible in all areas of our business. We quickly realised that this is not as easy in business practice as you might at first think – starting with rubbish bags made from recycled plastics to the use of chemical-free cleaning products. But at no point did this discourage us – on the contrary. We have seen that many small steps are needed, and they are worth taking – for the environment, for humanity and for the hotel of the future as a place where people can sustainably spend a lifetime. Today and in the future, we see our KONCEPT HOTELS as a part of the big picture, locally, regionally and internationally. This is because everything is connected to everything else – like the flap of a butterfly's wings – and has an effect on everything else.
Our next project. In 2022, we want to take the next important step. We want all of our sustainability measures to be monitored and evaluated by an independent body. Our goal is to become even more transparent for ourselves in detail and for our guests as a whole. We are not interested in colourful advertising. What really interests us are scientifically substantiated data about the good that our sustainability measures are doing. We know that one's own perspective can be deceiving, which is why a neutral, expert third party is needed who can give us meaningful results. That is why we are aiming to achieve certification by the start of 2023 in accordance with the scientifically-based and extremely tough GSTC criteria.
Our main goal: Climate-neutral by 2030
The European Union has set itself the target of being climate-neutral by 2050. Germany aims to achieve climate-neutrality by 2045. We at KONCEPT HOTELS want to be climate-neutral by 2030 at the latest.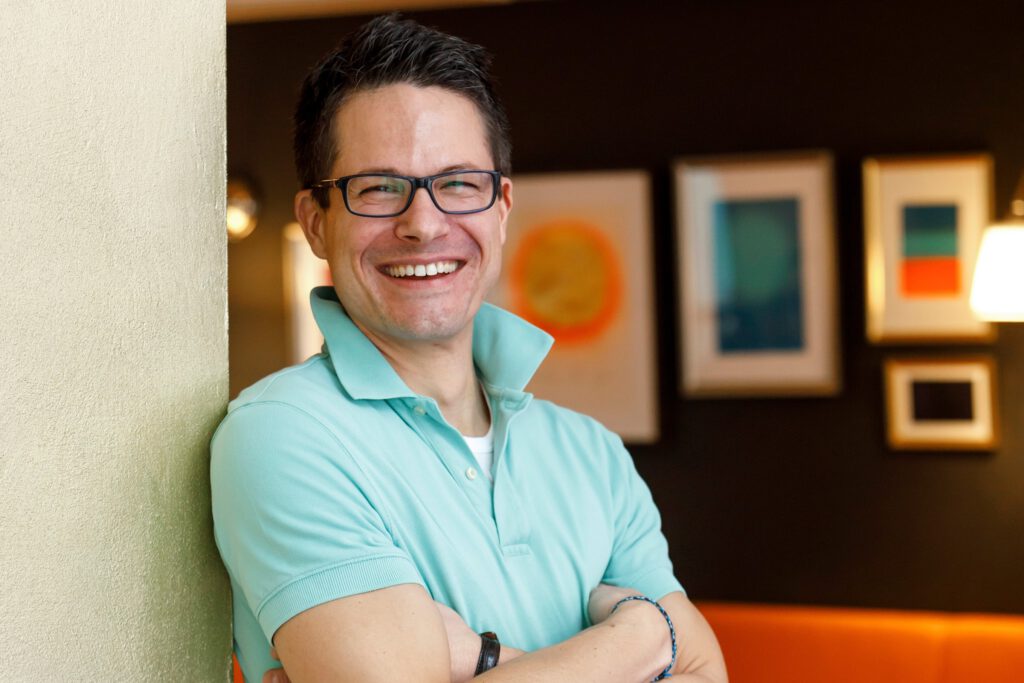 "WE GO FORWARD TOGETHER.
THANK YOU FOR JOINING US"